Converting plain text to HTML email signature
Transform simple email signatures into dynamic and interactive HTML elements for your emails
A customized and well-designed HTML email signature can have a surprising impact on your company's emails and professional image, far superior to a plain text signature.
Converting plain text to HTML email signature using Bybrand allows you to easily include vibrant brand images, social icons, logos, direct links, and advanced formatting, elevating your professional presence to new heights.
Why convert plain text to HTML signature
You may be wondering why it is necessary to switch from plain text to HTML. The answer lies in the difference in their capabilities. While plain text offers simplicity, HTML offers dynamism and interactivity.
Watch a full-feature presentation.
Customer reviews
People want you to do your best work, which is something we know very well. We're dedicated to doing that every day, which means we focus on delivering value more than anything else.
Don't wait any longer. Deploy email signatures effortlessly
What is a plain text email signature?
A plain text email signature typically includes the full name and title, essential contact information such as phone number, email, and the company's physical address. It is also common to include links to social media and the company's website.
However, unlike HTML email signatures, it does not include images, logos, or advanced formatting.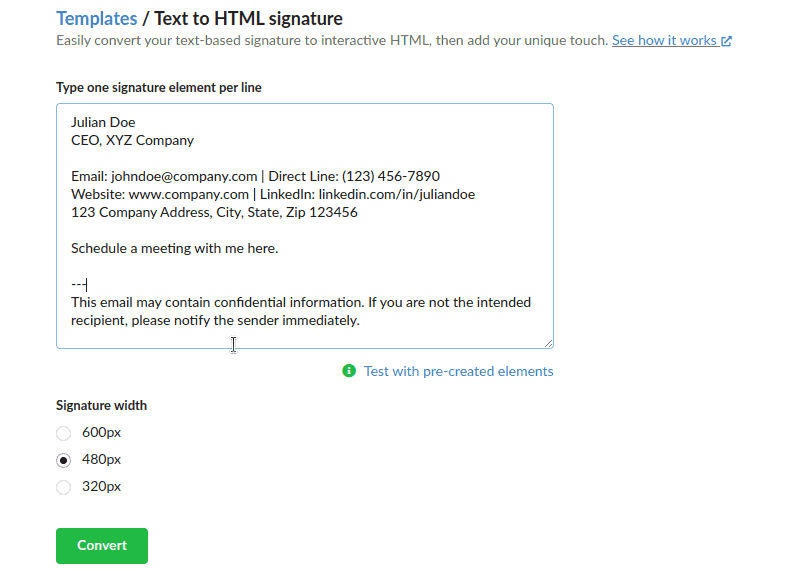 Standard features
Everything your business needs to manage team email signatures in a fast way.