Cloud-based email signature manager integration for Google Workspace
Create and manage email signatures for all Google Workspace users easily
Take full control of your organization's email signature management for Google Workspace with our easy-to-use, customizable, and effective platform.
Email signatures are critical, but many business owners simply don't have the time to worry about them. With Bybrand, you can finally free up the time and resources you need while still maintaining on-brand, effective, and company-wide email signatures.
Save time and effort with signatures that you can create in an easy-to-use interface.
What is Bybrand's email signature manager for Google Workspace?
Professional email signatures have become a staple of effective, consistent, and on-brand communication. It's a critical element of running a successful business, but so many organizations struggle to execute it properly. That's where Bybrand's email signature manager for Google Workspace can help!
Our seamless and intuitive platform makes it easy to customize and manage your company's entire email signature needs for Google Workspace. It's the most comprehensive solution that saves you time, energy, and money. You can easily control all your organization's email signatures from a single place.
Update the email signature from any user in Gmail with only one click;
Save time without having to go on every machine;
Save time without having to send complicated tutorials to users;
Don't wait any longer. Deploy email signatures effortlessly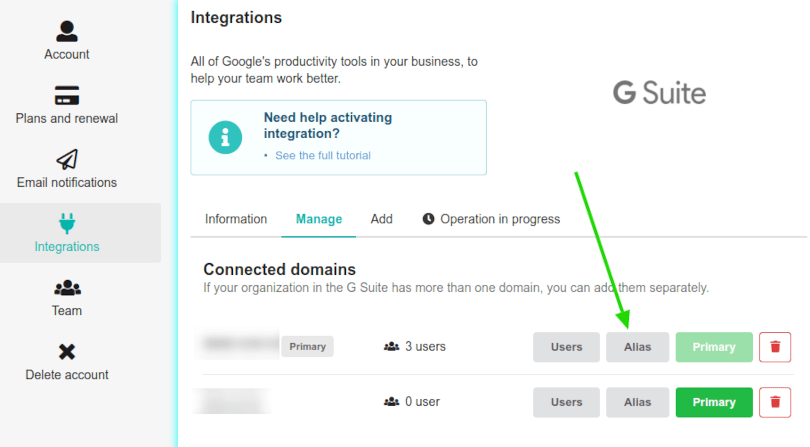 Accommodate alias addresses and multi-domains
It's perfectly common for organizations to have multiple domains and alias addresses for smoother and more secure workflows. Bybrand integrates both features into the email signature manager for Google Workspace. It's simple to add and remove your organization's domains as they change. Secondary email addresses are modifiable within just a few clicks.
Support for you to add all domains in your organization.
Update the signature on users' secondary email addresses.
Less manual effort
Every business is running on limited resources. With a Google Workspace email signature manager, you can save yourself, your team, and your entire organization critical time and financial resources. By automating and consolidating email management, you can greatly reduce manual effort. This way, you can focus more attention on actually growing your business.
Here are some of the main features of Bybrand's platform:
Select a group of users and update the signatures at once.
Create email signatures using a profile photo from Google Directory.
Import users from Google Workspace groups.
Transform your business's email signature management
The email signature standardization of your users shouldn't be a lengthy task. With the Departments feature, you save time managing email signatures by adding placeholders that are filled in automatically.
Import users from integration with Google Workspace;
Bulk email signature updates;
Synchronize user information;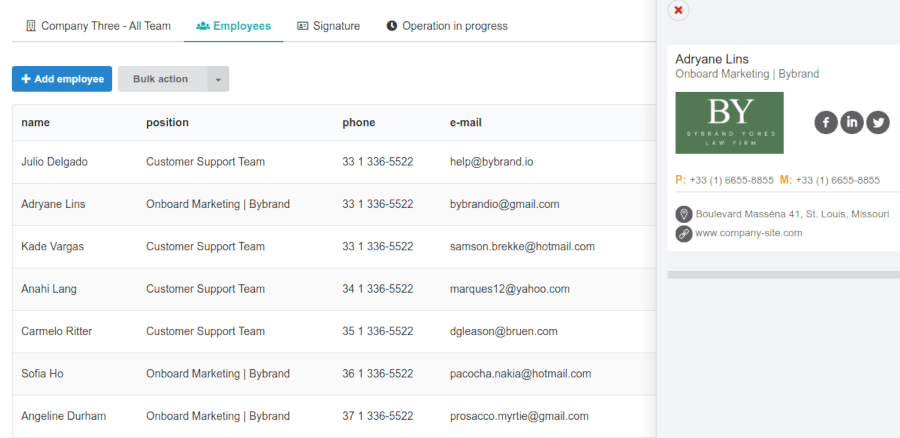 FAQs email signature for Google Workspace
How does Bybrand integrate with Google Workspace?
Bybrand has a native integration with Google Workspace to automate the task of implementing and managing email signatures for Gmail users. There's no need to change the domain's DNS or redirect your company's emails to our servers.
What is a signature manager for Google Workspace?
Basically, the email signature manager is a platform that facilitates the creation and administration of professional email signatures for Google Workspace users.
The tool offers features such as automatically generating email signatures and sending them in bulk to users' Gmail. This saves you time by standardizing your organization's email communication.
Can I create email signatures with users' profile photo?
Yes! With Bybrand, you can add users' face photos to email signatures using images imported directly from Google Directory. This is an easy process to carry out, making email signatures more personal and efficient.
How do I update user signatures in Gmail?
You can update/send the email signature of any Gmail user with just a few clicks, without the need to move from machine to machine or send complicated tutorials to employees. There are two ways of doing this:
Individual update, ideal for a few users;
Bulk action, perfect for updating the signature for a large users group;
Can I use advanced formatting in my email signature?
Yes, it is possible to use advanced formatting, such as font colors and styles, text size in the email signature using the Bybrand editor. It is also possible to create and edit the signature in HTML mode, perfect for experts who have mastered HTML.