This post is also available in: Português
There are a variety of email signature styles that can help you get the most out of your professional email interactions with customers and business partners.
In this compilation, we will explore some of the best email signature ideas for business use. These are amazing templates. In addition, we will look at how to create an HTML signature that is perfect for your needs.
Best examples of email signatures
We have gathered the 50 best email signature examples in 16 categories. There are many excellent examples of professional signatures for you to choose from and use in your business emails.
So, let's get started.
1. Best examples of email signatures for sales
When it comes to creating effective email signatures for sales, there are a few key components that you should consider important. First, you should make sure to include a CTA block that encourages the readers of the email to take the next step. This can be as simple as offering a discount, a promotion, or a free consultation.
In addition, you should also include contact information, such as your phone number and website. This makes it easy for potential customers to contact your company.
1.
2.
3.
4.
2. Email signature for real estate
Email signatures can be an invaluable resource for the real estate broker. They not only help promote the real estate company, but they also help create a sense of professionalism – consequently helping to sell your properties quickly.
Read also: Creating a realtor email signature.
5.
6.
7.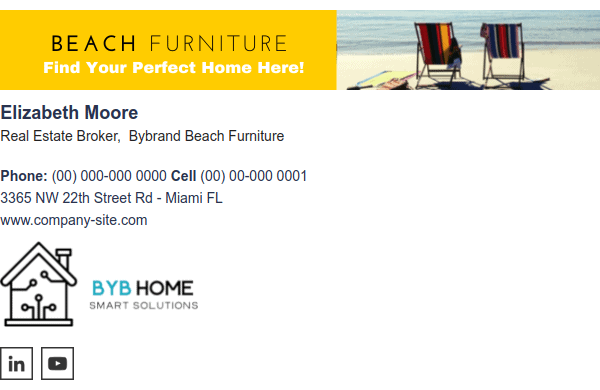 8.
9.
3. Great examples for lawyers
When creating an email signature for lawyers, be sure to include important information such as your name, education, contact information (city and location), and website URL. You can also include a professional headshot and a few lines about your practice areas.
Incidentally, it is also a good idea to include a link to a personal or law firm blog.
10.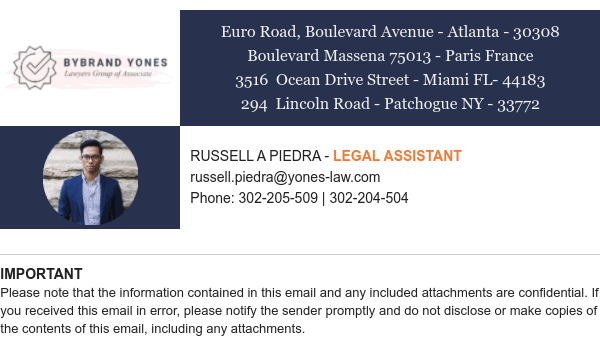 11.
12.
4. Email on a mobile device
When it comes to email signatures for mobile devices, there are a few important things to keep in mind: 1. screen size, and 2. amount of information in the email signature. Therefore, having a second version in the signature for mobile is a good idea.
Read also: How to create a professional iPhone email signature.
Examples of good responsive email signatures with 320px width.
13.
14.
5. A handwritten signature
Adding a handwritten signature is a simple way to make your HTML or email signature more unique. To get started, you will need to create a digital version of your handwriting that you can use for your email signature. This video tutorial is a great place to start: How to create a handwritten signature using Canva.
15.
16.

6. With a disclaimer
Disclaimers are often used to protect the sender and their organization from legal issues via email. Therefore, adding a disclaimer to your email signature is one way to ensure that your messages are professional and secure.
Read also: 8 Examples of email signature disclaimers that you can use.
17.
18.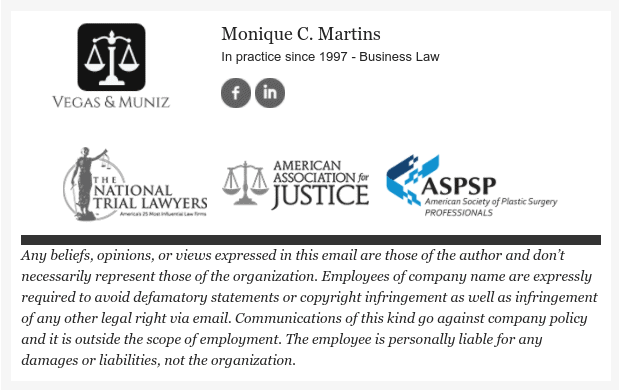 19.
A great way to instantly connect with your customers is to add social media icons in a professional email signature. This way, email recipients can quickly click on the icons to follow you on their favorite social media platform.
20.
21.
22.
23.
8. Examples of email signatures with animation
Animated GIF email signatures make your emails look more cheerful. That's right – GIF email signatures are becoming increasingly popular and can add a unique and eye-catching touch to your emails. There are many ideas of where to add an animated GIF in the signature, such as in the cover image, logo, or banner.
24.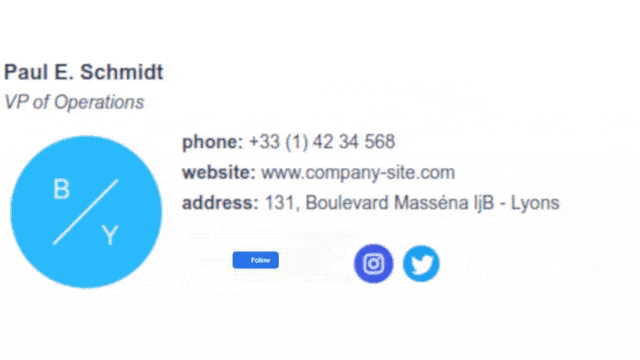 25.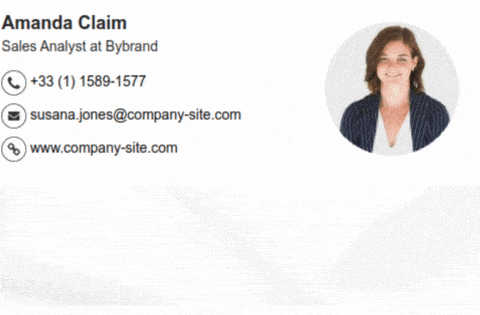 26.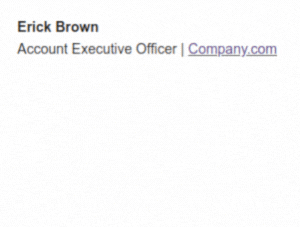 9. Perfect templates for CEOs & executives
CEOs and executive email signatures add a professional touch to the email messages that you or your company sends out on a daily basis. With a well-designed signature, you can include your job title, logo, and important links. This will give a good indication of authority to your emails, making them more enjoyable to read and open.
27.
28.
29.
10. Examples of a signature with a face photo
A simple and effective way to add a touch of personality to your email and to make it more visually appealing is to add a profile picture to your email signature. So why not create one and see the difference it can make in your emails?
30.
31.
32.
11. Best signatures for help desk software
The best signatures for help desk software, such as Freshdesk or Zoho Desk, offer links to open email help requests, support phones, automatic ticketing, and knowledge base. There are a number of different signatures, each with its own unique features and advantages for help desk software.
Read also: Email signature management for IT & tech services.
33.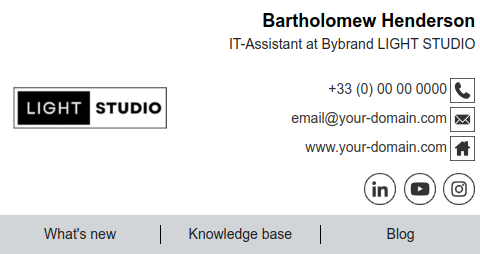 34.
35.
12. Email signatures for sales CRM
If you are looking to increase your sales and marketing efforts, you need a good email signature in your sales CRM. Similar to sales signatures, the best examples of email signatures for a sales CRM should also include personal contact information, a banner, and links.
However, it is important to ensure that the signature looks good and doesn't contain unnecessary information.
36.
37.
38.
39.
13. iPhone email signature examples
If you are like most professionals, you probably use your iPhone for many things at work. Similar to signatures for mobile devices, iPhone email signatures should have little information.
40.
41.
14. With a quotation block
Whether you are sending a business or personal email, a quote in your email signature can make your message more memorable. Here are the best examples of email signatures with quotes.
Read also: 50 Email signature quotes examples.
42.
43.
44.
15. Minimalist email signature
The benefits of having a simple HTML email signature are enormous. The first idea of use for a minimalist signature is in your email marketing platforms such as Mailchimp or ActiveCampaign. In addition, you can also add it as a secondary email signature in the exchange of internal emails with the team.
Read also: How to create a minimalist email signature.
45.
46.
16. Email signature with logo
Finally, an HTML signature with a logo is a great way to add a branded touch to your professional emails. Here are some examples of what an email signature with a logo might look like:
47.
48.
49.
50.
Creating a business email signature
With so many options available, it can be difficult to decide on the best email signature to use in your email. However, with the right approach, you can create an email signature that is both professional and attractive.
A business email signature should have the name, position, contact phone number, company website, logo, and social icons.
This video will show you how to create an eye-catching email signature with a logo and disclaimer box. We'll guide you through the process step-by-step, including uploading a logo, adding a disclaimer, and formatting the signature for a professional look.
Related:
Wrapping up
In this article, we explored some of the best email signature ideas for commercial use. There are many excellent examples of professional HTML signatures for you to choose from and use in your business email today.
These excellent email signature examples not only enhance your brand, but they can also lead to better engagement on your company's website, blog, and social media.
---
Create your first email signature with Bybrand
Bybrand offers the ability to generate, administer, and distribute essential email signatures for your employees.