This post is also available in: Português Español Deutsch
An email signature disclaimer is a short addition that protects the writer from legal backlash. Though an email signature disclaimer will not be effective in certain legal situations, using it will protect you against potential issues and ultimately save you thousands of dollars in legal fees.
That being said, crafting an email signature disclaimer can be time-consuming, especially if you don't know what you're doing. That's why we want to help you by giving you several email signature disclaimers so that you can use them whenever you need them!
Read on to know more about the eight templates.
8 Examples of email signature disclaimers that you can use
The list below is by no means exhaustive. However, it summarizes several ways that email signature disclaimers can be used effectively. Once you have these down, you can tailor your own to your specific needs and provide a safe framework for your disclaimer content creation.
1. External email signature disclaimer
Confidentiality disclaimers are very common and you've likely seen them. Their purpose is to let email recipients know that the conversation and content of the email are confidential and pertain only to the people involved. Email confidentiality disclaimers are useful in all situations regardless of the nature of the conversation or content in question.
Example:
"The content of this email is strictly confidential and only intended for the specified recipient. It is forbidden to share the email or its contents with any third party without the sender's written consent. If this email reached you by mistake, please let us know so that we can ensure that this doesn't happen in the future and delete the message."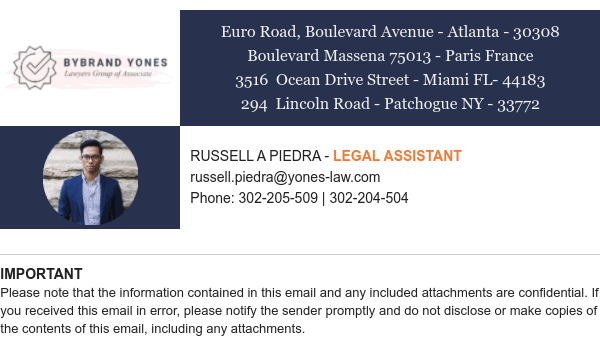 2. GDPR email signature disclaimer
When GDPR joined the internet, many things had to change. Since then having a GDPR email signature disclaimer is not a must, but it's almost always a good idea because it shows that you comply with the law.
Example:
"Company name is 100% compliant with the GDPR data protection guidelines. Read our privacy policy to understand how we collect, store, and process your private information under GDPR."
3. Automated marketing emails
The idea of email signatures to automated marketing emails is actually fairly simple: using this space, you can include some basic contact info so that your recipients know who you are and how to get in touch with you.
But, whether or not you should use an email signature in a marketing email and what it should say have been more contentious questions. There's no one right answer here.
Signing your emails helps establish a professional connection with your recipient but isn't always necessary.
Example:
P.S. Yes, this is an automated email, but this is my real email address, and I'd love to learn more about you! So, if you have any questions or suggestions, you can click on reply, and I will send you a reply within 4 hours.
Template one:
Template two:
4. HIPAA email signature disclaimer
This email signature disclaimer is a must because email is not a secure channel of communication. After all, emails are not encrypted, so the information you provide in them is at a higher risk of leaking. The Health Insurance Portability and Accountability Act was put in place to make confidentiality a necessity, which is why you need to include this disclaimer.
Example:
"As a healthcare entity, our messages are encrypted to maintain confidentiality according to the HIPAA requirements. Since email communications are not encrypted, it is our duty and policy not to share confidential information via this channel. For more information go to link to your terms of service page. If this message has reached you by mistake, please notify the sender right away."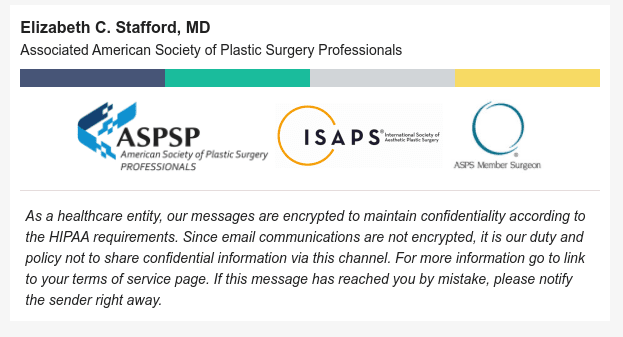 5. Liability email signature disclaimer
All disclaimers have one thing in common – to avoid liability for one thing or another. So the existence of a liability disclaimer is not a shock to anyone. This email signature disclaimer is rarely used but is a must when external communication via email is significant.
Example:
"Any beliefs, opinions, or views expressed in this email are those of the author and don't necessarily represent those of the organization. Employees of company name are expressly required to avoid defamatory statements or copyright infringement as well as infringement of any other legal right via email. Communications of this kind go against company policy and it is outside the scope of employment. The employee is personally liable for any damages or liabilities, not the organization."
6. Negligent misstatement email signature disclaimer
If the information provided in your emails involves heavy interpretation or action, including a negligent misstatement disclaimer may be useful, but not enforceable. Still, covering your bases might be necessary.
Example:
"Company name rejects any liability for the contents of this email or the consequences of any actions taken based on the provided information, unless the information is later confirmed in writing. If this message was not meant for you, understand that you are prohibited from disclosing, copying, circulating, or taking any action based on this information."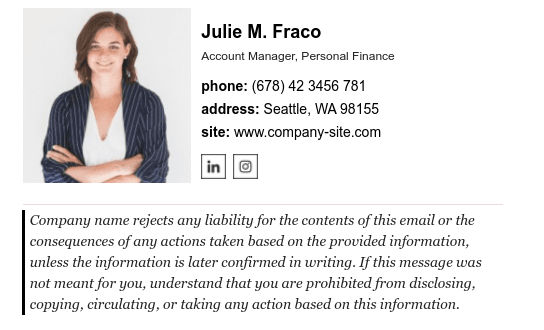 7. Environmental email signature disclaimer
Environmental email disclaimers are not a must and don't absolve the sender of legal repercussions. However, they are a good way to show that the sender cares about the environment. So adding an environmental email signature disclaimer may not be necessary, but will give your message a positive boost.
Examples:
"Please avoid printing this email unless it is absolutely necessary. Emails that are not printed help the environment."
"If it is not necessary and you care about the environment, do not print this email."
"Please consider not printing this email if you care about the environment."
8. Security email signature disclaimer
Cybersecurity is not the responsibility of the sender. However, informing your recipients about proper security measures will foster trust. Most companies have cybersecurity measures to avoid viruses, phishing attacks, etc., but adding this disclaimer is a good way to nurture your company's reputation.
Example:
"Company name prioritizes the client's security at all times. We have therefore ensured that this email does not contain viruses or errors. Unfortunately, we can't ensure complete protection as the data included may become infected, corrupted, or intercepted. We recommend that you scan the email for threats with trustworthy software as we are not liable for any damage caused by viewing the content provided in this email."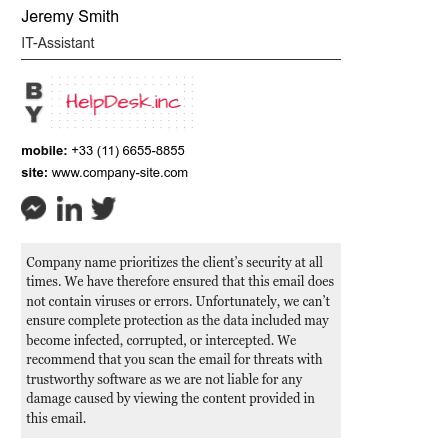 Adding a block of disclaimers to an email signature
Now let's see how to add a disclaimer to the signature.
The first step is to choose one of the examples above. As you can see, there are many email signature legal notices to choose from depending on the context and what you want to avoid.
Then choose the email signature template for the company, team, or department. For example, the salespeople will use a different block of legal notices from the HR department.
In this video, you can watch how to add a disclaimer block to your HTML email signature using the Bybrand editor.
Using an email signature disclaimer in all your communications is always preferable to not using one. It does more good than harm.
However, it's not always obvious where the email signature disclaimer should be placed. The rule of thumb is to add it at the end of the email. It won't get in the way of the flow of the content, and that's usually the part that people read when they need to find legal or professional information.
Choose the right email signature software
Bybrand provides an easy and elegant tool to create and add a disclaimer or legal notice to an HTML email signature, avoiding compliance errors and setting a standard in email communication for all employees.
Furthermore, when it comes to the confidentiality of your company's private email communication, the importance of a uniform email signature with a disclaimer cannot be exaggerated.
Choose your email signature disclaimer accordingly, and feel free to use the examples provided above!
In conclusion
If you're sending out emails regularly, they're bound to have a negative consequence sooner or later. The key is to minimize that occurrence in order to save yourself time and money. And while these examples might not be appropriate for all businesses and professions, they are a good starting model for interest legal protection.
Moreover, keep these things in mind when creating your email signature disclaimer and you will have a stronger one, which will be more effective in protecting you from legal issues and potential lawsuits.
If a disclaimer is still unclear or confusing to your reader, then you may want to rephrase it or leave it off completely.
---
Create your first email signature with Bybrand
Bybrand offers the ability to generate, administer, and distribute essential email signatures for your employees.