This post is also available in: Português
An email signature may be a simple thing, but there are many considerations you need to make when creating yours. One of the biggest choices is whether you will use a minimalist email signature or not.
Minimal signatures are a great way to remain professional and streamline your communication without overcomplicating your emails. As the name suggests, these types of signatures include only the basics in a strategic way.
In this guide, we'll explore what exactly a minimalist email signature is and whether you should use one for your professional or personal communications.
What is a minimal email signature and why use one?
A minimal email signature is limited to a few pieces of essential information. Instead of creating a large email signature banner with social media icons, website links, and various graphic elements, a minimalist email signature strips this down to the bare essentials.
Example of a minimalist signature.

Usually, a minimal signature for emails only includes four basic components. These are:
Full name
Job title and company name
Picture or a company logo
Contact details
All of this is wrapped up in a neat, minimal design that doesn't distract the user.
The purpose of a minimal email signature is to include only the essentials. People who view your signature should know who you are, what you do, and how to get in contact with you. Other than this, there's not much more that your email signature needs to do.
Minimalist email signatures make communications easier and more efficient. They cover all of the important elements you need in a signature, without overwhelming your recipients.
If you overload your email signature design with too many elements, your recipients might not be able to easily find the basic information they need – like your name and position.
You can still create a highly professional email signature or a signature optimized for email signature marketing, while still keeping it simple.
Creating a basic signature for emails doesn't mean sacrificing anything. It just means keeping things simple.
The pros and cons of a minimal email signature
When creating your own email signature, you have many different templates and options to choose from. This can include detailed email signatures complete with animations or just the most basic email signature template.
Both have their pros and cons, it really just depends on what you want to achieve with your signature.
Here are some of the main advantages and disadvantages of using a minimalist signature.
The pros of minimalist email signatures
Simple and easy way to add helpful information
Minimalist email signatures are simple. They're easy to read and understand, and setup becomes easier.
Using minimal email signatures is a great way of simplifying your communications – something your recipients will appreciate. Recipients can quickly identify who you are and what you offer.
Minimal email signatures include all of the necessary information, so they will still do exactly what you need them to do. In fact, because of their simple designs, these email signatures often have a greater impact. This is because your important information is easier to see and find.
Makes your emails more personal
Minimal email signatures are a great way to add a personal touch to your emails.
While many professional email banners might look a bit too branded or corporate, a simple email signature often feels more personal and relatable.
Simplicity is also a great way to leave a lasting impression. By keeping it simple, your emails will stand out clearly. This is especially true for people who spend a lot of time communicating with large companies that all offer detailed corporate email signatures.
Email signature management is also a lot easier with a minimal design – particularly if you're managing emails across an entire company.
Because there are fewer elements involved in the email signature, keeping each element up to date is a much easier process.
Better for mobile viewing
A simple design is also ideal for use on a mobile device. Smaller screens lend themselves better to minimal signatures. These days, most of your contacts are probably using a mobile device.
Easy to use in email marketing platforms
A minimalist sign-off is also often used in email marketing platforms like Mailchimp and ActiveCampaign.
When you're sending marketing materials via email, a simple email signature is best. It will clearly show recipients how to get in contact with you without being crowded with extra information.
Watch this video on adding an HTML signature in MailerLite for a great minimalist email signature example.
The cons of minimalist email signatures
Includes less information than more detailed email signatures
While being simple is an advantage, it can also be a disadvantage.
The main drawback to minimal email signatures is that they don't include a lot of information. This means you can't add things like links to your social media profiles, your website URL, or a strategic call to action.
Your minimal email signature becomes purely informative.
Can't be used for email signature marketing campaigns
As we already mentioned, you can't include many elements in these signatures. This means you can't promote things like blog posts, web pages, videos, or your newsletter in your general communications.
Your email signature just displays the necessary basic details – like your name and contact information. This means you could be missing out on a lot of fun interactive elements that you can include in your email signature or email signature banner.
Can be a bit lackluster
Although we mentioned that minimal design can stand out, it could also be boring at the same time.
If you don't use the right email signature templates, your signature might be too simple and dull. This could have the opposite effect on what you want your email signature to achieve.
How to create a minimalist email signature that looks good
Creating a minimalist email signature may seem simple, but it can actually be pretty tricky to get right.
These signatures are stripped down to the basics. So, you need to ensure you use a design that makes an impact while still keeping it simple at the same time.
The best approach is to use a professional email signature tool. With an email signature manager like Bybrand, you simply choose from a library of minimalist email signature templates.
This video shows a step-by-step example of how to create a minimalist signature from a template. Choose the one you like, customize it with your information, and apply it to your email client. It's that easy.
Here are some more tips for a great minimalist email signature design:
Use a bold but simple color palette to make your email signature eye-catching.
Only include a single image. This can be your business logo or your personal image.
Make sure your email covers the four essential points listed above, and nothing else that might detract from it.
Consider including a short personalized note. Instead of simply listing your name and contact information, you could write a couple of lines explaining who you are and what you do.
Add your phone number or an alternative email address in your contact information.
Minimalist signature templates
There are several ways to create a minimalist signature, but the fastest way is using a template. As minimalist templates are simple, they are also easy to customize.
You can add personal touches – like color or font – to make them more distinctive. In addition, you can create multiple versions of the same template with different details, so you always look professional.
Template with face photo and social icon:

Template with banner: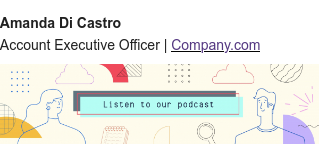 Template three:

Template with logo: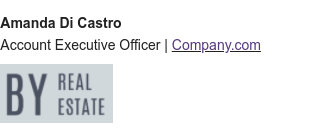 Conclusion
Adding a signature to your email message is one of the best ways to enhance the way you communicate.
Even if the signature is minimalist, it can still help you offer important information without detracting from your main message. This is a simple way to add more value to each email you send out.
Using the right email signature generator and including the most important information in your signature can help you make an impact and sign off each email with the information your recipients need.
---

Create your first email signature with Bybrand
Bybrand offers the ability to generate, administer, and distribute essential email signatures for your employees.