This post is also available in: Português Español Deutsch
In this digital age, professional HTML signatures are more important than ever, and there are two main reasons why. Firstly, they include relevant information about the company and its employees. Secondly, they are an opportunity to display the company's brand – to showcase what your business is all about. As such, they are an effective and low-cost marketing tool.
Bad email signatures show a lack of professionalism. They also make it difficult for email recipients to contact you on alternative channels. By using good email signatures, you can improve your company's image and boost traffic to your website and social media platforms.
What makes a bad email signature:
Email signature with image-only
Wrong information or link that doesn't work
Information in excessive quantity
Signature in plain text. (att, you name.)
So, it's important that all your employee email accounts have professional-looking HTML signatures on their emails, and Bybrand makes this easy.
Best practices for creating a professional and fascinating signature
Now, you may wonder what makes a good email signature. To help you out, we've put together best practices for creating your business email signatures. These tips will help create consistency across your employees' email signatures while positively reinforcing your brand's image.
1. Use a standard font
If the recipient of an email does not have the font you use downloaded on their computer, they will just see the fallback font. Save yourself some time and use a standard text-font. These are on virtually all systems.
Standard text-fonts include Arial, Verdana, and Times New Roman. These fonts are easy to read and look professional.
Instead of using multiple fonts to make different details stand out, rather vary the size of your font. Alternatively, you can put some of your text in bold to highlight those parts of your professional HTML email signature.
See how Bybrand's email signature editor works with fonts.
2. Avoid using images only
It is beneficial to include an image in your business email signature. Having your employees include a photo of themselves gives their emails a more personal touch that a logo or plain text cannot match. This helps when you are in an industry in which you and your employees interact with clients regularly. But, if you'd prefer, you could choose to include an image of your company's logo instead of employee photographs.
Here we have an email signature using the company logo as an example:
In this guide, we'll cover why adding a logo to your email signature is important.

Why you should add a logo to your email signature.
Whichever option you choose, the email signature must not be image-only on its own. While this might look good (beautiful design), it is not functional. You want your business email signatures to make it as easy as possible for recipients to access other modes of contacting the company.
For example, if you include a link to your company's website, you want the recipient of your email to be able to click on that link and be directed to the site. The same goes for contact numbers. This is not possible if your contact number and company's URL link are included in a picture.
Some devices and email services also have default settings that block images. If you were to use an image on its own, they wouldn't be able to see it, and there would be no point in having it. So, including both text and an image in your employees' email signatures is a must.
In this example, you can see that Gmail with image blocking does not display the email signature.
Read more: Complete guide to HTML email signatures.
3. Add your contact details
In today's digital age, professional HTML signatures have similar functionality to business cards. They represent your employees professionally and must include company contact details. This gives recipients alternative options to contact your business, which is helpful if they are dealing with a time-sensitive matter.
If you simply use plain text, you're losing the opportunity to drive traffic to your website, blog, or social media. So make sure that you include contact details and clickable HTML (more on this later).
See the email we received from Brandon Shin, Cofounder of Polymail. The email message is not bad, but there is room for improvement. In the end, they could do a little better using an HTML signature and not plain text.
For email marketing or transactional, which are automatic, you can use a minimalist email signature.
It is difficult to prescribe universal contact details that should be included in every email signature. The nature of your email signature really depends on the nature of your job.
However, almost all business HTML signatures should include, at the very least, the following:
Employee name
The company's name and/or logo
A link to the company's website
The position the employee holds in the organization
And at least one alternative way of contacting the business.
Some companies go on to include the company slogan or the employee's email address to make it easily accessible.
You want your employees' professional HTML signatures to be informative but not cluttered. Try and avoid unnecessary information, like alternative email addresses, or more than one contact number.
4. Include legal notices
The enforceability of disclaimers in professional HTML signatures is different in each country. However, it is advised that specific industries, specifically law, banking, and finance, should include a disclaimer in your business email signature.
Fundamental to all professional email signature disclaimers is a confidentiality clause. This signals that the email is private and intended only for the intended recipient.
An example of a confidentiality clause is:
IMPORTANT: Please note that the information contained in this email and any included attachments are confidential. If you received this email in error, please notify the sender promptly and do not disclose or make copies of the contents of this email, including any attachments.

source https://www.bybrand.io/editor/disclaimer
Other things to include in a legal notice include:
exclusion of liability clauses
security clauses (warning against the protection of viruses)
and regulatory compliance clauses.
Remember, you want to protect your company, but you also do not want to include too many unnecessary things in your business email signature. When deciding what to include in your employees' professional email signatures, consider the nature of your business and your need for legal protection.
Email signature disclaimer – example one
A disclaimer example is separated by language.
Email signature disclaimer – example two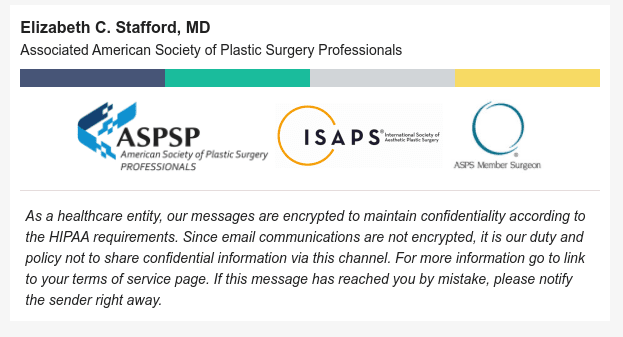 Many industries would not need legal notices. So, including one when you don't need to would simply clutter your business email signatures.
Reed also
5. Clickable HTML email signatures
As mentioned, you want parts of your company's professional HTML signatures to direct the email recipient elsewhere. Business email signatures that do so are called clickable HTML Signatures. We have already advised that you should make your company's contact number and website URL clickable links.
Other clickable links that you should include are links to the company's social media platforms. This includes LinkedIn, Facebook, Twitter, Pinterest, Instagram, etc.
However, make sure that these platforms are up-to-date and relevant. Do not include as many social media platforms as possible simply for the sake of it. The point is to direct traffic to these sites. This would not be beneficial to the business if these social media platforms are not up to date.
HTML email signature example
In our example below, the phone, website, and social networks receive a clickable link.
In this second example, we have a clickable banner.
Also, you can find some examples of clickable HTML email signatures in the Bybrand gallery.
6. Pronouns to email signatures
Have you ever received a reply and seen the person used pronouns in their professional email signature? Like, "he" or "she". Then you're probably like, why do people use pronouns in their email signatures?
If you wonder how to add pronouns to your email signature, read on to discover how to do it. As a matter of fact, this section with external links will teach you how to add pronouns like "she/her", "they/their", and other gender-neutral pronouns to your HTML email signatures.
Read and watch the Youtube video of how to add or remove a title line in the email signature. Or watch the video tutorial on how to add pronouns for all Google Workspace users.
7. Email signature with animated GIF
Animated GIF email signatures are an excellent way to add fun and excitement to your emails. They're also a great way to create a more professional look. Animated GIFs not only make your emails more visually appealing, but they also make your messages engaging.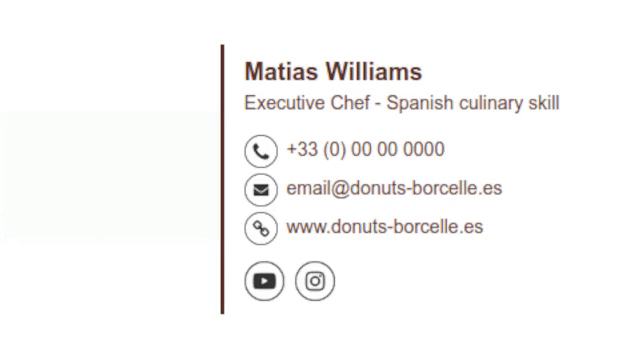 8. Email signature quotes
Not only can motivational phrases or quotes inspire the reader, but they can also remind you of your core values and beliefs. Having a quote in your HTML signature can also be a great conversation starter in emails, helping to break the ice and start meaningful conversations.
Also, quotes can be used to add a touch of humor or comfort to your emails. They can also show that you care about your customers, as they demonstrate familiarity with their interests and preferences.
Example email signature with a motivational quote:
Final thoughts
It is essential not to waste the opportunity email signatures present to make a lasting professional impression on email recipients.
A good HTML email signature allows you to promote your brand and increase traffic to your website and social media accounts. It's free advertising for your brand. Not to mention, it makes it easy to direct potential clients to your website or contact details.
So, follow these tips to create effective HTML email signatures for your employees. They should accurately reflect what your business is all about and look good so that you can leave a positive impression with your email recipients.
Updated on 20, Dez.
---
Create your first email signature with Bybrand
Bybrand offers the ability to generate, administer, and distribute essential email signatures for your employees.