This post is also available in: Português
If you are looking for an email signature manager, you may be exploring NewOldStamp as a solution, though I am not sure if this is the right solution for your business and team.
If you want to have email signatures as a marketing channel, NewOldStamp might be the right solution. But, on the other hand, if you want fast email signature management for your modest team – let's say of more than 20 employees – Bybrand is a better solution.
NewOldStamp is ideal for a small team with up to 10 employees, as the software lacks automation. Also, it lacks integrations with email platforms or solutions that work with built-in email, like helpdesk software or a sales CRM for example.
In this following guide, we will show you how Bybrand is a better alternative to NewOldStamp in most cases.
About NewOldStamp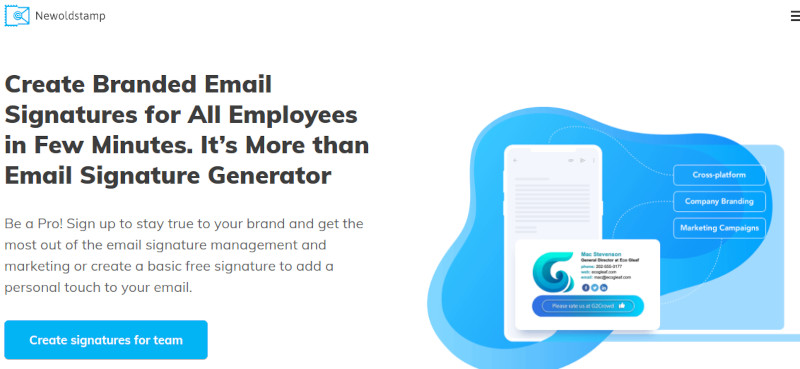 It was launched in 2015 as a simple, free tool to generate email signatures for individuals. These include students, freelancers, independent workers, micro-businesses, and non-profit organizations.
NewOldStamp is a management tool focused on email signature marketing. Therefore, the software may be best suited for companies that intend to use email signatures as a marketing channel and do not want to do repetitive and manual tasks.
Key features like cloning and banners are available. Also, you have the possibility to standardize and centrally edit each signature within the organization and within departments.
The tool is quite adaptable. But, you see, it doesn't fit every team perfectly. What some teams may find useless, other teams may find priceless. That being said, NewOldStamp is not the only email signature management tool you should look at. Let's see where Bybrand is better suited in some regards compared to NewOldStamp.
Where is Bybrand better?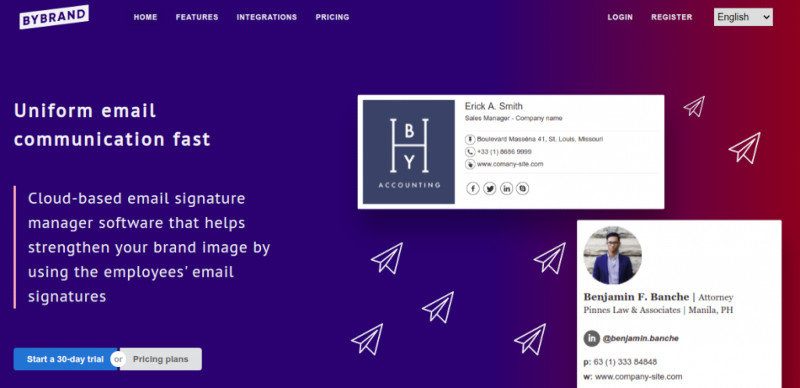 Bybrand is an email signature manager software designed for companies. The solution has complete integration with Google Workspace, Zoho CRM, and Freshdesk from Freshworks. It also has the goal of saving time for IT managers and marketing professionals, who are usually the ones in charge of standardizing the email communication of employees.
Less repetitive tasks
Bybrand understands that an IT manager or marketing professional has a busy schedule. Email signatures are important, but the creation process needs to be as quick and streamlined as possible.
Here are the key features where Bybrand beats NewOldStamp:
Watch a quick presentation of the Bybrand HTML email signature editor.
Where is NewOldStamp better?
NewOldStamp has an easy-to-navigate interface and allows you to seamlessly manage and update employees' email signatures in a centralized dashboard, plus you can import employees from a CSV file.
Unlike Bybrand, the solution has the Analytics feature where you can see how engaging your HTML signatures are. In fact, Bybrand does not have any reporting or analytics features.
To boost your marketing efforts in the email signature, NewOldStamp has another interesting feature, named Banner Campaigns, which allows you to add a banner advertisement at the end of each signature, or schedule automatic updates to boost your marketing efforts. Bybrand has no campaign feature and banner creations are manual.
Prices NewOldStamp vs Bybrand
NewOldStamp has a pay-per-employee pricing plan, while Bybrand has a simple, fair plan based on the number of email signatures created on the account, rather than the number of users. With Bybrand, you can use the same signature on multiple accounts, such as on an alias email address.
Bybrand's full plan for 20 signatures
$16 per month – charged monthly.
NewOldStamp's full plan for 20 employees
$40 per month – charged quarterly.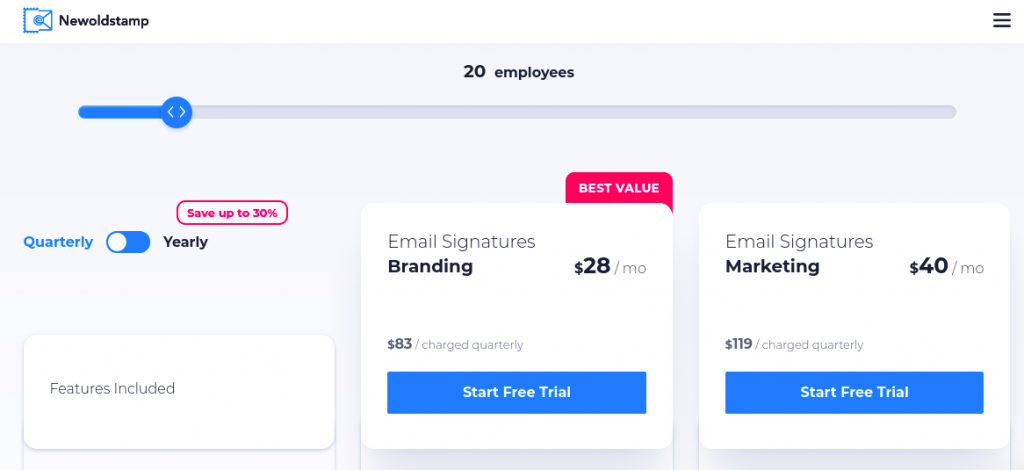 Conclusion
Although it has many interesting features and is quite popular, people are still looking for a better alternative to NewOldStamp. There are also many other email signature management tools out there that are better than NewOldStamp at providing a wider range of features for larger teams needing to standardize email communication.
As we discussed earlier, there are many tools on the market that are similar to or better than NewOldStamp. In fact, standard features that almost all email signature management tools provide have not been covered, as they are quite similar.
Here are similar features:
---

Create your first email signature with Bybrand
Create, manage, and deploy powerful email signatures for your team using Bybrand.