This post is also available in: Português
Email signatures are exceptionally helpful for marketers and business people throughout all industries. What started as basic .text files traded over the internet has become a staple of digital communication. Instead of calling or sending a proposal or contract via the USPS (United States Postal Service), you can now email almost anything you can digitize.
So, now that email has become the preferred method of quick and effective communication between businesses, the email signature has garnered a reputation all its own. Thus, an email signature is a useful and necessary marketing tool due to its capability to make every email more informative.
As they are such important pieces of an everyday communique, you must use the best creation methods for your professional email and email signature management.
Today, we're going to walk you through NewOldStamp, including a summary of its features as well as its pricing and alternatives.
What is NewOldStamp?
For those who have never heard of NewOldStamp until landing on this page after a Google search, you might want to check out Capterra user ratings for NewOldStamp. At first glance, don't be surprised by the number of reviews written – that's a positive point, anyway.
NewOldStamp was free software for a while and participated in the Sumo discount club.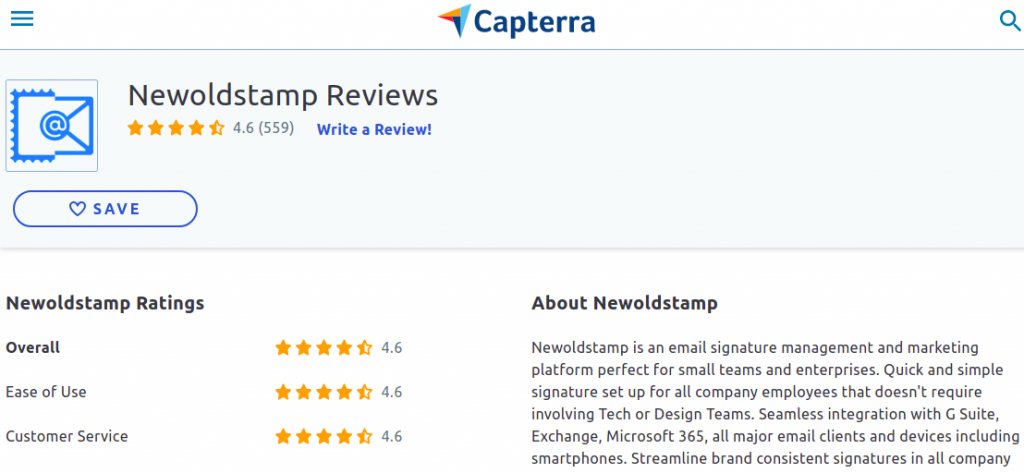 NewOldStamp is the best choice for implementing email signature marketing into your company branding. This email signature generator goes above and beyond to offer useful and affordable email signatures to individual professionals, teams, and companies alike.
NewOldStamp offers a plethora of options that make the email signature generator a perfect fit for entities such as:
Students
Non-Profits (NGOs)
Teachers (Educators)
Startups
Web Agencies
Therefore, you can see how NewOldStamp is dynamic enough to help build your success. Whether you are a student or an small company, NewOldStamp has the capabilities to help you achieve your goals.
Why do I need an email signature?
Email signatures are great branding tools for yourself, your business, or your organization. In the digital world, there are many reasons why it is essential to have a professional and consistent email signature:
It brands every message you send in a way that is unique to you.
Email signatures can include links and contact info in an organized and consistent manner.
Including an email signature shows authority and commitment to your brand or your cause; if you're a little more old-school, you can think of it as adding a business card to every email.
You never want a person to have to search for a way to contact you. Having an email signature gives them a quick reference to your details and provides options for finding more information that you can control.
Email signatures can boost your web and social traffic, helping your company, your cause, and yourself simultaneously.
It offers an assurance of authority. You are sending emails as yourself, of course. You are also, however, sending emails as an ambassador of your cause.
Here are the pros and cons of the proactive NewOldStamp email signature generator:
Pros
NewOldStamp allows you to manage email signatures for a few employees. The generator offers the perfect email signature builder for students, the self-employed, and personal assistants. Furthermore, it provides features including:
Fully branded generator page
Custom templates (housing a unique design, colors, fonts, etc.)
Limited customization features for your teammates (so they can individualize their email signature without de-branding your signature)
In addition, NewOldStamp includes a centralized dashboard, and the options are extremely affordable. Analytics and banner management is available for marketers. The solution offers detailed installation guides that make the generator easy to use so the solution is a safe choice for small businesses.
Cons
While there are plenty of reasons to love NewOldStamp, there are a few considerations that are important to know about before deciding to dive into creating email signatures for yourself, your nonprofit, or your business:
If your company is a little bigger, with over 25 employees, there will be many repetitive tasks if you use NewOldStamp as your email signature management solution.
Publicly, on its site, the company writes that it has integration with Microsoft 365 and Gmail, but that is not entirely true. The integration is only available after manual customization, which can be time-consuming and difficult.
You need to fill out a form to create an email signature.
NewOldStamp might be a little too basic for long-term use.
Therefore, the NewOldStamp email signature generator has no email platform integrations, which is certainly its biggest downside.
What type of pricing plans does NewOldStamp offer?
NewOldStamp offers dynamic pricing plans designed to work for you and with your schedule. While there isn't a plan that provides monthly payments, there are two monthly payment options available for each price point.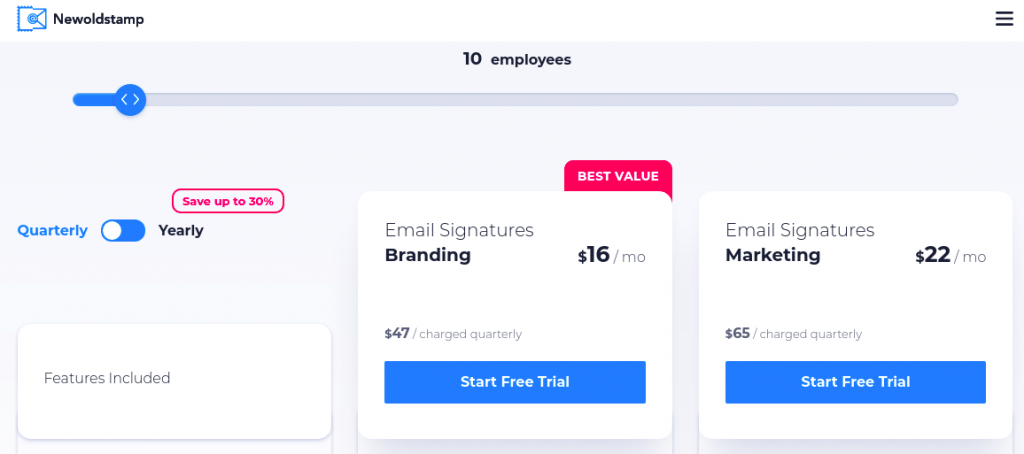 First, NewOldStamp offers a package for startups, students, individual professionals, and others that might benefit from a slightly lower price. This plan's options include paying quarterly (four payments of $24 per year) for a total of $96, or an annual fee of $86 per year.
The second NewOldStamp price plan aims to accommodate teams, agencies, or larger entities. These plan options include paying quarterly (four payments of $33 per year) for a total of $132, or an annual fee of $108 per year.
Note that the prices below were collected in July 2021.
Features Included
Email Signatures: Branding
Email Signatures: Marketing
Quarterly/Yearly
$8/$7 per month
Quarterly/Yearly
$11/$9 per month
Central Management
YES
YES
Multiple Signatures per User
NO
YES
Signature Analytics
Basic
Advanced
Segmentation
NO
YES
Bulk User Import
YES
YES
Custom Signature Generator
YES
YES
Banner Campaigns
One Campaign
Unlimited
Banner Campaigns Analytics
NO
YES
Banner Gallery
YES
YES
Account Administrators
Five Admins
Unlimited
In summation, NewOldStamp is incredibly transparent regarding the email signature generator's offerings and prices.
Alternatives to NewOldStamp
Again, if your wish is to create a few email signatures for employees or if your business is related to non-profit organizations, educators, and self-employed professionals, NewOldStamp is, without a doubt, the best choice.
On the other hand, if your business is a company that cannot afford to waste time on repetitive tasks, switch between browser tabs, with no automation, you need NewOldStamp alternatives that may meet your expectations better.
Next, we'll share three great NewOldStamp alternatives: Bybrand, MySignature, and WiseStamp.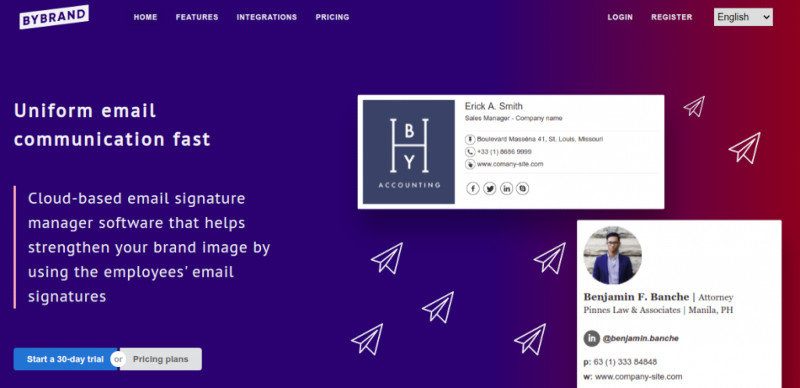 Starter: $8 for up to 10 email signatures and $0.80 for each additional email signature
Full package: $16 for up to 50 employees and $0.50 for each additional employee
Notable features:
Here is a complete list of features that Bybrand offers in their email signature manager.
Integration with email platforms like Google Workspace and CRM software like Zoho CRM.
Integrations with secondary platforms such as helpdesk software, URL shortener, and project management (as well as Asana soon).
Give creative people on your team access to your account and create better email signatures faster.
With a modern HTML email signature editor, create templates from scratch or with examples available in the gallery.
Summary: Bybrand is an email signature management platform that makes it quick and easy to create signatures for your entire team. The platform offers time-saving features, a large collection of templates, an HTML signature editor, integration with leading third-party tools, and collaborative features to speed up the signature creation process.
Bybrand understands that, as an IT manager, you have a busy schedule. Therefore, while email signatures are important, the creation process needs to be as quick and streamlined as possible – without sacrificing professionalism.
Video: Create from scratch your first HTML email signature.
MySignature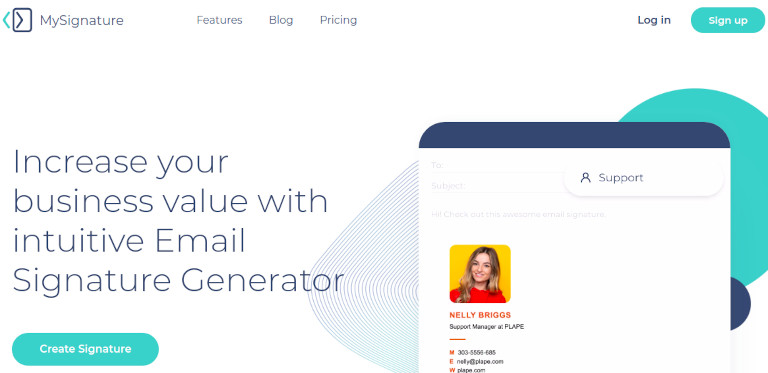 Starter: Signature Package – $29 one-time (create one PRO signature or edit it for 24 hours)
Full package: Signature Package – $4/month or $48 billed yearly
Summary: This tool is user-friendly, and a wide variety of email signature models are offered. They offer a resource that can manage various email signatures on the dashboard, as well as cloning and sending a signature to an employee.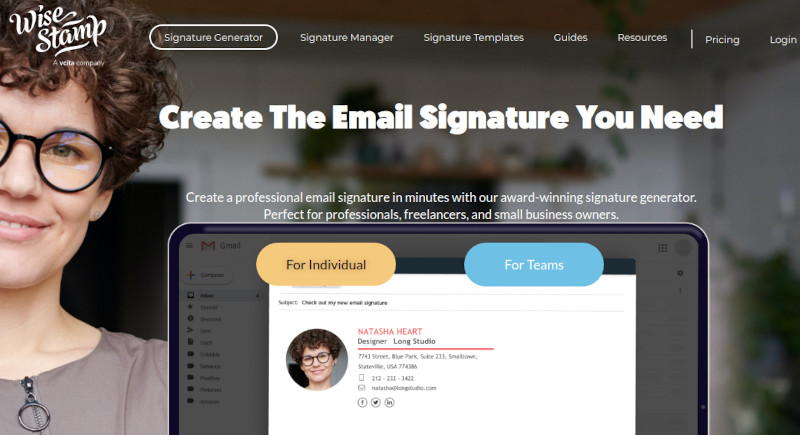 Starter: $5.80/month
Full package: Pricing for organizations, $2/month per user
Summary: WiseStamp is an email signature manager designed specifically for personal use and for freelancers. WiseStamp is used by around 700,000 professionals and small business owners around the world.
Required reading: How Bybrand is the Better Alternative to Wisestamp.
The bottom line
It's never too late to make a change, especially if your current email signature management software isn't optimizing your business processes, generating more work for your IT department or marketing team.
Choosing an email signature manager isn't a decision to take lightly. There are several factors that need to be considered, particularly the needs and size of the team or company. Finding the right solution is important.
---

Create your first email signature with Bybrand
Create, manage, and deploy powerful email signatures for your team using Bybrand.