This post is also available in: Português
CTOs and IT managers look for alternatives to facilitate employee management. After all, it is necessary always to seek continuous improvement and actions that focus on increasing customer satisfaction. Hence, many companies are opting for systems that offer effective management of the customer journey.
With properly structured support, it is possible to resolve customer requests in a more agile and simple way than an email.
Five reasons to adopt help desk software
To help you better understand how help desk software works, we'll highlight 5 reasons to embrace it and the valuable features that the tool offers customers (and support agents).
1. Manage teams with ease
Help desk software allows IT managers to use a ticket structure to gather customer service inquiries and distribute these requests between the team members. This software makes it possible to create and configure, in a simple way, the company's help desk.
The process is smooth because the software aggregates customer contacts, making it possible to receive requests from various channels (email, corporate website chat, social networks).
Also, a system must feature automation rules to organize the demands in a structured way. This mechanism helps delegate tickets through keywords related to an employee. In this way, the manager does not have to do the manual job of forwarding tasks.
2. Self-Service
A self-service process with a knowledgebase helps you reduce the volume of tickets that your help desk handles, but not just that. Self-service should help customers find solutions faster, and it also empowers agents with the right knowledge to enable them to achieve more meaningful results.
The small details are essential, and the help center should reflect your brand's philosophy, the appearance of your site, and the mapping of the domain itself.
3. Integration with third-party tools
With the popularization and affordability of SaaS (software as a service), companies are increasingly adopting this model to help manage their businesses. They are using dozens of different software programs daily, and integration between them is crucial to productivity.
For example, if your team uses Slack for internal communication, you probably want your help desk software to integrate with that collaboration service.
Alternatively, help desk software can extract data from Google Contacts to add more information about the authors of the requested tickets.
The primary integrations that reference help desk software need to have:
CRM;
Calendar;
Telephony/SMS;
Chat;
Email platforms;
For email platforms, many IT managers are investing in G Suite because of the comprehensive suite of applications that can be embedded. Exciting integration features are conferences with ticket authors through Hangouts (instant messaging and video chat) and tools like Google Analytics, Calendar, and Drive.
Integration with Google tools needs to be a highlight and a decision point.
4. Manage service level agreements (SLAs) more easily
One of the significant difficulties the IT managers face is establishing Service Level Agreements (SLAs) that are positive for support and customers. In a chosen software, it should be effortless to establish priorities, requirements, and resolution deadlines.
Thus, the team has the necessary information on the demands that need to be resolved on a priority basis and the deadline for sending responses to clients. Each ticket contains data on the SLA signed with the contracting companies. If a ticket has exceeded the settlement time, the clerk will be notified of the delay.
5. Access the tool on the go
Because of their many professional commitments, IT managers cannot always be onsite at the company headquarters. To analyze problems and guide the team in implementing solutions, it is useful to have a tool that is also accessible via mobile devices.
Help desk software should ideally have a compatible application with versions for Android and iOS. In this way, the manager can efficiently resolve issues remotely from their palm with their smartphone.
The software also needs to present a responsive mobile version on the web, which allows the browser to use the help desk tool on multiple devices.
The fundamental features
The five reasons listed above explain why having a help desk is critical to today's modern businesses. However, we must not forget to remember basic functionalities. Here are the ones that need to be mentioned, and they are fundamental in the day-to-day use of the software.
Predefined answers (ideal for frequent requests that can be answered succinctly);
Suggestion solutions (contributes to the operators giving more responsive answers to the clients and to finding solutions to the demands more efficiently, based on the data sent by the clients);
Mass actions (allows an operator to send several tickets quickly and also makes it possible to exclude certain demands);
Scenario automation (allows you to perform multiple actions with agility on a single ticket, such as shifting priority to urgent, setting task status, and forwarding it to the development team).
Managing HTML email signatures
The email signature of the support team is a point that should not be overlooked. Email subscriptions strengthen the branding on every sent email ticket and help in self-service. It is vital that help desk software allows for HTML email signatures to enable enriching messages with useful information such as a website link, knowledge base, and contact phone.
See an example email signature, which can be used effectively by a support team
Note that we added emphasized the phone number to subconsciously queue in the reader that the phone is a crucial service channel. Moreover, in the end, we inserted three links: knowledgebase, blog, and news.
See some more email signature templates like this here.
Which customer support software to choose?
There are many help desk software options on the market, but in the parameters mentioned above, Freshdesk and Zoho Desk is good choices, let's go into the details on each one of them to help you decide on your own.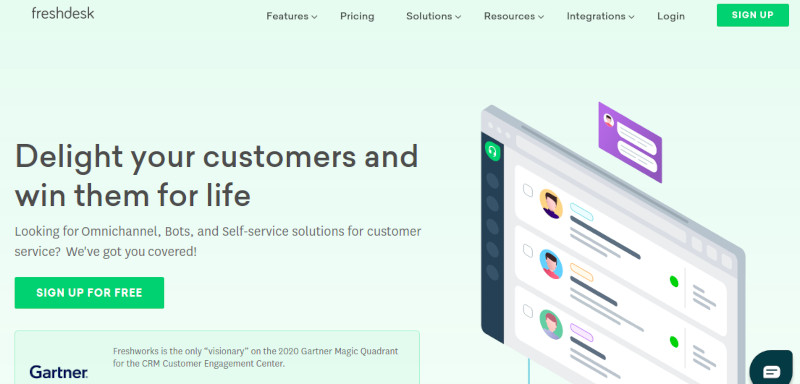 Freshdesk presents itself as an intuitive, resource-rich, and affordable customer support software.
It has several features that make life much easier for clients, agents, and managers. Undoubtedly, IT managers who target Freshdesk can manage the demands of others more efficiently. In this way, they improve team performance and increase customer satisfaction.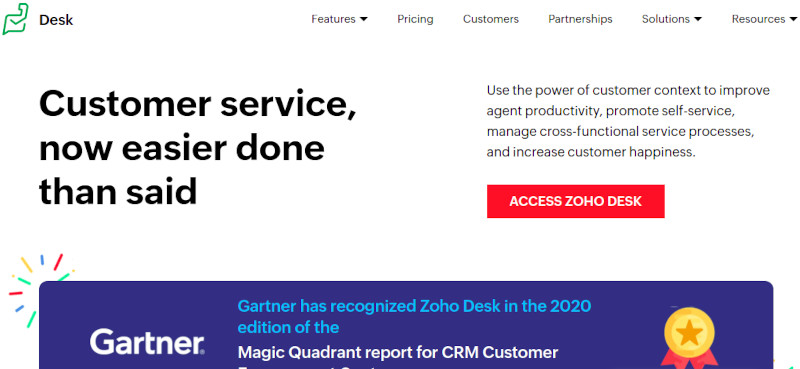 The Zoho Desk presents itself as the first context-sensitive customer support software.
It offers contextual information for each customer interaction. That means that the customer's history, their activities, their previous problems – anything that helps the service agent better understand the problem and drive its resolution quickly.
Perhaps, the biggest difficulty is choosing one of these two platforms.
If you have questions about Freshdesk or Zoho Desk, feel free to send your questions. We are on hand to help you make good acquisitions in the IT industry!
---

Create your first email signature with Bybrand
Create, manage, and deploy powerful email signatures for your team using Bybrand.