This post is also available in: Português
Today we are going to list the main professional builders and managers of email signatures that are available on the market and give a brief introduction specifying what each option can do for specific needs.
However, before we get into the concrete benefits of each option, it is important to understand the difference between an email signature builder and an email signature manager. Yes, there is a difference between them.
Email signature builders
In many cases, an email signature builder can be referred to as a generator or editor. However, in this article, we will only refer to this tool by the name "builder". In the end, they are both the same thing.
Builders have a simpler structure, mainly offering some resources for editing and formatting individual signatures. They are perfect for freelancers, students, independent attorneys, solo entrepreneurs, and small companies of up to 10 employees.
A builder is typically uses more manual control of email signatures. Therefore, a simple builder can only fully meet the needs of an individual professional or a small company.
Most of the time, a builder is offered for free – or, in other cases, as an additional tool that has been aggregated into something larger – in order to generate leads. This is why there are more options for builders than we can list.
Email signature managers
Managers, on the other hand, offer additional resources, which are made for the automated management of sets of email signatures.
The email signature manager is a tool that allows a company to create, implement, and maintain a standard of signature for all its employees, efficiently solving typical problems for companies who try to do this standardization manually.
With management resources, an IT administrator or marketing professional can take care of both the general and common aspects of email signatures – as well as the signatures themselves – such as the individual details of each employee.
It is also important to note that all managers are paid (not free) or operate under the Freemium model (free up to a certain point).
Typical problems in the management of email signatures
Within a company, it is normal for employees to be instructed to use a certain standard of email signature for messages sent. Through defining this standard, the company seeks to convey a positive image of itself – especially aiming at the external public – with the objective of, for instance, strengthening brand image.
In many cases, especially in larger companies having, let's say, over 50 employees, adherence to this standard is done manually, which means a great deal of strain for the professional who oversees this task.
Manual standardization is impractical, which means that each employee is in charge of adjusting their own email signature to the defined standard. This procedure can lead to a series of inconveniences, such as:
The hassle caused for each employee. Not only at the moment when the signature is created, but whenever information needs to be updated (change of phone number, position, department), as the employee will need to dedicate some time to this task;
The use of signatures with outdated information. Whether the reason is inattentiveness or not wanting to go through the hassle of updating information, employees end up leaving incorrect information in their signature;
The tendency to lose the standard. With signatures being updated individually, it is natural that formats outside the established standard may appear;
Difficulty in control. Companies must inevitably and constantly be checking each employee to see if their signature follows the standard and if the information on it is updated.
The result is that the attempt at standardizing may lead to the opposite effect: instead of a single and well-defined identity, the public may notice diffuse and inexact information.
For companies with many employees, email signature managers are naturally the best solution, as they can free teams of doing repetitive tasks.
List of builders and managers
Now that you know the difference between a builder and a manager, the moment has come to check out the options available on the market. In this section, we will take a complete look at 18 options.
For each option, we will include:
The name of the option:
Screenshot of the website's homepage:
Type: builder or manager
Who they are most appropriate for:
Links to the company's website:
A brief description.
Builders
To facilitate the reading and analysis, we will list the builders first, then the managers.
1. Hubspot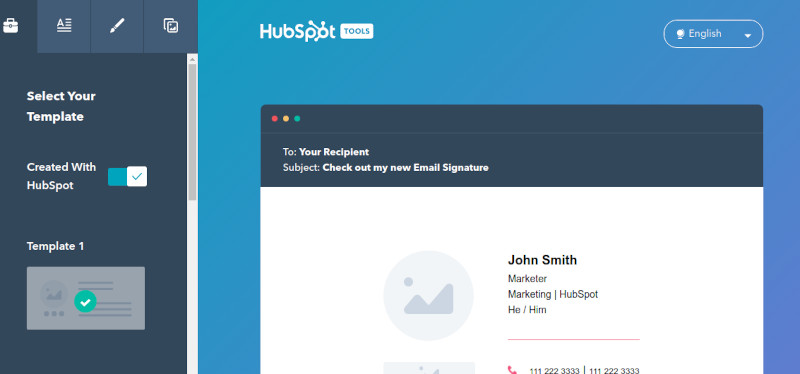 Type: Builder
Who it's for: Freelancers, students, and HubSpot customers.
HubSpot has dominated the CRM software market for a long time. The company offers an email signature builder for free for CRM clients, and to whoever wants to use it. This tool is perfect for professionals who have the goal of partaking in modern email communication. The tool is available in various languages, including Portuguese and Spanish.
2. Si.gnatu.re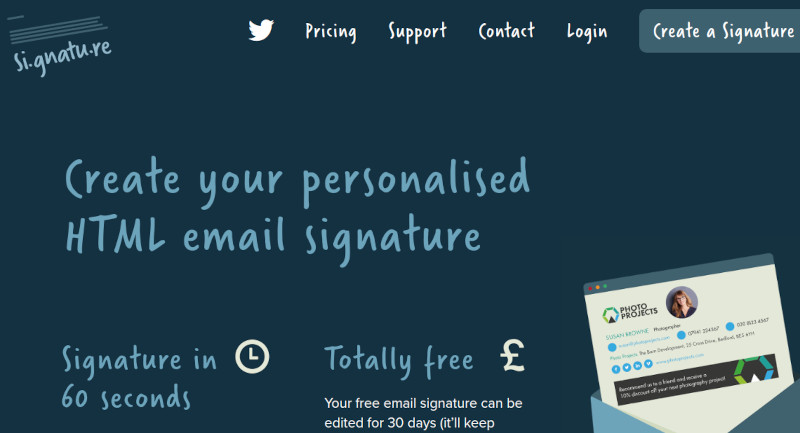 Type: Builder
Who it's for: Self-employed professionals, lawyers, startups with up to 10 employees
Site: https://si.gnatu.re
Si.gnatu.re is a customized HTML email signature builder, created by a design agency in London, England. A free version is offered for 30 days, where users can edit their signatures and, with the paid version, users can freely edit signatures. The builder is not the company's main business. The agency also works with business cards, websites, and mobile and web applications.
3. Signaturia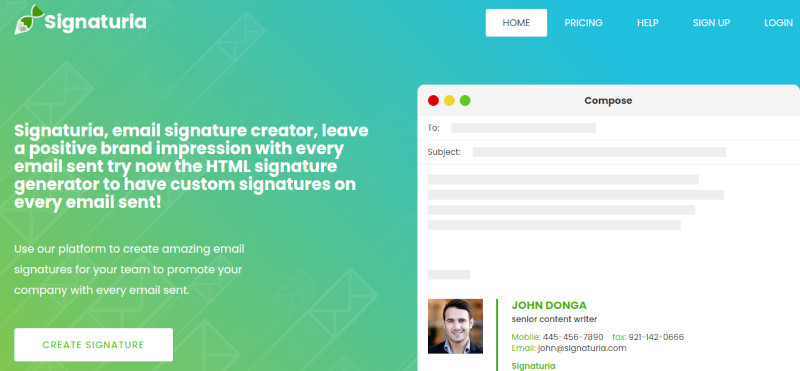 Type: Builder
Who it's for: Small businesses
Site: https://www.g2.com/products/signaturia/reviews
Signaturia offers a generator that allows you to quickly create signatures, with the fewest number of stages possible. There is a free version, but after 30 days you lose the ability to change the signatures created and you are limited to using the basic theme. The alternative is updating to a paid plan or downloading your signature. The OFFICE package, which is paid, offers advanced resources, which are almost the same as those of a manager, such as access to a dashboard, statistics, and the ability to clone email signatures.
4. HoneyBook – Signature Genarator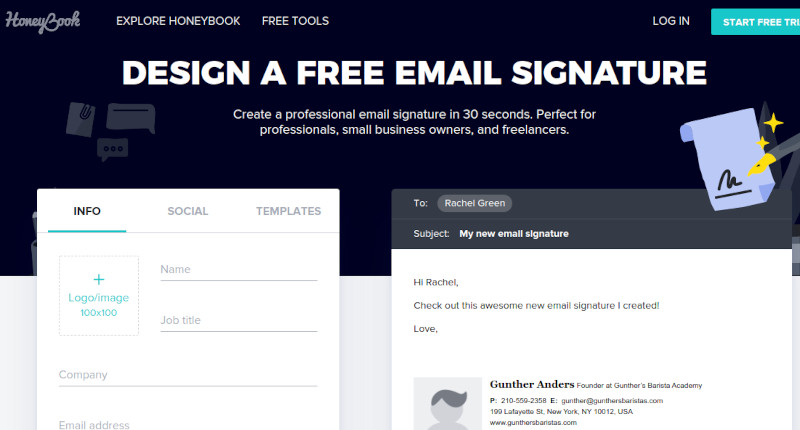 Type: Builder
Who it's for: HoneyBook customers, solo entrepreneurs, freelancers
HoneyBook is a sales CRM offering an HTML email signature generator that is free for its clients and solo professionals. You can create an email signature in 30 seconds with no ads, but once you finish your creation, you agree to receive your signature and communication from the company via email.
5. SignatureLab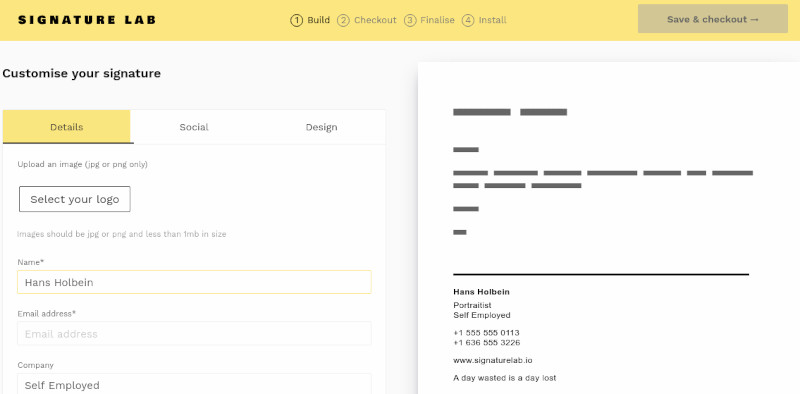 Type: Builder
Who it's for: Students, solo entrepreneurs, and freelancers
Signature Lab is a simple builder developed by the company Midnight Studio as a parallel project. In the free version, your customized signature is generated with a promotional ad for Signature Lab at the bottom. To remove this, you must purchase a plan.
6. Mailbum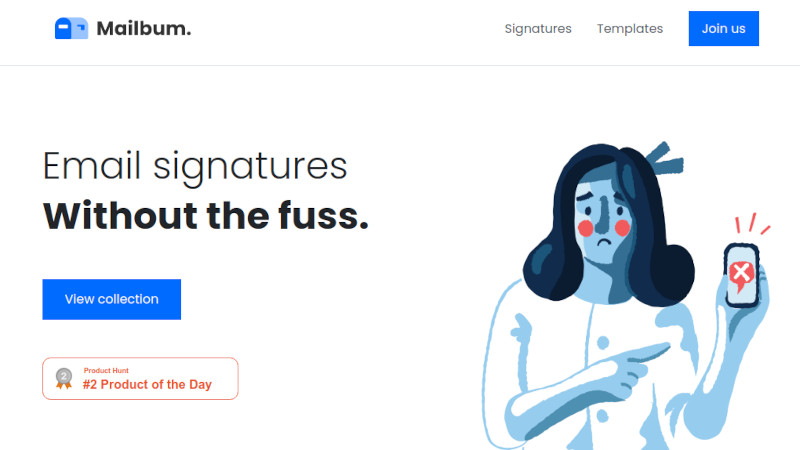 Mailbum is a very simple email signature generator created by Fraser Cook (he accepts donations to support the project). The tool provides a basic set of models of email signatures that you can customize (social network icons, logo) and, in the end, it will generate an HTML code that you can paste in the email client, for free.
7. htmlsig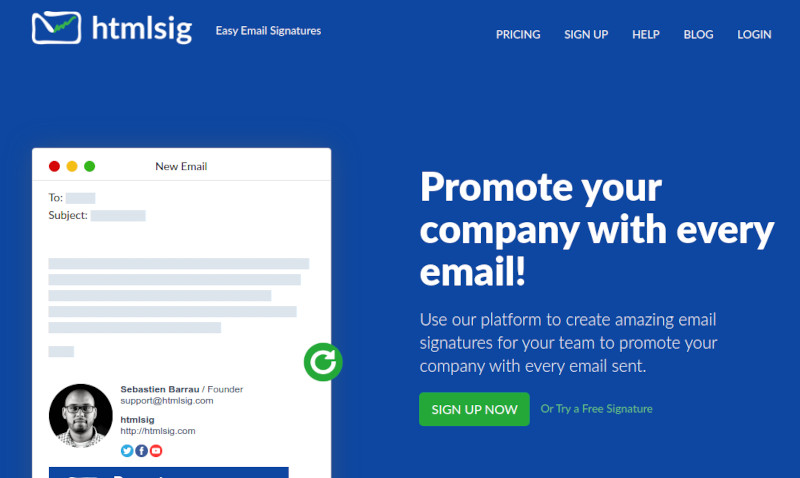 Type: Builder
Who it's for: Small companies, self-employed professionals, and solo entrepreneurs
Site: https://htmlsig.com
htmlsig's builder offers a dashboard where you can organize the email signatures created. This way, it is easier to make changes quickly, to monitor statistics, and to send signatures to members of a small team. Despite offering a cloning resource and the possibility to share signatures, the software is not a manager.
8. Gimmio
Type: Builder
Who it's for: Perfect for marketing agencies
Site: https://gimm.io
Gimmio's signature builder (previously known as ZippySig) has 40 free models to choose from, where you can create email signatures instantly with a model and send it to different members of the team at once. Besides having advanced building resources, users can import information on employees in a single stage, through a wide variety of sources, such as CSV and Excel, in order to create email signatures quickly.
Managers
Next, we'll look at the list of email signature managers.
9. Bybrand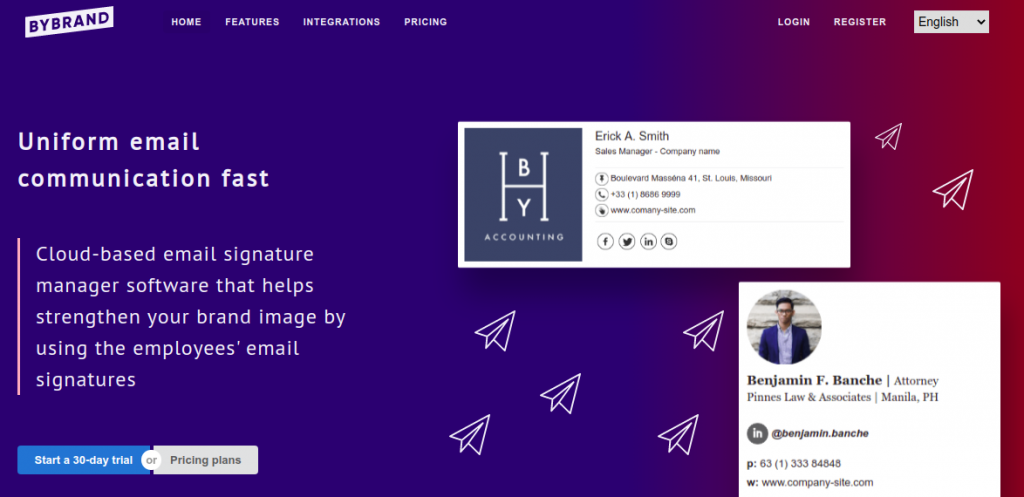 Type: Manager
Who it's for: Perfect for small and medium-sized businesses, and integration customers.
Site: https://www.bybrand.io
Bybrand is software that manages email signatures projected for companies. This solution presents perfect native integration with Google Workspace, Zoho, and Freshdesk from Freshworks. They have the goal of saving time for IT managers and marketing professionals, who are usually the ones in charge of standardizing employees' email communication. They allow a 30-day trial, without the option for a free plan.
Automation is one of the greatest benefits that the email signature manager Bybrand has to offer.
10. WiseStamp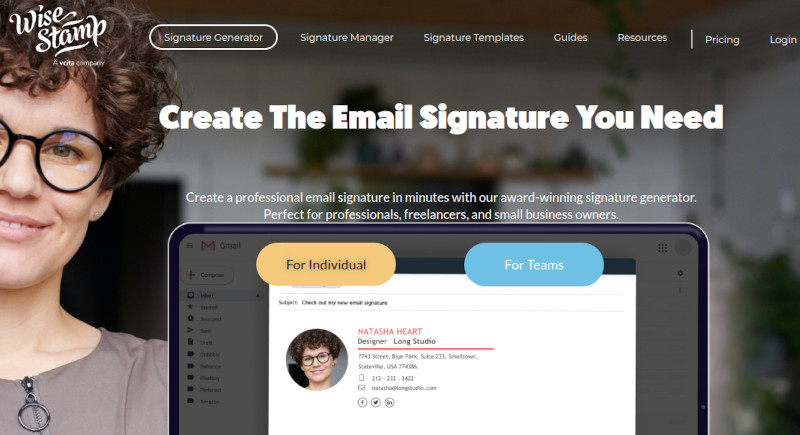 Type: Manager.
Who it's for: Freelances and businesses of all sizes
According to WiseStamp, they are one of the leading pieces of software that manage email signatures, used by over 1 million professionals around the world, across all of the main email platforms.
WiseStamp offers a free personal plan, but one that will include an ad in your email signature. They also offer a paid plan that will remove the ad. The company states that they offer centralized management and integrations with Google Workspace and Office 365 – no copy and paste to install your signatures.
11. NEWOLDSTAMP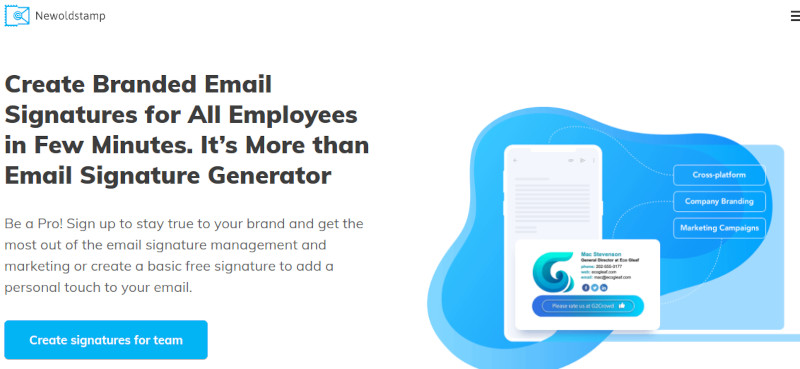 Type: Manager
Who it's for: Small businesses, freelancers, and marketing agencies
NEWOLDSTAMP is a manager that focuses on marketing in your email signature. The first basic signature is free. Because it is a manager, we cannot ignore the lack of integrations. For moderate teams, the task of manually pasting the signature into each employee's account is inevitable. Fundamental resources such as cloning, departments, and banners are available. The software may be adequate for companies that intend to use email signatures as a marketing channel.
12. MySignature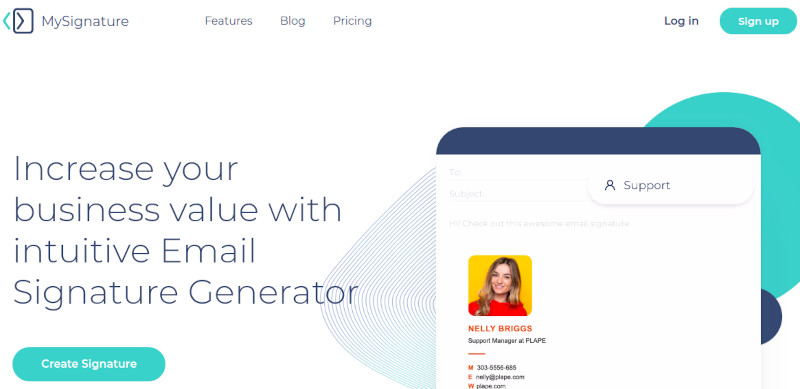 MySignature is a piece of software for building email signatures that helps create professional and visually attractive signatures, with no technical knowledge needed. The tool is user-friendly. A wide variety of email signature models are offered. On the company's website, the tools are classified as an email signature generator. We believe that they only use this name for marketing purposes. They offer a resource that can manage various email signatures on the Dashboard, clone, and send a signature to an employee.
13. Exclaimer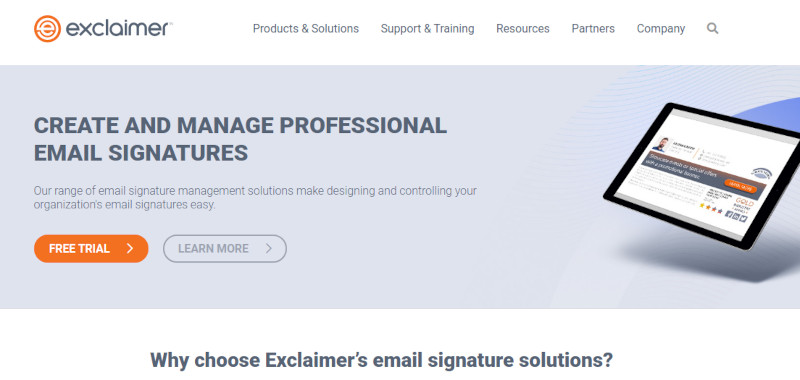 Type: Manager
Who it's for: Businesses of all sizes
Out of all the options, Exclaimer is the one that has been on the market for the longest time. The company offers a solution to design and centrally control email signatures for the entire company. Each email account receives a full and professional email signature. The Exclaimer Cloud offers integrations with the email platforms Microsoft 365 and Google Workspace.
14. Email Signature Rescue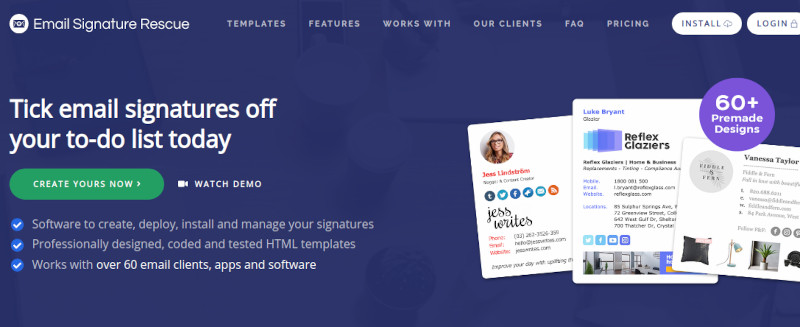 Type: Manager
Who it's for: Businesses of all sizes
The software from Email Signature Rescue creates, implements, and manages your signatures. There are over 60 options of previously-created templates. You need to download an application and install it for Mac, Windows, iOS, and Android. Any changes made to the installed signatures using the signature keys are automatically synchronized with the email client, or you can use the manual instalment option.
15. CodeTwo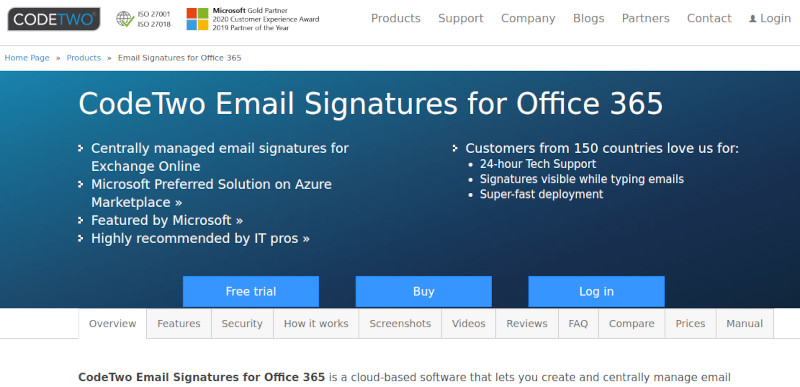 CodeTwo not only offers an email signature manager, but the company also has email tools such as back-up, migration to Microsoft 365, and Exchange. To use the tool, you need to change the DNS settings in your domain, namely the MX and SPF records. This way, your future email messages will be sent to CodeTwo's server, incorporating your email signature and, after this, the message will be sent to the recipient.
16. SignatureSatori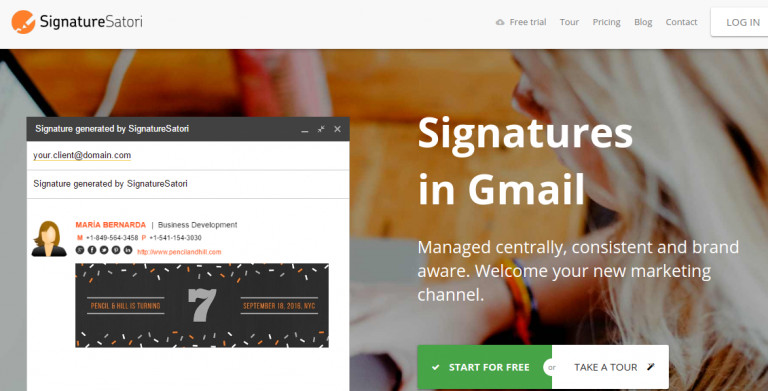 Type: Manager
Who it's for: Companies using Google Workspace (Formerly G Suite)
SignatureSatori offers centralized management of email signatures for companies that use Google Workspace, with support for alias email addresses and Google groups. The tool has a wide variety of models, WYSIWYG visual editor with the ability to edit in HTML directly. It is possible to add the last blog article, tweet, or Eventbrite as a source of information, automatically, to the signature.
17. Signitic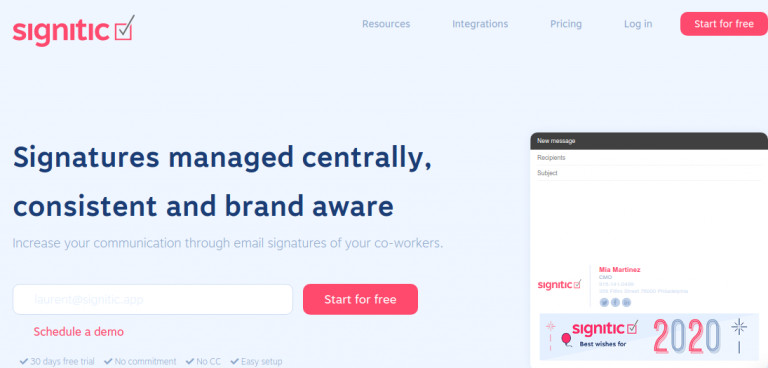 Signitic is an automated solution for email signature management for Office 365, G Suite, and Zoho, which eliminates manual data entry. Clients have mentioned that the software is simple, quick, and efficient as a tool for standardizing the email communication channel.
18. Xink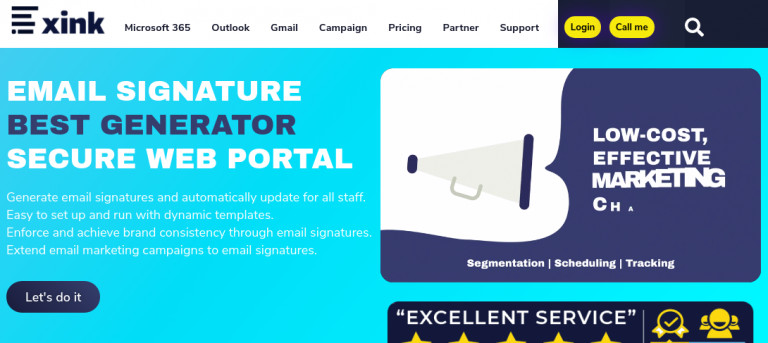 Type: Manager
Who it's for: Large companies using Microsoft 365 and Google Workspace
Site: https://www.xink.io
With 10 years in the market, Xink is a platform designed to create, share, and manage email signatures for large companies. To use it, you need to modify the DNS settings in your domain (MX and SPF records), much like CodeTwo, so that the software can incorporate your signature into the messages that you send. The company offers a campaign module that allows marketing professionals to create, schedule, and measure marketing campaigns in the email signature block.
Identify internal challenges
Finally, to decide between one option or another depends on the needs of each business. The fact that managers are more complete does not mean that they are always better options than builders.
Maybe, for an independent attorney, using a free builder will be perfect. On the other hand, for an attorney's office with 30 associates who use Gmail as an email platform, a solution for the management of email signatures for Google Workspace will be a smarter choice.
After reading this article, you will be ready to successfully implement standardized email communication for your employees, or in your professional email messages.
I hope this list will help you in your search for the best signature management software.
---

Create your first email signature with Bybrand
Create, manage, and deploy powerful email signatures for your team using Bybrand.