This post is also available in: Português
Every time company employees send an email, the person's unique signature is attached, as if they are handing someone an eco-friendly, instant business card with each email. As a result, businesses may want the signature to appear professional while simultaneously displaying personality.
Thus, identifying the right email signature manager is an extremely valuable tool for any company.
For effective communication, an email signature will always be regarded as essential. Despite the rapid expansion of social media, email signatures remain an effective tool for developing corporate identity and selling a brand to a wide variety of stakeholders. Because business cards do not virtually exist in the modern era, an email signature provides contact information and serves this purpose.
What is an email signature?
An email signature is merely a string of words appearing at the end of an email. It may run on autopilot or get inserted with a single button press. It functions as a business card in the Internet world, presenting a company's information to recipients, including its name, phone number, and address.
Video: Adding an HTML email signature in Outlook for Mac.
Therefore, an email signature turns into a business card and eliminates the need for employees to exchange contact information and website links.
What makes a company's email signature so important?
Email signatures are no longer considered a low-level tool by successful companies. They have come to appreciate its significance and use it to attract and develop relationships with new prospects.
The following explains why it is essential for companies to have a professional email signature manager in their corporate email:
An email signature shows professionalism
Large-scale marketing efforts are common in well-established organizations which frequently use email platforms to communicate with clients. Businesses must include email signatures in their email campaigns to effectively market their products and services. It not only gives important company information, but also professionally portrays the brand's message.
Boosts brand recognition
Companies can also use email signatures to establish a company's brand recognition for a certain team. When people get grouped to work on a certain project, they can build a unique brand and use it to send emails both internally and externally.
Makes email marketing more effective
Email marketing is becoming an increasingly popular way for digital marketers to promote their businesses. It is simple and inexpensive, but what good is email marketing if it is not appealing? An email signature presents the entirety of a company's information in one place, including its phone number, physical location, logo, and website link. Furthermore, it improves the effectiveness and actionability of an email.
Factors to consider in selecting the right email signature manager
Before opting for an email signature manager, a company must consider the following factors:
Goals
Companies must define their objectives. Companies must first establish their goal in using email signatures for the entire team for standard email communication.
Specifically, companies should consider what their email signature is for, whether:
Aligning expectations
Improving email sales channel
Improving the customer service experience
Offering an alternative marketing channel
Reinforcing the brand
Setting the expectation
Challenges
Each worker has a unique set of obligations and difficulties. An IT manager, for example, might choose a product with more automation gaps. A marketing professional may require resources for designers and customization of the elements at a later time.
Thus, companies must take the specific challenges of their employees into account and reach a compromise before opting for an email signature manager.
Keys to success
While effective email communication supported by an email signature manager can be lucrative, it must be supplemented by other technologies such as CRM and contact management. They can assist businesses in tracking sales and managing customer and vendor information, and a continuous campaign will produce more leads and bring in new consumers.
Furthermore, a successful email signature considers the following:
Brand consistency
The key to success is keeping every signature on-brand. Thus, businesses must ensure that the logo and colors used in their signature match those on their website, brochures, letterheads, business cards, and other printed materials. Keep things basic while being innovative, allowing the signature to reflect the brand's individuality!
Company consistency
Every employee should use the same email signature template, which includes the company's logo and colors. As a result, all emails sent from your company will be branded, enhancing the branding benefits mentioned above.
Links
Including links to a company's home website or social media profiles makes it much easier for recipients to contact them. Furthermore, it is a simple approach to promote their business without being overt. Also, because this information is at the bottom of every email sent, it is much easier for the recipient to find.
Legal disclaimers
Some standards mandate a legal disclaimer to be included in every email that a corporation sends. This disclaimer gets tailored to the needs of a certain business. Confidentiality or copyrights to material in the email, among other things, are reasons to include a disclaimer.
A legal disclaimer on an email signature guarantees that a disclaimer gets included in every email sent by a corporation.
Keep it simple
Do not clog up the email signature with too many icons, links, or too much text; instead, stick to the essentials. It is sufficient to indicate the name, position, phone number, email address, website, and logo.
Here are two examples of professional email signatures: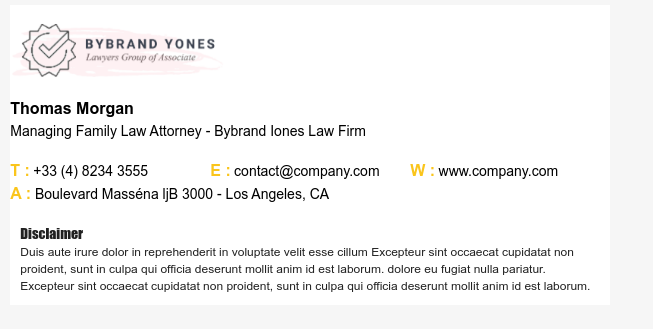 ---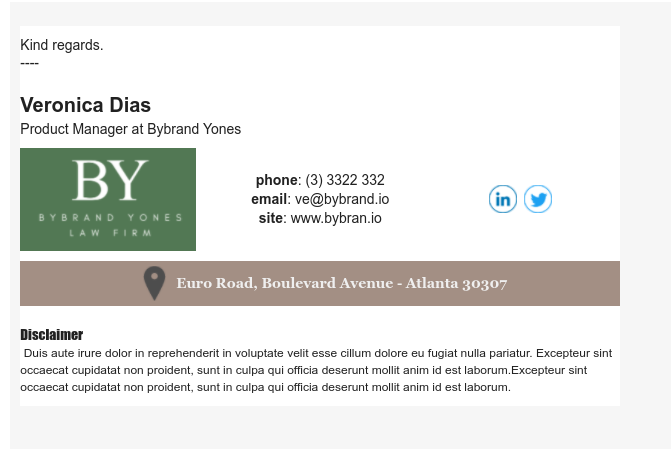 Free is not always the best option
Businesses must keep in mind that free is not always the greatest option. The cost of a decent professional email signature manager is not insignificant. Moreover, the most effective solutions that save time and eliminate repeated activities come at a higher cost. However, for small enterprises with fewer than fifteen employees, the free version will suffice.
See too: List with 18 Email Signatures Builder And Manager Software.
In addition, companies are also encouraged to do a test run first. Customers can sign up for a free trial or see a demonstration of the solution on YouTube before committing to a purchase. Companies can profit from increased security and better-informed decision-making as a result.
Bybrand, the better solution
Our email signature manager offers everything your business needs to efficiently manage team email signatures. Bybrand makes it easy for your company to improve the brand image by helping to manage your employee's email signatures.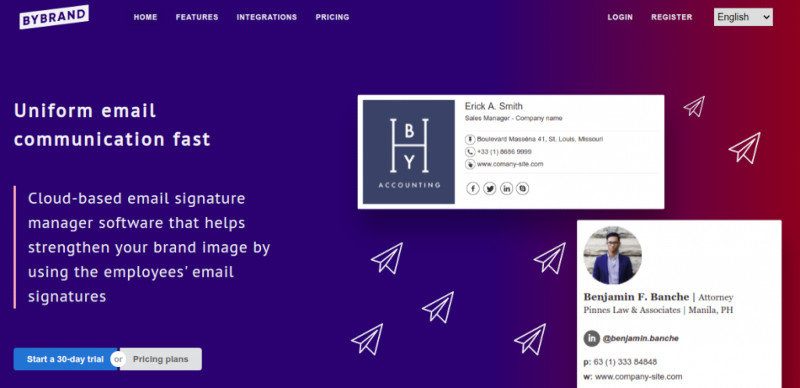 So, creating consistent email communication across all email messages sent by your team.
Key features
Useful and professional email signature manager features to gain productivity.
Departments – Speed up standard email signature creation by adding reserved fields that are filled out just once.
Team access – Give access to creative people in your account and create better email signatures faster.
Integrations – Connect products your team already uses to Bybrand and save time implementing your company's email signatures.
HTML email signature editor – Responsible templates, resources for the team, real tests by email, integrations, and no forms to fill out.
Watch a quick video from our email signature editor.
Conclusion
An email signature appears professional and gives the impression that the consumer is working with a well-established organization. It serves as a company's business card or letterhead; therefore, it is only sensible to pick the best email signature manager for the job.
---

Create your first email signature with Bybrand
Create, manage, and deploy powerful email signatures for your team using Bybrand.