This post is also available in: Português
We have a list of interesting improvements to update you on this past Q2. Many of the changes that occurred in this Q2 were within the email signature editor. But we also had improvements in Departments, Assets, and new video tutorials.
So read on to learn more about the new features and releases.
New email signature categories and templates
The more, the better, especially when it comes to templates to fuel your imagination.
We are improving the templates area, and have created three new options: With banner Image, With border and line, and With background color. We have also added six new templates to the Template Gallery for use cases ranging from Sales, Marketing, Lawyers, and Real Estate.
Editor improvements
We have recently added several useful improvements to enrich your experience when editing or creating a professional email signature. By the way, your experience with Bybrand starts here.
Two new column options
It has become even easier to create an email signature from scratch or add more customization to an existing one.
30-40-30 column;
20-40-40 column;
Button to select an element
This is a perfect feature. Now you can select an element in the email signature for easy customization. For example, this new button can be useful to change the color of a link more easily. By the way, see more details in this tutorial: How to add a custom color to a link.
Button to return the image to its original size
Sometimes you can change the size of the image in your email signature a bit, and it loses quality because it is not at the original size. This button is a useful feature, for when you need to resize the image to the original size.
The icon will be inside the Ruler, next to the Crop exact button.
Icon gallery filter
Grouping allows you to display similar images. Thus, you can easily find your email signature icons by category in the editor. This is seamless and makes finding icons with the same design easy.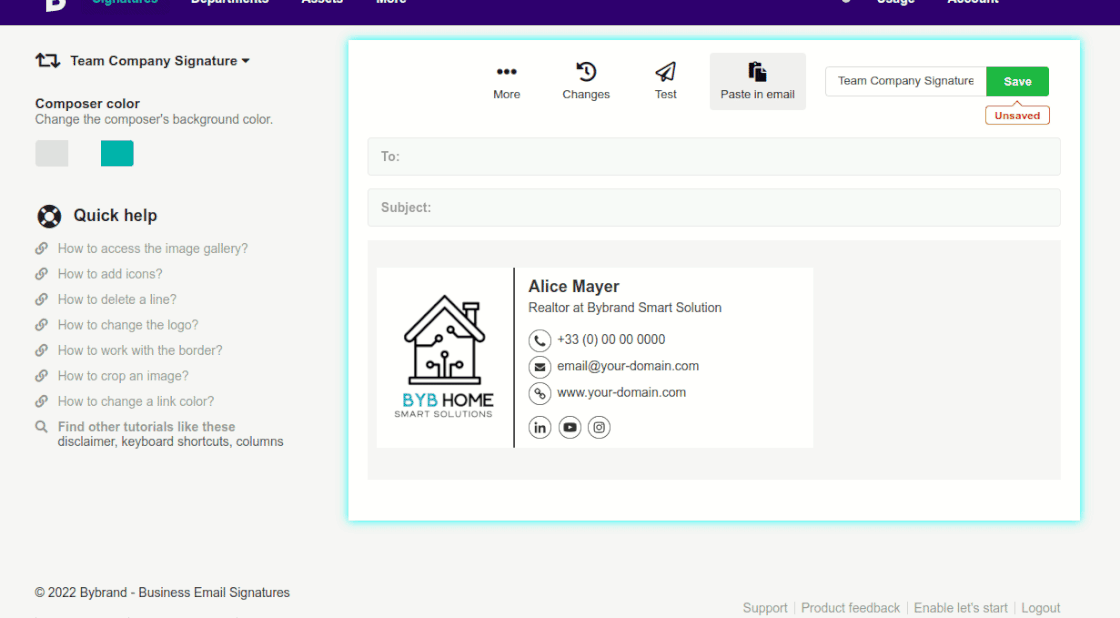 New contact and social media icons
The icon gallery now also has new official social media images (TikTok, Reddit) and contact images. Also read, How to add social media icons to your email signature.
---
New currency support – Mexican Pesos (MXN)
Customers in Mexico can now subscribe to Bybrand with their local currency. "Bienvenidos hermanos.".
Drag and drop and upload of multiple images in Assets
We have improved the image upload feature in Assets. With a new look and feel, you can now upload multiple images at once. This can be useful if you want to upload a group of social media icons or an employee headshot.
Departments
The improvements don't end with the editor, we continue to improve the Bybrand in Departments and significant tutorial videos.
Placeholders within the signature editor
When editing a department email signature, now find the placeholders within the editor.
Signature list in HTML mode
In the Signatures section, you can now list your email signatures created with the HTML mode under Departments. It also has a button for editing or downloading HTML content.
Zoho CRM integration
We've enhanced the integration to allow you to quickly create and deploy brand email signatures for your sales team. With the update, you can manage many email signatures for Zoho CRM users in the Departments section.
Video tutorials
We have new helpful video tutorials created. For example, how to add a Google Maps banner to your email signature.
Watch other useful videos: