This post is also available in: Português
This month, we are pleased to introduce Google Sheets integration. In addition, we have created Next and Previous buttons in the Signatures section, you can now remove a placeholder in departments, and we have posted three "A-ha" Moments videos using Bybrand. Additionally, we have published the detailed guide to Google Workspace.
Keep reading so you don't miss anything.
Introducing Google Sheets integration
We are currently placing a significant focus on new integrations.
Bybrand is the simplest way to save time and avoid frustration when managing email signatures; our new integration with Google Sheets is proof of what I'm talking about. Using Google Sheets integration is an efficient method for managing email signatures more efficiently than a CSV file.
You can turn your spreadsheets into an employee list, link the file to Bybrand, and then have dynamic email signature management with this integration.
Example of a spreadsheet with employee list.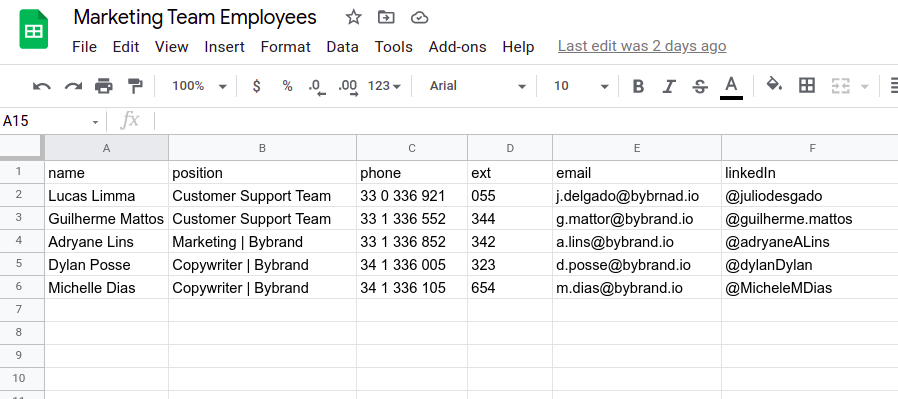 Having a Google Sheets file for each department in the company – for example, the Marketing or HR team – is a good idea with this integration. Then, you can create email signatures for all sectors and employee positions in a unified way.
There is also an option to keep the data synchronized and to update the placeholders and employee list dynamically.
To find out more
Next and Previous buttons
We are continuing to improve the email signature management experience in Bybrand. Now, with our Next and Previous buttons, you can see previews of email signatures quickly, without wasting time opening or closing the sidebar.
Click Play to see an example.
The feature is also available in the employee email signature preview, in the Departments section.
Option to remove placeholders in departments
Finally, there is a way to remove a placeholder in departments. Now, when you add an extra item, you can also remove it, which was previously not possible.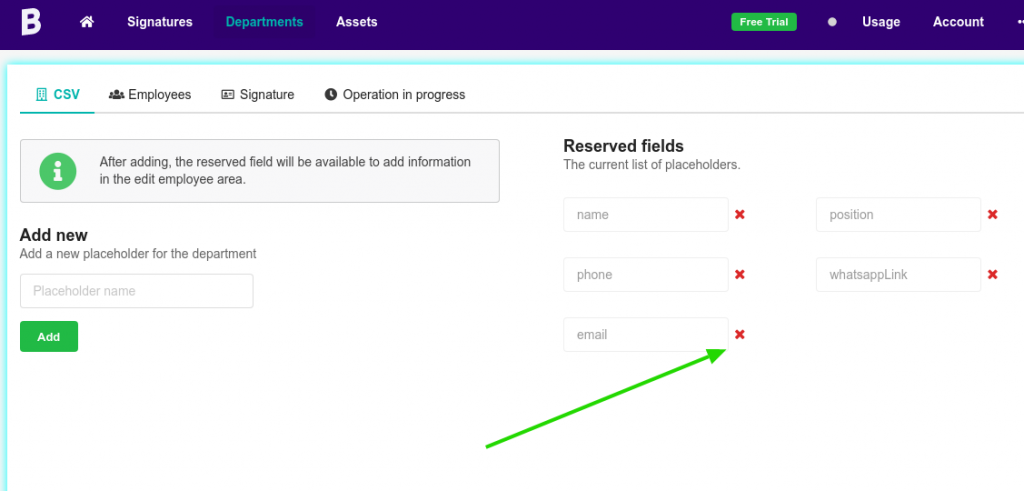 It is not possible to remove standard placeholders from integrations such as Google Workspace and Freshdesk.
"A-ha" Moments using Bybrand
We have posted a series of three videos on Bybrand's YouTube channel showing the methods of creating, formatting, and styling a department's email signature.
Here, we have the second video in the series, which is two minutes long. This video shows the simple steps of copying the placeholder identification keys and inserting them in the correct position within the HTML content of the email signature.
Watch all the videos here.
Detailed guide – Workspace
Last, but not least, we have created a detailed guide on how to manage email signatures for Google Workspace. The complete guide brings together everything you need to know about how to ensure that your company, a customer of Google Workspace services, has uniform email communication for all Gmail users.
Read the detailed guide for Google Workspace here.
What comes next?
We know how important integrations are for IT managers and marketing professionals. So, we will continue our focus on integrations next month. Asana project management software will be the next release.