This post is also available in: Português
What's new in Bybrand this month: The Departments feature now supports dynamic images, was added new functionality to the email signature editor, and Bybrand Assets moved to the top menu.
Follow everything in detail.
Email signatures with dynamic images
The Departments feature now supports sending dynamic images to each employee. As for an example, it can be very useful to add a custom face photo for each employee on the list.
View a full tutorial on how to use the functionality, and how to upload an image into the department email signature:
Add placeholders in an existing department
You can also add new placeholders in an already created department. And then edit the information.
In Bybrand panel: Visit the Signature menu and find the Departments submenu. Click on Edit at the department you want to add a new placeholder field. On the edit page, click on the Manage button and add the new field.
Load another employee in the department
We carry on with the improvements in the department. You can now switch between viewing the employee email signature faster. That way, you can load other employees without having to go back on the page.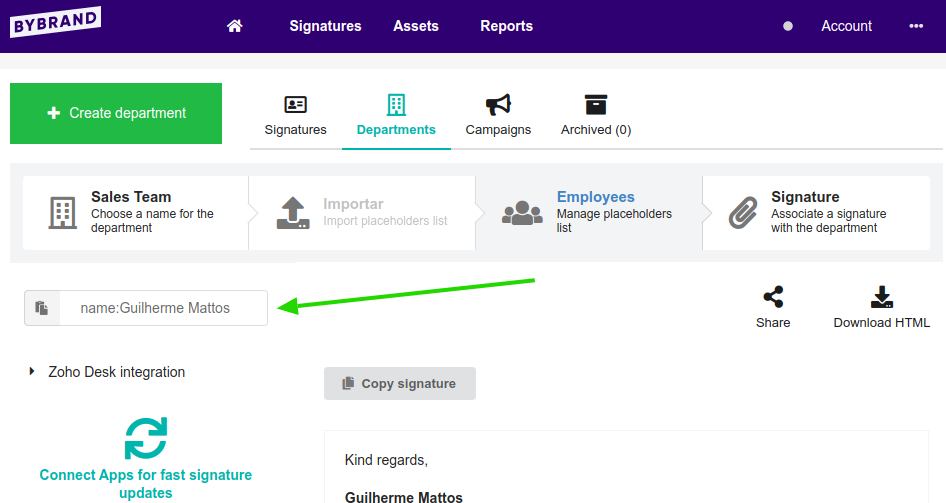 The name displayed is always the first column of the list, which usually begins with the (unique) name field. There is also a search option for ease of use.
Fixed CSV file upload different than UTF-8
When creating a department, if you submit a CSV file with an encoding different than UTF-8, it will no longer display an error.
Configure text-spacing in the email signature
Was added a new feature to the Bybrand email signature editor, which is the option to configure text spacing. This way, you can set, for example, the size of long sentences, such as a disclaimer, and reduce the size occupied in the email signature.
See a short presentation: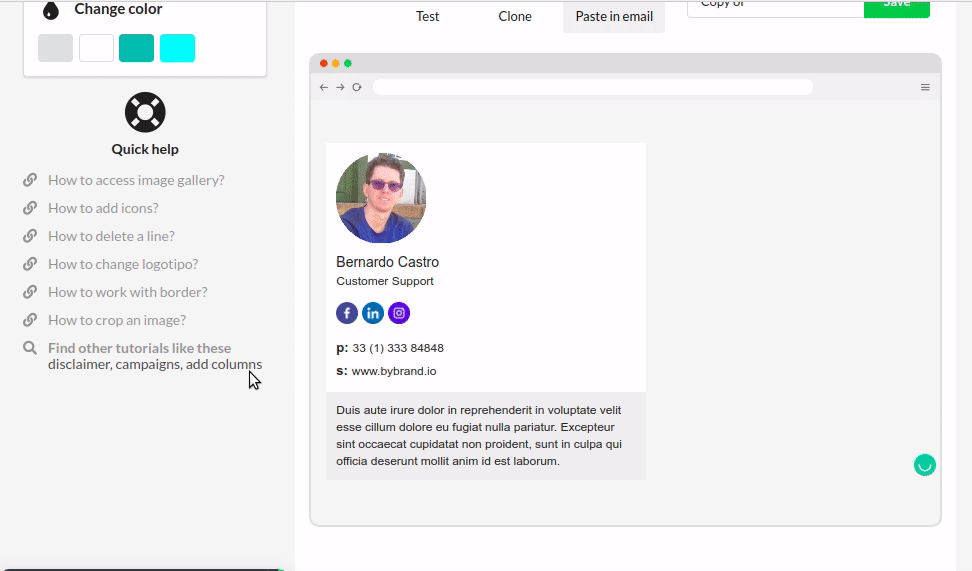 Bybrand Assets improvements
We've made several initial improvements to Bybrand Assets, so it adapts to other features that are to be developed. A preview: I'm referring to the import of G Suite users list (with profile picture) and integrations with Dropbox and SFTP for multi-upload photos.
The first was to make the feature independent, not linked anymore in the email signatures section, see this example: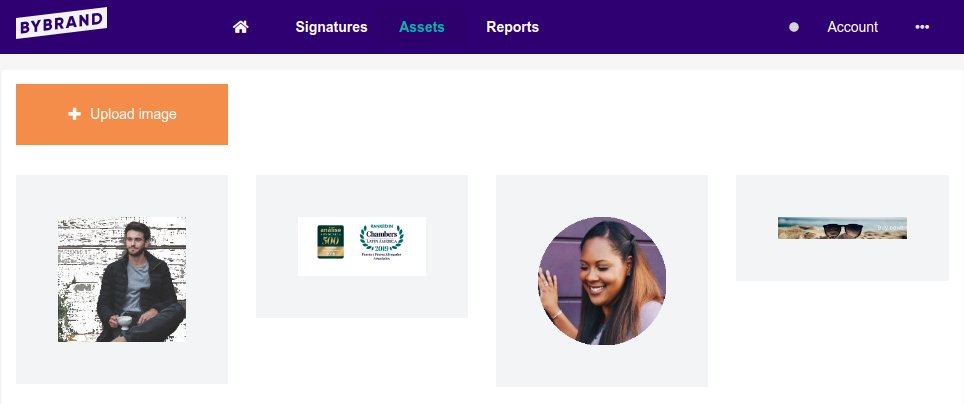 Other resources were:
Image sending option outside of the email signature editor;
Copy public image URL;
Coming to an end, that's what we have for October.