This post is also available in: Português
Email signatures are more than just a way to "sign" an email – they're great for brand building and marketing. But creating signatures directly for email clients can be cumbersome. Email signature generators and managers make it easy to design and control signatures for the entire company. This ensures consistency and professionalism.
Exclaimer Cloud is a popular email signature manager. But while it has many advantages, it's not the best choice for every business.
If you're looking for an alternative to Exclaimer, you've come to the right place. We're going to share some of the top alternatives and explain why Exclaimer isn't a good fit for all companies.
What is Exclaimer Cloud?
Exclaimer Cloud is an email signature manager. The platform allows you to design and control all email signatures across a company.
Different signatures can be created for departments, individuals, replies, and forwards. The goal is to make sure that every company email includes a branded, professional signature.
Exclaimer Cloud is compatible with a range of email platforms, including:
Google Workspace
Microsoft 365
Outlook and Exchange.
They also provide technical support most hours of the day, and they even offer email signature design services.
Exclaimer Cloud is a great option for larger companies using Microsoft 365 and Microsoft Active Directory. But it's not necessarily the best fit for every business.
The cons of Exclaimer Cloud
On paper, Exclaimer Cloud sounds like a great service, and it is. But it does have some major drawbacks:
Old-school interface
Exclaimer Cloud's interface is clunky and outdated. Signature editing isn't exactly mobile-friendly, and editing different parts of the signature requires multiple clicks (or taps).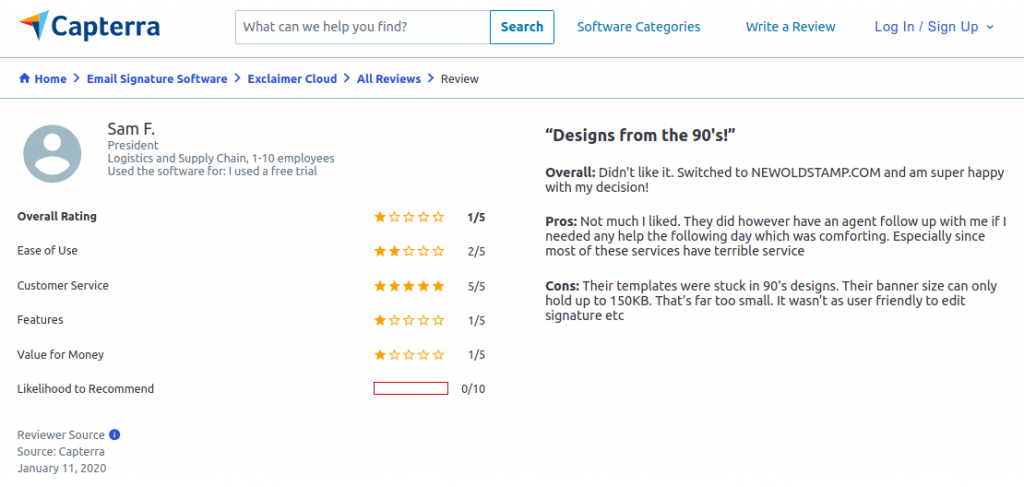 The old-school interface means that you'll be spending more time creating signatures and going through each step in the design process.
WYSIWYG signature editor isn't user-friendly
Exclaimer's drag-and-drop editor is supposed to simplify signature design, but it's not as user-friendly as it's marketed to be. The template editor is confusing. And, again, you have to deal with the old-school, outdated interface that's cumbersome and tedious to use.
Exclaimer template editor screenshot: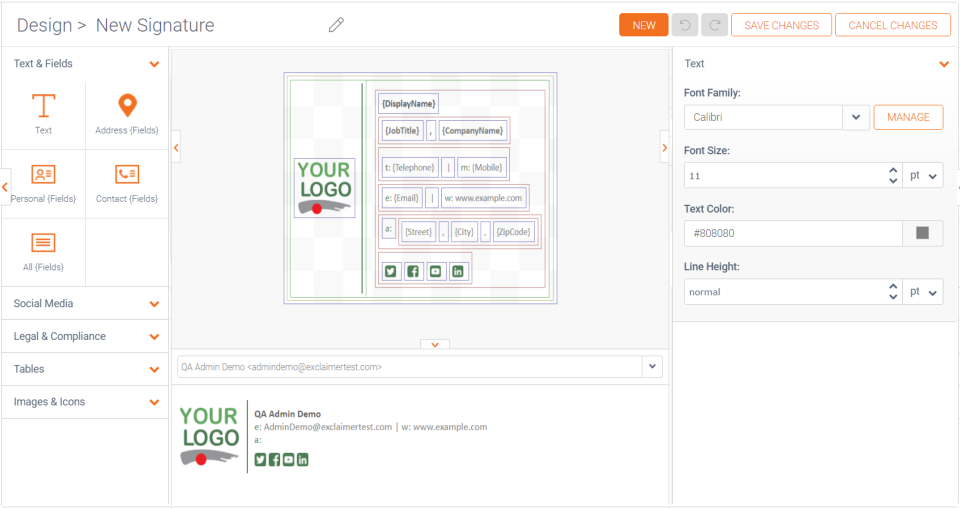 Adding images, icons and social media links is a chore. Previewing the signature in emails can also be difficult if you're using a platform like Microsoft 365.
Exclaimer's drag-and-drop editor is one of the more difficult ones to work with options. IT teams with long to-do lists can easily become frustrated with the signature editor.
Built for large companies – enterprises
One of the biggest drawbacks of Exclaimer Cloud is that it's designed for enterprise-level businesses. Yes, the platform has a robust set of features, but it's really overkill for smaller teams and medium-sized businesses.
There are so many options with Exclaimer Cloud that it can be overwhelming.
Add promotional banners that are time-sensitive
Test signatures for different users and recipients
Assign signatures based on attributes, office locations, departments, etc.
These features can save time, but only for large companies with big teams.
Maybe your company doesn't have multiple departments that need signatures. Maybe it's just a handful of people working together, and they just want a professional email signature.
In these types of cases, Exclaimer Cloud really doesn't make sense. A simpler, more cost-effective solution may be a better option.
Related:
---
5 Exclaimer Cloud alternatives
Looking for an Exclaimer Cloud alternative? There are quite a few email signature managers with user-friendly, modern interfaces and a greater focus on small- or medium-sized businesses.
1. Bybrand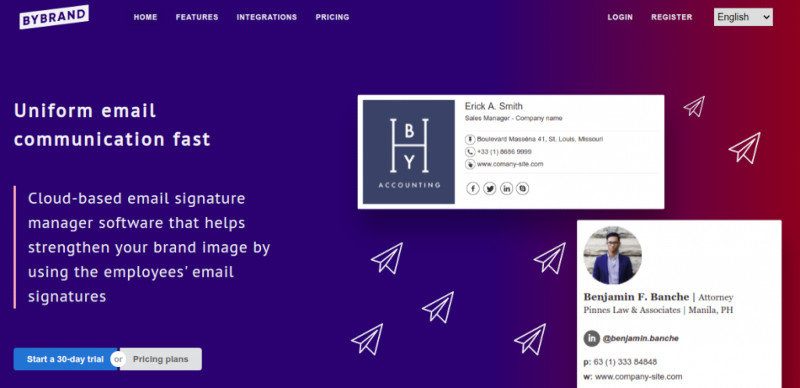 Standout features:
Integrations – Built with integrations in mind to save your time.
No form to fill out – Bybrand editor's features allow you to add text content, lines, icons, images, and a logo anywhere.
Collaboration and team – Instead of working in isolation, invite coworkers to help you develop better email signatures, delegate tasks, and be more efficient.
Create from scratch – an advanced method that allows you to create your own HTML email signature using the Bybrand editor.
See a preview of the feature Create from scratch:
Why it's a great alternative
Bybrand is the simplest way to save time and avoid frustration when managing your employee's email signatures. The solution removes manual effort that slows marketing and IT professionals down when it comes to standardizing team email signatures. Integration with third-party software, such as Google Workspace, Zoho, and Freshdesk, helps to avoid manual and repetitive tasks.
The drawbacks
Bybrand's solution has no integration with Microsoft 365 or Outlook.
2. Crossware Mail Signature
Standout features:
Cloud-based signatures
Supports all web-enabled devices
Drag-and-drop editor
Why it's a great alternative
Crossware's mail signature platform offers a more user-friendly interface and a simple design process. It integrates with Microsoft 365, HCL Domino, and Microsoft Exchange.
Signatures can quickly and easily be created from templates. Fields, like the company name or an image, can be dragged and dropped right into the design. If you're tech savvy, you can view and edit the HTML code right from the editor.
Crossware stands out because of its simple and streamlined signature design process. You're not overwhelmed or bombarded by features. It takes just minutes to create a signature and start sending emails. You'll have to contact the company for a quote on pricing, but there's a 30-day trial you can take advantage of.
The drawbacks
Crossware doesn't support a huge range of email platforms, and getting signatures to look right can be a matter of trial and error.
3. CodeTwo
Standout features:
Centralized email signature management
Azure AD support
Run automated signature marketing campaigns.
Why it's a great alternative
CodeTwo only offers support for Microsoft 365, but their centralized platform makes it easy for IT to manage company email signatures and disclaimers. Choose to add the signature after the email is sent or use Outlook to add the signature as team members type out their emails.
Features like CSAT surveys, signature marketing campaigns, legal disclaimers, and easy image integration make CodeTwo a great option for businesses of all sizes.
CodeTwo has some pretty big customers, so they know what they're doing. But their solution is just as beneficial for large enterprises as it is for small companies. It's affordable, too, making it more accessible to a wider range of businesses.
The drawbacks
CodeTwo only works with Microsoft 365, and their user-interface is a bit clunky.
4. Xink
Standout features:
Automatic signature generator
API access
Role-based admin
Why it's a great alternative
Xink is an email signature generator and manager for Microsoft 365 and Gmail. All signatures are managed from the admin web portal, making it easy to create and control employee email signatures. The platform has a built-in designer, but you can also upload your own. Xink will also pull employee data straight from Google Directory if you're using Gmail, which will save you time.
For Microsoft 365 users, this service integrates with Azure AD, Active Directory, and SQL. Xink also offers marketing-focused features, such as:
A/B testing
Rules for distributing marketing campaigns to different groups
Real-time statistics to learn more about recipients
Xink is a robust platform with a modern, user-friendly interface and streamlined signature creation tools.
The drawbacks
Despite being a feature-rich, user-friendly platform, Xink's customer support is lacking.
5. Email Signature Rescue
Standout features:
60+ premade designs
Supports more than 60 email clients
Large design assets library
Why it's a great alternative
Email Signature Rescue is more focused on design than function, but it still integrates seamlessly with more than 60 email clients.
More than 60 premade designs are available. Choose one you like and enter the design code found underneath it. Add your own images, logos, banners and more. Image editing tools are also available, like circle-cropping and resizing. The platform's design assets library includes more than 40 styles and 200,000+ icons.
The signature designer allows you to add and remove information as needed. Design elements can be imported quickly and easily. The signatures themselves look great, and that's important. Email signatures should be both professional and aesthetically pleasing. Email Signature Rescue accomplishes both of these things with their platform and designs.
The drawbacks
Email Signature Rescue takes a more individualized approach to signature design, so it's best suited for freelancers and very small teams.
The bottom line
If you're looking for an Exclaimer alternative, these five services are great options. They're geared more towards small- to medium-sized businesses, and email signature creation is quick and easy.
Suppose your company uses Google Workspace for maximum efficiency and workload optimization. We recommend opting for a complete email signature management solution like Bybrand – because the solution offers the largest number of native Google Workspace features than any of our competitors.
However, for Microsoft 365, Outlook, and Azure AD the solutions like CodeTwo and Xink are a better option.
---

Create your first email signature with Bybrand
Create, manage, and deploy powerful email signatures for your team using Bybrand.