This post is also available in: Português
WiseStamp is an email signature manager designed specifically for personal use and for freelancers. WiseStamp is used by around 700,000 professionals and small business owners around the world.
The numbers prove that is it definitely not bad software.
For a small company or team of, let's say, up to 10 employees, where the task of manually copying and pasting an email signature is not an issue for the IT administrator, using WiseStamp makes sense.
The question that follows this is: Is WiseStamp the ideal solution for your company?
The disadvantages of WiseStamp become apparent when you need to manage a high number of email signatures.
Larger companies and teams with a dynamic array of software and integrations, and who want less frustration and going back and forth between tabs, should think of finding alternatives to WiseStamp.
For this purpose, we will be listing 11 safe options for those of you who are thinking of changing your email signature manager.
Email signature managers that you can use instead of WiseStamp
Other email signature managers on the market offer similar features, including integration with Google Workspace (formerly G Suite), each with its own advantages and disadvantages over WiseStamp.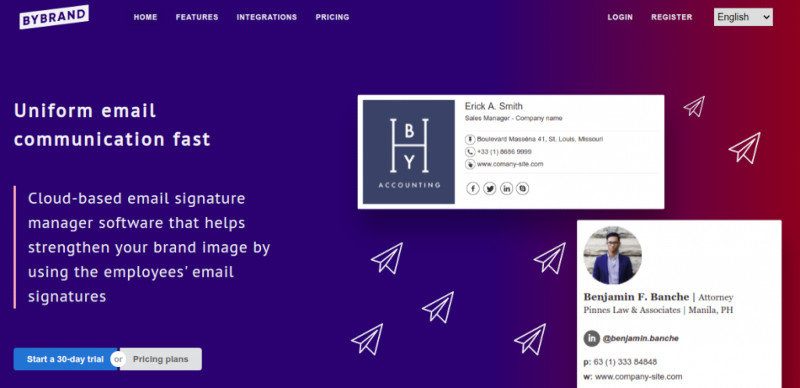 Bybrand is an email signature manager that is powerful enough to offer modern and efficient software that will help your IT or marketing team successfully and quickly implement email signatures.
The department resource is ideal for companies that need to manage a large number of email signatures. And when I say large, I mean a number that is greater than 100 employees.
Bybrand's software spared no effort in utilizing Google Workspace as one of their integration options. But that is not all – we also offer a wide variety of secondary integrations, such as Bitly, Google Analytics, and Freshdesk.
Noteworthy capabilities:
Email signature HTML editor;
HTML editor perfect for specialists;
Creation of signatures from CSV files;
Access to teams for collaboration;
Massively updating email signatures;
See too: How Bybrand is the better alternative to WiseStamp?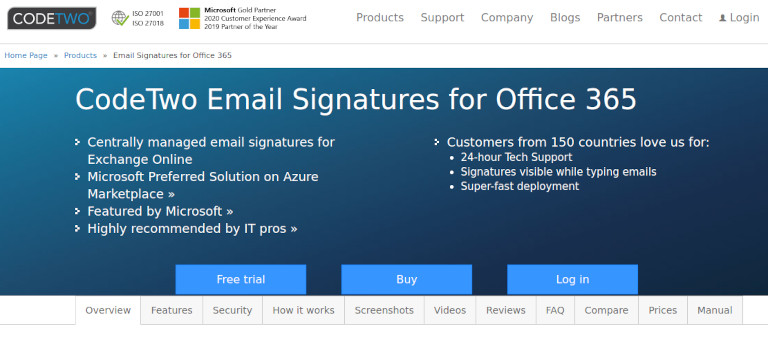 CodeTwo Email Signatures for Office 365 is a cloud-based software that lets you create and centrally manage email signatures and disclaimers for all users in your Office 365 tenant. The service is easy to set up and works with all email clients (including mobile devices).
The software's engine runs entirely in the cloud. Email signatures can be added:
Server-side (after an email is sent, it passes through the CodeTwo Email Azure Service);
Combo mode (emails sent from Outlook get signatures when you compose a message; emails sent using other email clients get signatures after they are sent).
Note: To use CodeTwo, you need to modify your domain's DNS settings, MX and SPF records. Thus turns out to be a significant disadvantage.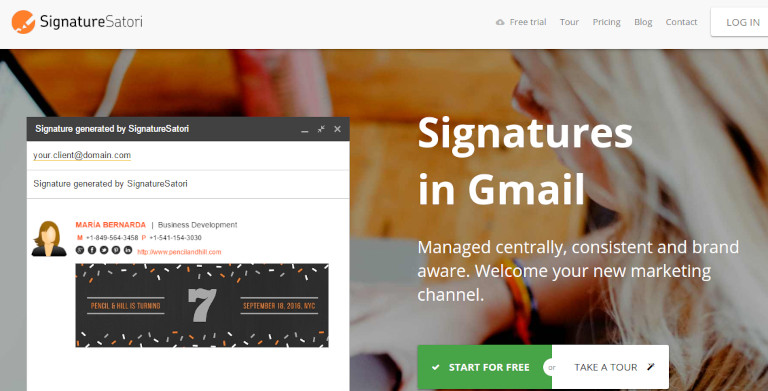 The Google Workspace communicates directly with SignatureSatori, and all changes are processed instantly. Set sleek, unified signatures for the whole company in minutes, and predefined templates mean there is no need for end-user configuration.
With SignatureSatori, you can plan a different campaign for each day, and provide a link to your landing page to take your clients where you want them with just one click. A considerable alternative to WiseStamp for companies using Google Workspace.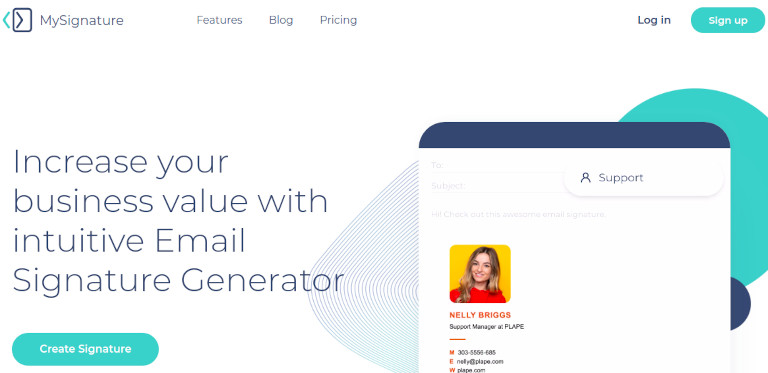 MySignature is an online email signature generator that helps create professional and visually compelling email signatures for Gmail, Outlook, Apple Mail, Thunderbird, and Office 365 clients. No technical background needed.
You can easily create a professional email signature for Gmail: simply provide all necessary data and configure the required settings, then choose a template.
You'll have a skillfully-designed email signature without coding knowledge. Choose your style with professional email signature templates brought to you by MySignature's superior design team and personalize your signature with images.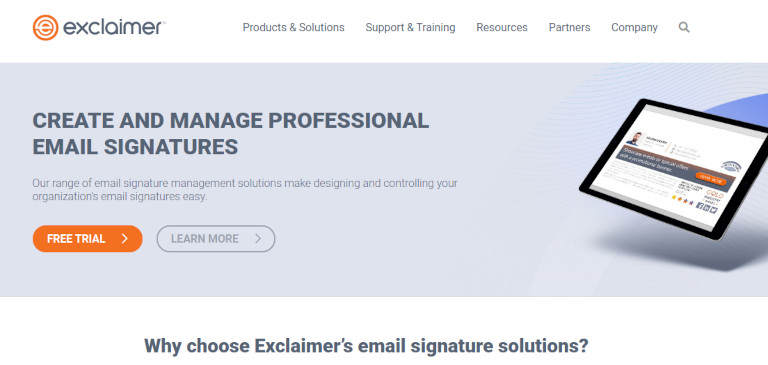 Exclaimer provides the perfect solutions for centrally designing and controlling email signatures across your entire company. Every email will get a full, dynamic, and professional email signature when sent from any web-enabled device, including mobiles and Macs.
You can easily customize signatures for different departments, individuals, and replies or forwards. This means you can be confident knowing your brand identity will be protected and consistent across every email, all the time.
See too: Compare side by side Bybrand with the Exclaimer Cloud.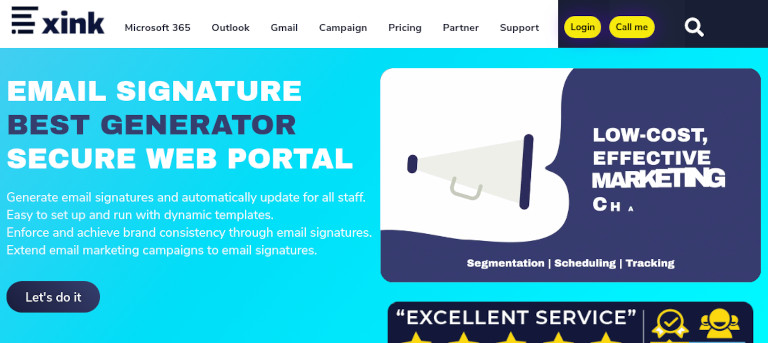 Xink helps generate email signatures and automatically updates them for all staff. It's easy to set up and run, with dynamic templates to extend email marketing campaigns to email signatures. It is designed to transfer email signature administration from IT to the marketing/communications department.
The user-friendly interface makes it quick to create, manage, and upload signatures for all employees. Create targeted marketing campaigns in signatures to increase brand awareness and engagement with the email audience.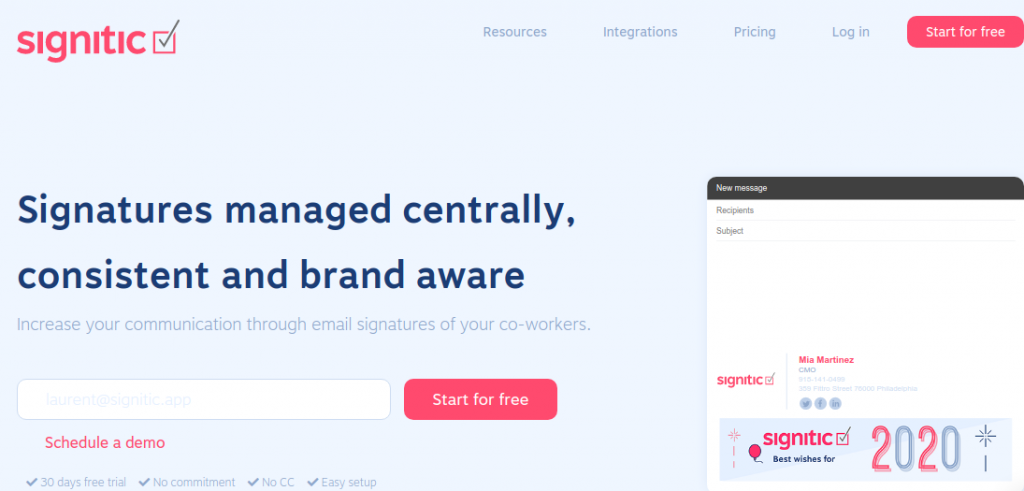 Signitic helps manage Google Workspace email signatures of all your employees from a single place.
Manage all the email signatures of your company thanks to a powerful and user-friendly interface. Create your templates, manage entities, groups, users, and deploy your marketing to ensure the perfect harmony of your company's brand. Take control of this amazing tool and spread your marketing campaign to reinforce your corporate image. Make the most of the power of your emails and Precisely analyze the commitment of your audience.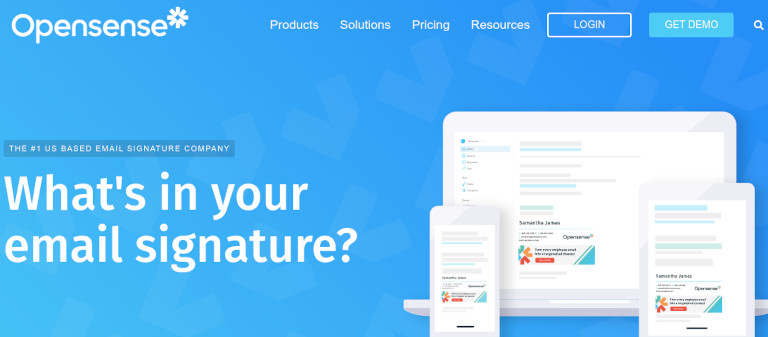 Opensense helps amplify and promote your corporate image with email signatures, some of the most powerful and cost-effective brand media channels, that are the closest thing to a free lunch in marketing.
Works across all email clients – Gmail, Outlook, iOS, Android, and Salesforce. Smart formatting delivers a consistent brand impression on any screen size.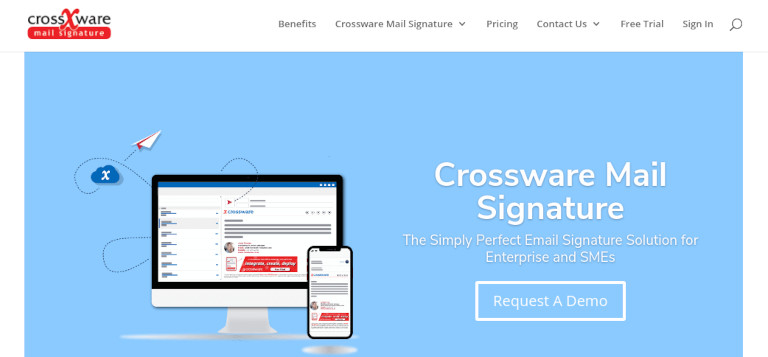 Crossware Mail Signature is the world-leading Email Signature Solution for Microsoft 365, Microsoft Exchange. Get on board and ensure your message comes across in a consistent and eye-catching way with Crossware's flexible and easy-to-use email signature solution.
Crossware provides Sales Teams, Marketers, and IT specialists with the ability to customize signatures. Use the powerful web-based Signature Designer to implement custom headers, campaign banners, or legal disclaimers for individual users or groups of users from a centralized platform – which reduces costs compared to manually instructing users to update their signatures.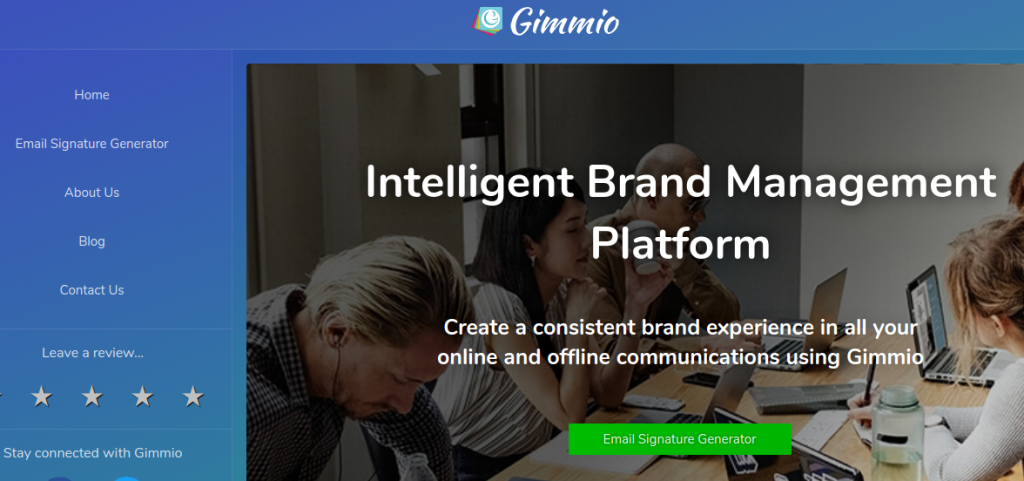 Designing something without help from a professional can be difficult sometimes, but luckily, there are many free online tools out there to help you out.
Creating email signatures can be challenging, especially if you're unsure about which font to use. There are tons of fonts available but choosing the right one is so much more than just selecting a font that "looks good" and calling it a day.
Gimmio is a professional branding and marketing platform. A strong alternative to WiseStamp if your company has few employees using email.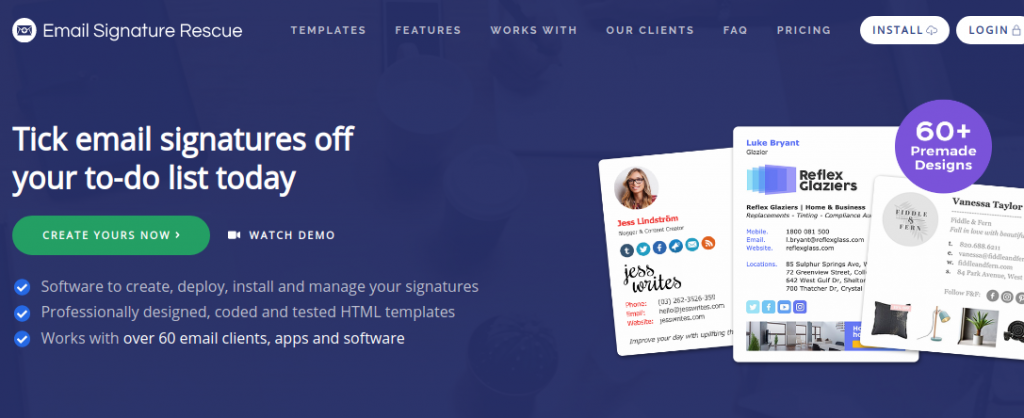 Whether you're creating email signatures for one or a hundred users, Email Signature Rescue can help you. It offers a beautiful and collection of over 60 agency-designed, pixel-perfect, pre-made email signature designs. Just enter the design code you see under any design you like to instantly recreate it for your account, to then customize and make your own.
Acesse nossa biblioteca de mais de 200.000 ícones em mais de 40 estilos, cores e tamanhos e crie um link para todas as suas páginas favoritas, como Facebook, Twitter, LinkedIn e muito mais.
---
Related
In conclusion
Using this list will help guarantee that you truly choose software that offers what your team needs.
Once again, acquiring an email signature manager is a huge commitment, especially for sales teams, marketing, and support, who work with the email platform every day.
To guarantee that you are making the right choice, the best approach is to test it out. For example, Bybrand offers a free 30-day trial. That is enough time to make sure that the email signature manager can really meet all your needs, without needing to reach into your wallet.
---

Create your first email signature with Bybrand
Create, manage, and deploy powerful email signatures for your team using Bybrand.