This post is also available in: Português
Welcome to Bybrand's August 2021 release notes.
This month, we are pleased to introduce integration with the Teamwork Desk and other important improvements which are: cropping an image to exact size in the signature editor, removed the need for Captcha validation for accounts that have purchased a plan, and new law firm email signature template.
Additionally, we've posted a full video for Google Sheets integration on YouTube and updated how Bybrand's email notifications work.
Introducing Teamwork Desk integration
In July, we introduced integration with Google Sheets, and now in August, we are launching an integration with the Teamwork Desk, a simple and efficient help desk software designed to manage customer queries, saving time and money easily.
This integration exclusively benefits CSMs (Customer Success Managers) and support teams working with the Teamwork Desk. For example, below, you can see how to update an email signature in a Teamwork Desk inbox.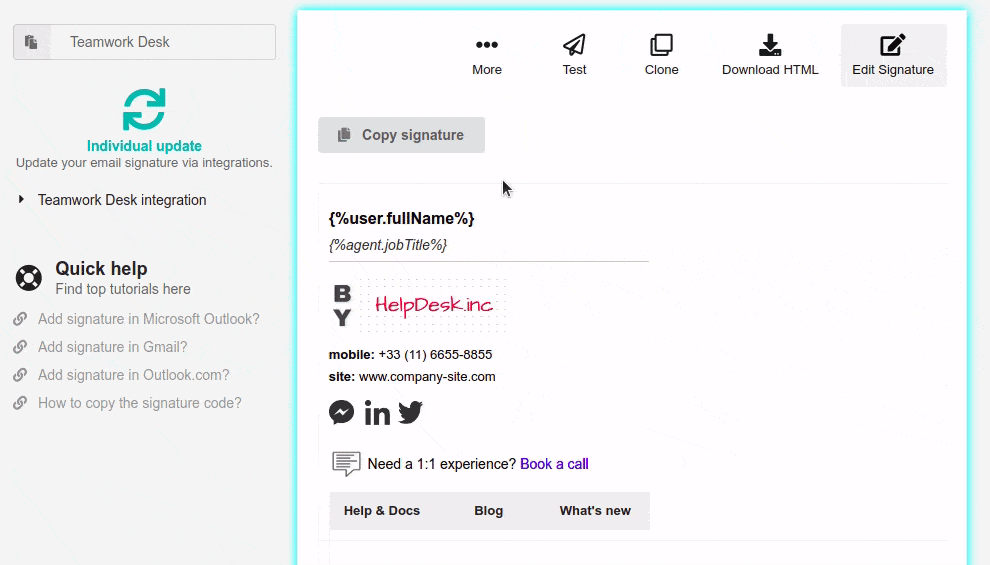 When combined with Bybrand, Teamwork Desk is a powerful resource for closing the email communication gap between your company and customers. The unobtrusive integration is extremely easy to use, allowing your support agents to have a rich and efficient email signature like the example below.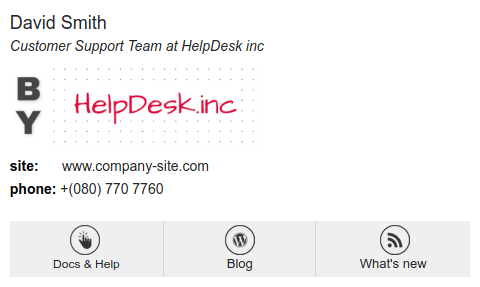 See also: sample email signature for help desk staff.
Support agents still spend a lot of time helping customers with the same kind of questions. However, with a modern email signature on every support ticket in the email channel, you will have the opportunity to build a stronger relationship.
This new integration allows you to synchronize inboxes directly to Bybrand.
Further reading: Tutorial on how to activate the integration.
Cropping images to the exact size
In the HTML email signature editor, you will find a feature that allows you to crop an image to the exact size. This can be useful if your images and icons in the email signature do not comply with the size settings defined in the HTML.
Email clients that do not adhere to the exact image size using HTML:
Mail for Mac;
Microsoft Outlook – older versions;
In addition to the video above, you can also read a step-by-step tutorial for this feature here.
Removed the need for Captcha validation
You know that image with letters and numbers that you need to type for the system to certify that your action is not SPAM, and by the way, it is a drag. At Bybrand, we had to implement the feature – some users were signing up just to use email sending and send spam messages.
But now, we have removed the need for Captcha for customers who buy a plan. Because, with the payment, you have the account verified.
Here we have an example of the Captcha image displayed only for customers in the 30-day trial period when they send a signature test by email.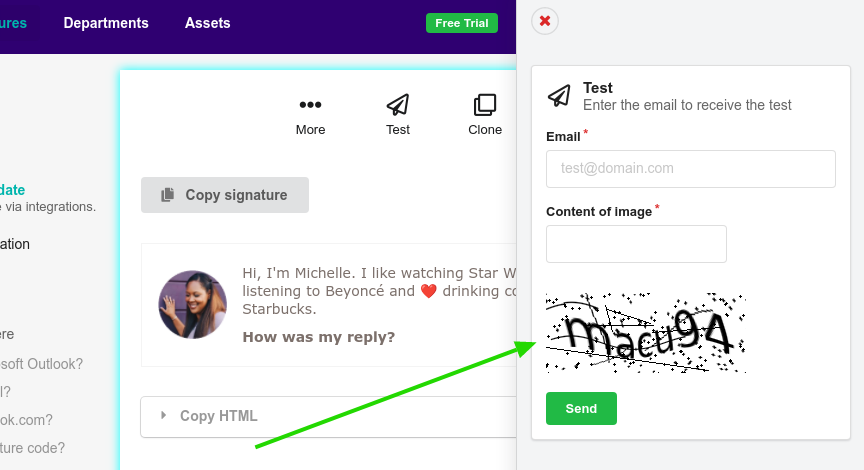 Email notifications that you receive from Bybrand
We have updated the way Bybrand email notifications work, whether it is automatic, from the 30-day trial period, or marketing emails communicating releases and enhancements.
Now, if you want to stop receiving these kinds of messages, just switch the checkbox button to offline. This button is on the main page of your account, in the footer.

New template
There is no doubt that the law practice is a successful business venture with incredible potential. Moreover, lawyers benefit greatly from HTML email signatures, as this business segment often communicates with clients using the email platform. Therefore, to help you get started quickly, we have created a new email signature template for law firms.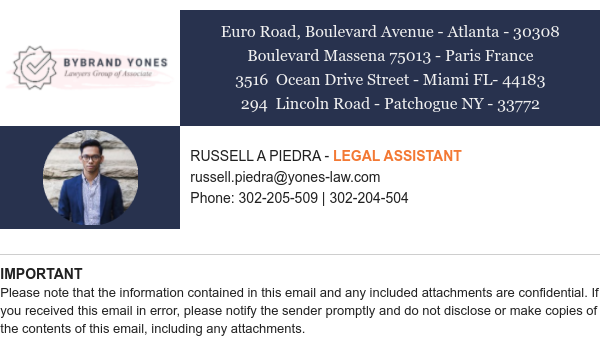 There is also the Create from scratch feature if you do not want to use a pre-created template.
Integration with Google Sheets
We have posted a complete video tutorial on how the integration with Google Sheets works on our YouTube channel. You can watch how to turn a spreadsheet into a staff list, then do unified and dynamic HTML email signature management with Google Sheets.