This post is also available in: Português
Everyone has a different strategy for increasing sales. While there are opposing views on whether the focus should be on the product or the marketing, various strategies can be implemented to improve sales. You also need to keep in mind that what works for one business may not work for another.
As much as the product and marketing are important to your business, a sales email signature is essential for your sales team.
For many years now, marketing and technology experts have predicted the obsolescence of emails. However, email remains the most preferred method of business communication.
Five tips for sales email signature
A sales email signature is an inexpensive marketing opportunity that anyone can use to increase sales. If you're considering an email signature for you or your sales team, you may be wondering if the one you're using is up to standard.
Here are five tips that will help you get the most out of your sales email signature:
1 – Take the first step
Email signatures may seem like standard practice, something that almost every organization does by including a unique email signature at the end of every email. However, email signatures work and are essential for any sales or marketing department. It's due time for you to get an email signature if you don't already have one set up for marketing your business.
Implementing a sales email signature varies across different email platforms. For example, if you're a Gmail user, go to the "Settings" tab and look for the "Signature" section. Signatures are quick and easy to create, so don't delay; take the first step and learn how to do it on your preferred email platform.
Read also: Using multiples email signatures in your Gmail.
2 – Add relevant links
One of the best features of email signatures is that they can be used to direct people to your other channels. In fact, email signatures are used by 48% of marketers to drive traffic to their websites. High traffic results in higher Google rankings, leading to more visitors landing on the company's website.
Make it easier for your email recipients to find you elsewhere online by linking your main social media accounts, websites, and any other vital information. However, avoid clutter by adding too much information to your sales email signature.
You only need to display the most important links so that all your email recipients have to do is click to look you up.
Simple email signature example with a link: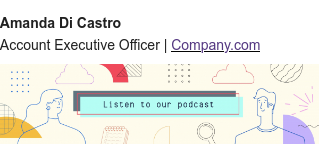 3 – Add a photo
Some people opt to include the logos of their companies in their email signatures. This could be an excellent idea for businesses whose logo is well-recognized.
The goal of modern sales email signatures is to incorporate as many personal features as possible into corporate correspondence. Adding a photo allows recipients to associate a positive interaction with a face and build trust, resulting in a more welcoming experience.
Sales email signature example with a photo: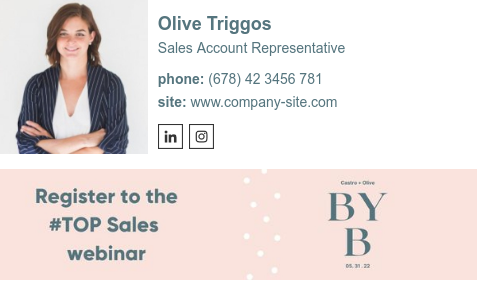 4 – Consistency is key
Maintaining consistency across your brand, including your sales email signature, is critical. Your logos, colors, and fonts should all be consistent with your brand so that people recognize which company you work for just by looking at your email signature.
Example of email signature with logo.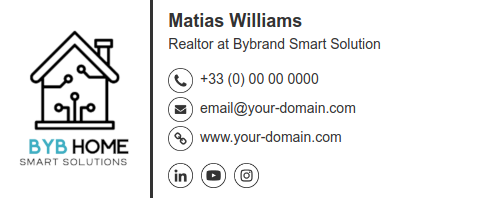 Having a distinct and instantly recognizable brand image is critical to growth, given that 77% of consumers make purchases based solely on branding. Because email is often the primary means of communication with clients, they should be able to instantly recognize you, making them also more likely to trust and buy from your company.
The clone feature ensures that you create identical e-mail signatures to the standard with minimal effort.
5 – Include a call-to-action
You may be scratching your head, wondering how a call-to-action on a sales email signature can benefit you! Thanks to eye-catching call-to-action elements in your email signature, outgoing emails become a powerful, highly-targeted marketing tool.
The number of clicks, impressions, and emails sent are the most important KPIs to track while evaluating the results, so be sure to keep track of these numbers to see how effective it is. Whether you want to keep a consistent call-to-action or change it based on current or upcoming marketing campaigns is up to you.
Email signature example with call-to-action: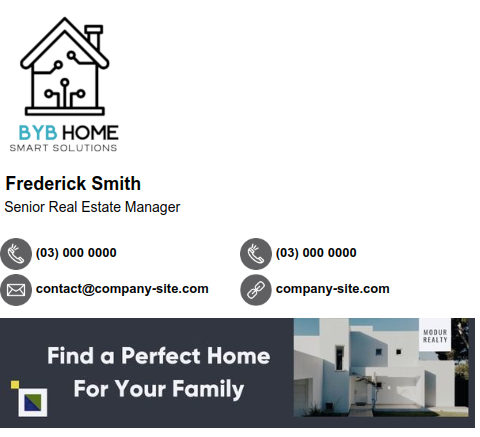 Getting the results
A link to the site or a landing page is usually attached to a call-to-action. Consider using UTM codes in Google Analytics to track the outcomes of direct clicks or shorten the URL using services like Bitly.
To make your sales email signature more effective, use Bybrand's email signature creator, as it allows you to add Bitly or Google Analytics integrations.
Zoho CRM integration
Integrations are essential to help your business expand, providing the following benefits:
Increasing productivity
Improving customer service
Enabling a complete 360-degree insight into customer interactions
Guaranteeing client satisfaction through each sales funnel cycle
If you're looking for integration with sales CRM, you can save time and send email signatures to your sales team quickly and seamlessly through Zoho CRM integration. Bybrand for Zoho CRM lets you generate more leads and convert more sales by improving your entire team's email signatures and working directly within Zoho CRM.
Active integration with Zoho CRM will:
Give you complete control over the email signatures of Zoho CRM users
Standardize communication using email to save time
Provide native integration without burdening the user to follow extensive tutorials
Sales email signature templates
If you're looking for inspiration for the perfect sales email signature for you and your sales team, consider using one of our effective email signature templates. These templates can integrate with third-party software such as sales CRM and Google Sheets, are very easy to use, and will help you quickly close deals.
The following are more 5 sales email signature examples that you can use for yourself and your sales department:
Example of clickable email signature with a banner.
Quickly call a phone number provided in the email signature.

Minimalistic email signature template. Your clients want to believe they are speaking with real people, not a robot.

Uniformity in branding, design, and messaging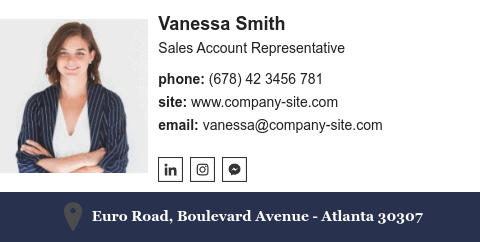 Banner & CTA email signature templates for marketing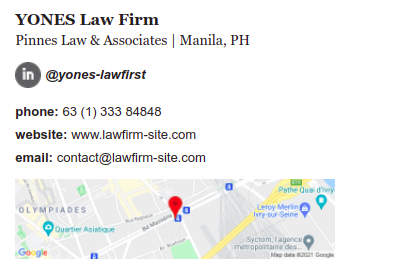 ---

Create your first email signature with Bybrand
Bybrand offers the ability to generate, administer, and distribute essential email signatures for your employees.