This post is also available in: Português Español
If you're a Gmail user, you may have noticed blue links in your email signature. Whenever you write your phone number, website, or email address in your email signature, these items automatically change to a blue link.
Gmail blue links are not an issue; they're actually very useful. For instance, if you click on a phone number, the Google Chat application will open so you can make a phone call.
If you click on the email link, a window to draft a new message to that email address will open. These functions save you a lot of time and make simple tasks easier. However, they create a design problem when it comes to email signatures.
For example, look at the following image: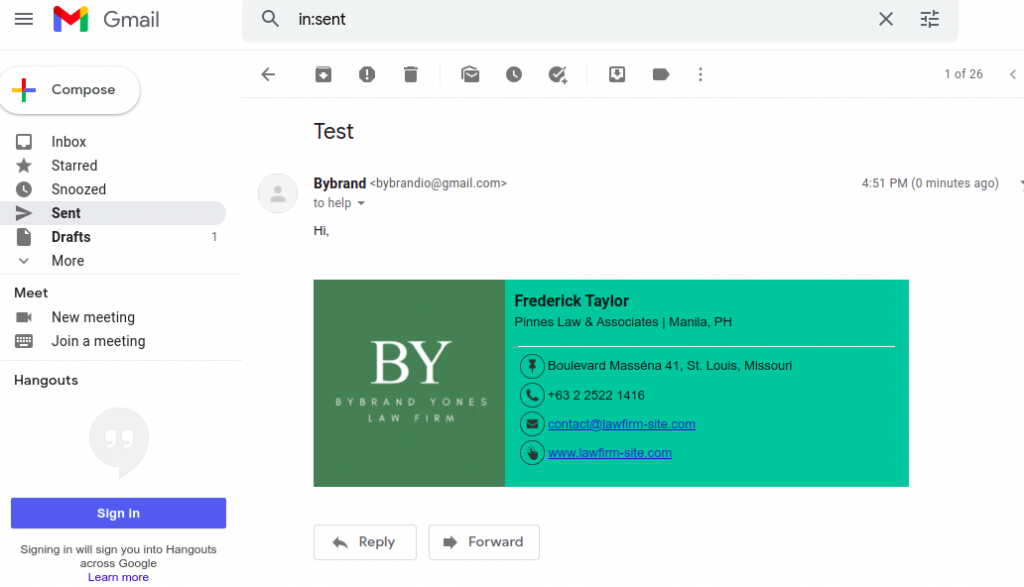 In the next image, you can see an original signature we created with Bybrand. The phone number, email address, and website address in the Bybrand signature are written in dark font. This is the Bybrand default option, and it makes the design look a lot cleaner.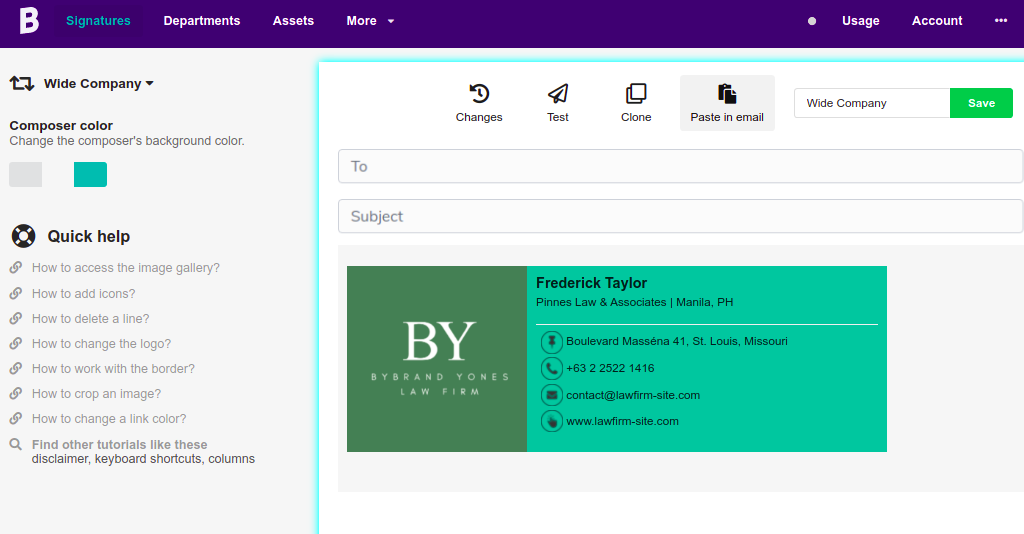 What can you do if you want to learn how to remove blue links in Gmail? How can you keep the original link color of the email signature design you choose? You can use the HTML email signature editor from Bybrand!
Before I walk you through the steps required to make sure the links in your email signature stay the color you desire, let's talk about the benefits of using clickable email signatures.
Benefits of using a clickable email signature
An effective email signature should include links to your phone number, address, email address, website, social media profiles, and even a CTA button. Clickable email signatures help support and guide your email's recipients.
For example, if the recipient clicks on the phone number they found in your email signature, they will be led to a Hangouts call, WhatsApp call, or video call window. If they click on your website, your home page will pop up for them to explore.
The best way to create a clickable email signature is to use a generator like Bybrand. This kind of tool will save you time and provide you with attractive design templates.
A clickable email signature offers many different benefits. For one, it will drive better conversations and make your email marketing campaign more successful. Additionally, you give your email recipients the opportunity to continue interacting with your brand on other channels (for example, your website, social media accounts, or in-person).
A clickable email signature allows you to nurture relationships and is the best way to guide a customer through the buying cycle. Overall, it is a powerful marketing tactic!
How to prevent Gmail from changing your signature links to blue links
Even if you use a mallet with numeric entities, your phone number and other contact information will still appear as blue links.
11-2233-6000 to 11­2233­6000
Though blue links in your Gmail signature can be annoying, there is an easy way to fix this issue while maintaining the integrity of the signature's design.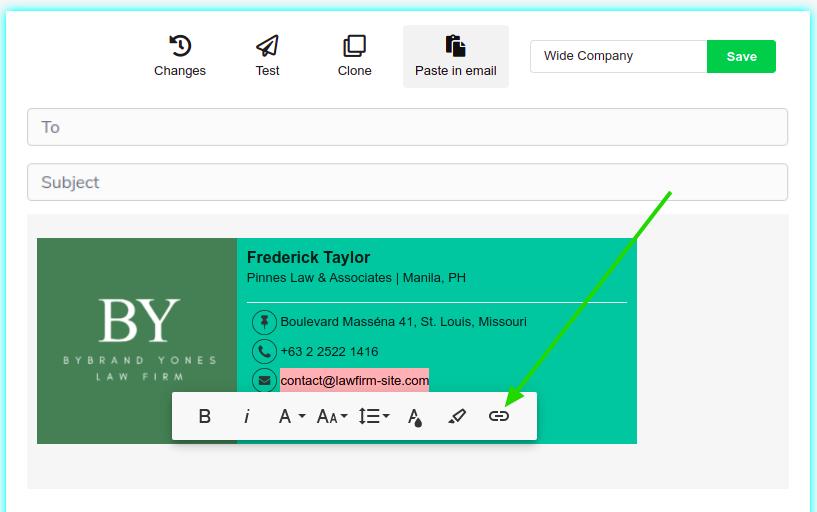 The first example with the code "mailto" for the email field.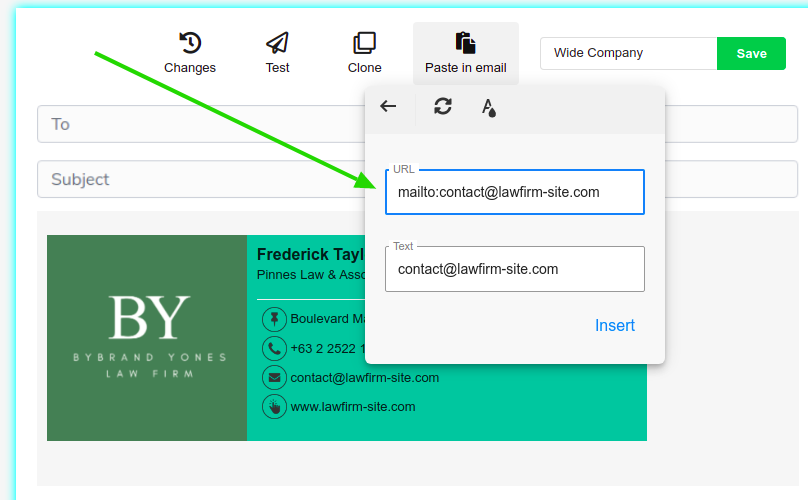 The first thing you need to do is create links to all keywords that Gmail changes to blue links. The fields must include the following URL codes:
Telephone field:
Create a link with the URL:
tel:+1 03 3589-2577 (the phone to change to the correct one.)
SMS number field:
Create a link with the URL:
sms:+1 03 35892577 (example phone number)
Email field:
Create a link with the URL:
mailto:email@account.com
Site field:
Create a link with the URL:
http://www.your-site.com
Watch this video to see how it's done:
For the next step, save your email signature to test out what you've done. If everything's in order, your email signature will look as it should (with no blue links!).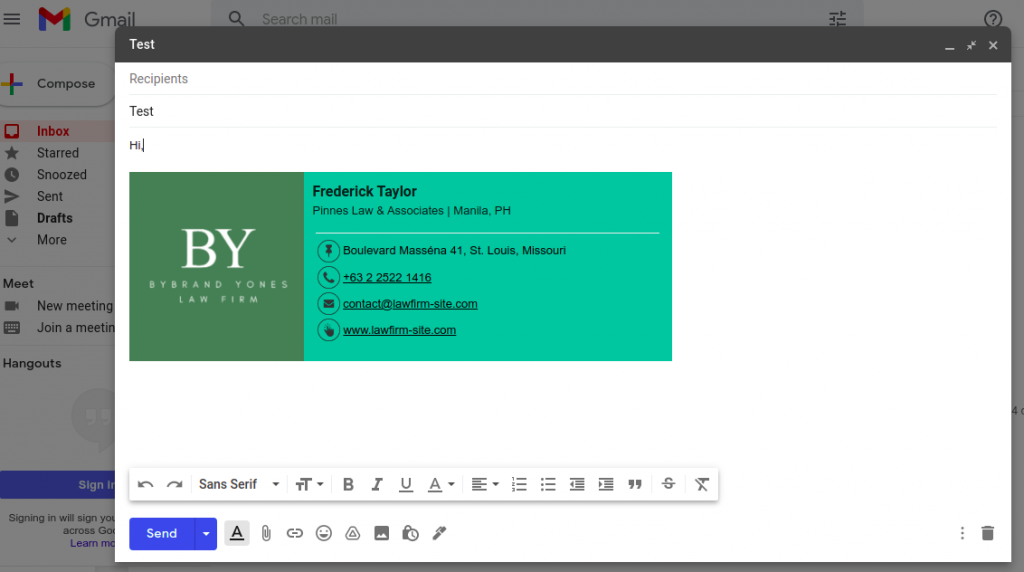 ---
When following these steps on MS Outlook 2013 and Gmail, your links will still be underlined, but the color of the text will stay true to the color scheme of your design. Unfortunately, we haven't found a solution for this just yet.
Yahoo! & Other email providers
In the past, Yahoo! used automatic links to embed paid advertisements into email messages. However, this is no longer the case. Today, Yahoo! doesn't change text with keywords. The same can also be said about Outlook.com.
Alternative – Using Bybrand + Google Workspace Integration
If your company uses Google Workspace, it might be a good idea to update (Paste) via the integration – remotely. Maybe like that, you avoid Gmail from changing the text field with a phone, email, and website to a blue link in your HTML email signature when sending a new email.
See a quick example below:
Here we have some additional content related to Gmail.
---

Create your first email signature with Bybrand
Bybrand offers the ability to generate, administer, and distribute essential email signatures for your employees.