This post is also available in: Português
In January, we were busy working during the last weeks of the summer holidays (in Brazil, South America). We spent some time leveling out many of our existing resources to make them easier to use and help you do more with Bybrand.
Here are some of the most recent product updates from last month.
Importing agents from the Freshdesk and Zoho Desk
We are happy to announce that now the departments have the ability to import Freshdesk and Zoho Desk agents to speed up the creation of email signatures for the support team.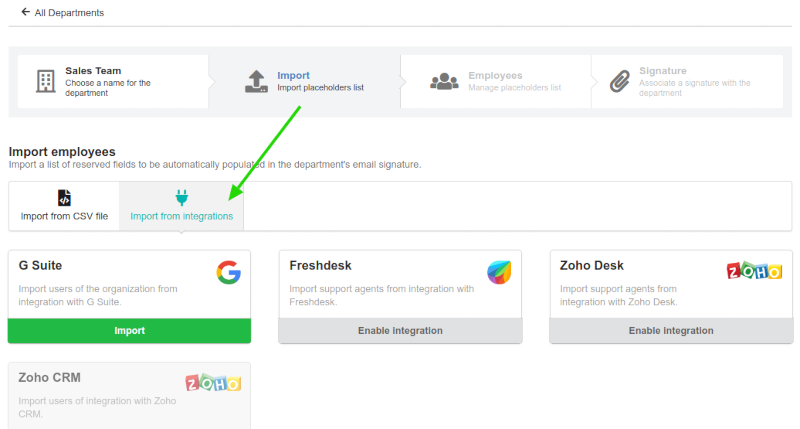 In addition to importing new agents, you can also re-import agents in case you have an increase in support staff. Previously, the import-to-department feature was only available in the integration with G Suite.
Import selected only
A necessary change we made was to give managers the ability to import only selected employees. Previously, you had to import all employees into the department, and then remove those who were not really members. The option to import "only selected" employees is available in all department integrations, be it G Suite, Freshdesk, Zoho Desk, or new ones that are coming.
Departments created via CSV file
We removed the option to update email signatures via integrations if the employee was imported using a CSV file. This modification makes perfect sense. If you want to update a email signature in G Suite, for example, you need to import users with G Suite integration.
The limitation is only for Departments, where the employee list has a CSV file as the source. The integrations work for individual signatures.
Bulk action page
We improved the mass action page for a department. Now they get individual pages. This is also the kick-off for the email signature mass update feature.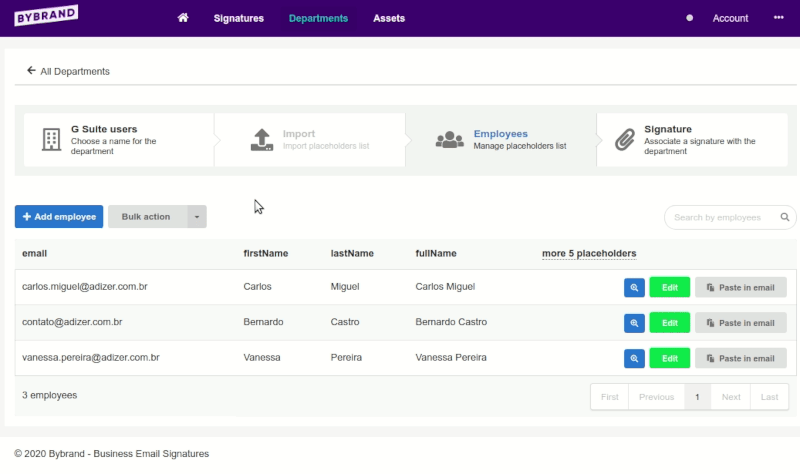 Here are the details of each feature:
Remove employees: Removes a mass list of employees;
Orientation by email: Sends a mass email message to every employee in the department. This information can be instructions for how to paste the signature into the email;
Bulk update: Feature under development that will make it possible to update signatures for a group of employees.
That's what we have for January.
Previous updates