This post is also available in: Português
CEOs have a range of online networking options to communicate with stakeholders, clients, and customers.
As you know, the most important email a person can receive is from a company's CEO. Now imagine that the CEO's email signature looks unprofessional, is text only, and has no graphics. This wouldn't reflect well on the brand or the sender.
By using Bybrand's email signature manager, busy CEOs can quickly and easily create eye-catching and informative email signatures that look professional and enforce brand values.
What makes a great CEO email signature?
There is no magic formula for CEO email signature templates. However, it's important to keep it simple while still including all necessary important information.
Here are some basic principles to adhere to for a great email signature:
Include the company logo, main social media icons, and basic contact information.
Keep your email signature template consistent across every email and throughout the company.
Create it using professional email signature software that makes it easy to edit and update across the company.
Ensure it displays correctly across all email clients.
Keep the design simple, clear, and concise.
Include a disclaimer to protect sensitive information.
Use a tool that enables you to create a CEO email signature in HTML. This looks more professional and gives you more control so you can make a hyper-personalized signature.
Great CEO email signature templates should be able to be integrated with leading software and tools.
Further reading: Best Practices For Business Email Signatures.
Avoid plain text email signatures
Unless the copy is really good, chances are that a text-only email signature will be ignored by the receiver. Plus, with the evolution of email technology, it looks unprofessional.
Here is an example. Note that at the end the signature has only "Att. Dylan Posse".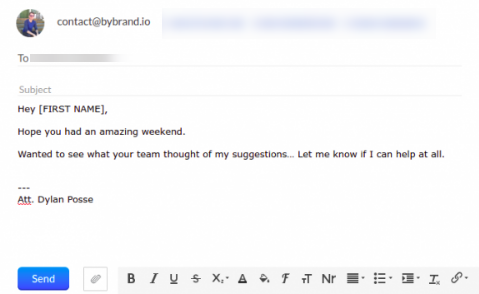 Firstly, plain text doesn't allow you to highlight your brand's visual identity – a vital component of promotion and marketing. This is normally done via a logo or an image in the text of your signature.
Secondly, you won't be able to apply any design elements to the CEO email signature template, such as being able to highlight certain sections to draw the reader's eye to important elements within the signature. This could also include CTAs that could be amplified through bullet points or with the use of italics or bold font.
If you don't want to go all out with an elaborate HTML email signature, go for a minimalist one with at least a photo of the CEO or the company's logo, your main social media platform, and the company's website where the reader can get more information.
Use a tool to edit an HTML email signature
There are many free email signature editors out there, but they are unlikely to offer a professional suite of tools and services that companies need for their most important outgoing communications.
So, here are the top 10 benefits of using a great HTML email signature tool:
Allows you to add and edit text and dynamic content, icons, images, and logo.
You can share the email signature with a colleague or friend.
Download email signatures in HTML locally to your device.
Create your own HTML email signature elements from scratch.
Crop and resize images to improve the design.
Allows for bulk actions within the company or department with a single click.
Enhance your email signature for the CEO by integrating with software such as Zoho Desk and CRM, Asana, and Google Workspace.
Link your email signature to company news, your blog, a product launch, awards, and business successes.
Provides a great choice of templates while leaving control in your hands via a WYSIWYG editor.
Saves you time by allowing you to make bulk changes or edit the visual content without changing the URL in the email signature link.
In addition to using an email signature template editor, you can also create a template from scratch. See a preview of the video below.
Email signature templates for CEOs or business owner
At Bybrand, companies are spoilt for choice when it comes to our handcrafted collection of CEO email signature templates.
The email signature for a CEO that is created using a professional HTML template offers an authentic experience to the client and strengthens your brand's message with every email sent.
So, if you want to step up your game and create a professional-looking email signature perfectly suited to your company image, here are 5 professional email signature templates for CEOs. These can be custom-edited to reflect the type of business you are in.
Template one
The first CEO email signature template has a headshot to make communication more personal – but that's not to say it's informal. Nowadays, people prefer to know who they are exchanging messages with.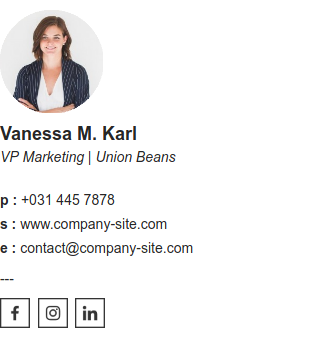 Template two
Again there is a face photo, but now with the name and role in the header. Also, note that the company name is highlighted with larger letters, as is the address with an icon. Certainly, this business has an important physical location.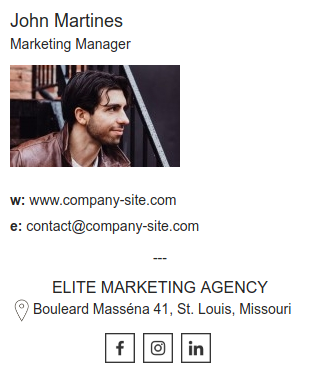 Template three
Now we have a third example using the company logo to reinforce the brand image. With the executive's name and position in the first line, your recipient will quickly know who they're exchanging email messages with.
Furthermore, in the template, the disclaimer block is in two languages: English and French.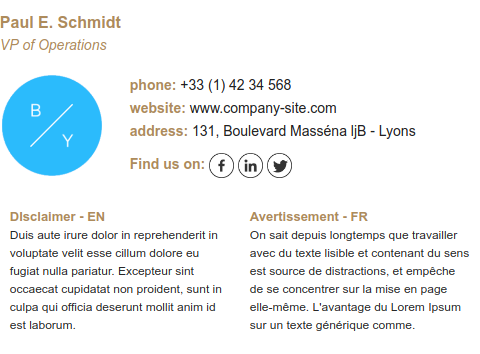 Template four
A minimalist email signature template with an important PS with a link. Additionally, you can add a CTA to a public calendar or a link to open a WhatsApp or Facebook Messenger call.

Template five
In the fifth and last example, we can see that the phone number is highlighted. Again, this number can be directly linked to open WhatsApp or a call-to-phone link with an add-on. Read more about it here.

Wrapping up
Whether creating an email signature for the CEO of a big firm or a small start-up, ensure the design of your email reflects the business and enforces the brand.
Bybrand's extensive library of flexible CEO email signature templates is the perfect starting place for creating a stand-out sign-off to your email communications which empowers companies to turn corporate email into a low-cost yet highly effective marketing tool. Most importantly, it invites response and leaves a lasting, memorable impression.
---

Create your first email signature with Bybrand
Create, manage, and deploy powerful email signatures for your team using Bybrand.