This post is also available in: Português
Your email signature banner offers a great opportunity to improve your marketing and sales efforts. Whether you're communicating with existing clients or hot new leads, the email block where you sign off can be used for all kinds of valuable promotions.
The best part is this requires basically zero effort, yet you can use it for achieving long-term results. So, if you're not making the most of your emails, then it's certainly time to start.
In this guide, we'll cover what you can achieve with your email signature banner, and how to get started with using one to enhance your marketing.
An email signature banner is an image that you add to your email signature. The image, or banner, is displayed at the bottom of the email where you would normally sign off.
Email signature banners can really grab attention. So, they're a great way to spread awareness about your brand or deliver a marketing message. Whatever you use your email signature banner for, it should contain a short message relevant to your email recipients.
Email signature banners are usually around 100px x 600px in size, although there's no exact email signature banner size that they should be. It's just important that they are clear and easy to read, they load fast, and that they clearly display the information you need to show.
There are many different scenarios when using email signature banners makes sense. Many companies make it standard for employees to add a banner to their email signature on their work email address. This doesn't necessarily promote anything, but it just helps to improve brand awareness and it looks professional.
An email signature promotional banner can be used to spread marketing messages and promote an upcoming event or campaign. If there's something you want to promote, why not put it out in front of everyone who sees your emails?
Relevant email signature banners are generally reserved for professional email addresses, however, you can use them any time you want to spread a message.
Email banners usually include a call to action with a link that you want to direct your recipients to. However, you could just use a banner to make email signatures look more professional or exciting.
Using an email signature banner is a simple way to make a big impact.
The B2B customers are very clear about what they want from suppliers: more channels, more convenience, and a more personalized experience. They want the right mix of in-person interactions, remote contact via phone or video, and e-commerce self-service across the purchasing journey.

The future of B2B sales is hybrid.
Here are two of the main reasons why email signature marketing is a good idea.
Improves brand awareness
Even if you're not spreading a specific marketing message, a professional email signature just looks good for your brand. Having an eye-catching email banner will help anyone you get in contact with remember your brand. And if the banner looks great, then you will be able to generate more positive brand awareness.
Many email recipients will take you more seriously if you have a great email signature. Both your professional and personal email signature could also include a headshot of yourself, which helps people get a better idea of who they're communicating with.
This makes your emails more personal and helps improve the way you communicate.
Builds trust
Email signatures are also a great way to showcase your achievements and build trust. You can use your email signature to display any trust badges you or your company may have. This could include rewards and achievements.
It could also include positive reviews, user ratings, customer testimonials, or anything else that creates trust around your business.
If you're emailing leads and are trying to gain credibility, then adding some kind of trust badge to your email signature can go a long way.
Email signature marketing shouldn't be used as a standalone marketing tool. However, it's a great way to gain more traction around your current ongoing marketing campaigns.
If you have an existing marketing campaign, using your email to promote it will help you to increase reach and brand awareness. Ideally, this should be focused on ongoing marketing activity – such as your blog or your social media.
You can promote limited-time marketing content, like a contest, in your email signature, although you might not get that much activity from it.
Using your email banner to promote your blog, your social media channels, a webinar series, your newsletter, or any existing marketing campaigns is a great idea. Link out to these resources and you could generate more subscribers, readers, or fans without putting in any real effort.
Read also: Adding social media icons to a professional email signature.
The great thing is that these campaigns are ongoing, so you won't have to worry about changing your email banner all the time.
Plus: Bybrand's integration with Google Workspace and Zoho CRM allows you to update user email signatures with just a few clicks dynamically. So you can change the signature content on the fly at any time.
2. Email signatures for your sales strategy
Email signature marketing campaigns are effective, but you can also use email banners to enhance the sales process. Sales teams can use email banners to promote an action without being too pushy.
You could add a banner to share valuable content (like a podcast or case study), display a customer testimonial, or simply link to your "book a demo" page. Doing this isn't forcing your leads to do anything, but it does let you dangle a carrot out in front of whoever you come into contact with.
Email signature example:
3. Promote events
Email signature banners work great for spreading awareness about your upcoming webinar or event. Simply add a registration link to your email banner, and you can easily attract whoever you come into contact with.
This doesn't require any effort from you – you just need to carry on with your regular day-to-day communications. If you contact people who get value from your conversations, there's a good chance they will be interested in joining your event.
Email signature example with an event banner:
There are all kinds of email signature banner examples for sharing a lead magnet. A lead magnet is when you share a piece of valuable content in exchange for a lead's information. When they download or access the content, they are automatically placed into a lead nurturing campaign.
Of course, if you are emailing somebody already, then you already have their contact information. However, a lead magnet can still be a great way to build trust and legitimacy around your brand. If they are not sure about working with you, sharing a lead magnet could be a great way to get them interested.
Email signature example with lead magnet:
Your lead magnet could be any kind of valuable content (like an "ultimate guide"), a video, an audio clip, a free course, an ebook, a free software tool, or anything else that could interest potential customers.
5. Promote content or news
Promotional banners are a great way to promote any content or news that your company has to offer. This could include your latest blog post or a YouTube video you just uploaded. You could also promote company updates, news about a new product, or anything your business might include in a press release.
Email signature example with YouTube banner:
Adding these email signature banner ads can help you get news and content out to a larger audience. If you already send out email marketing blasts, then this can be highly effective.
This video shows how you can add a banner with a Call-To-Action (CTA) in your email signature. You can then add clickable links in the image to your website, webinar, or events.
Also, see the video on How to add a Google Maps banner to your email signature with Bybrand editor.
You can make your own signature banner with a few clicks, for example, using Canva. You can customize it with your logo, colors, and other visuals. And if you don't have time to design it yourself, you can find a template here that's ready for you to use.
So if you're looking to make your emails richer, adding a banner to your HTML email signature is a great way to do it. Check out some email signature examples with a banner and get inspired!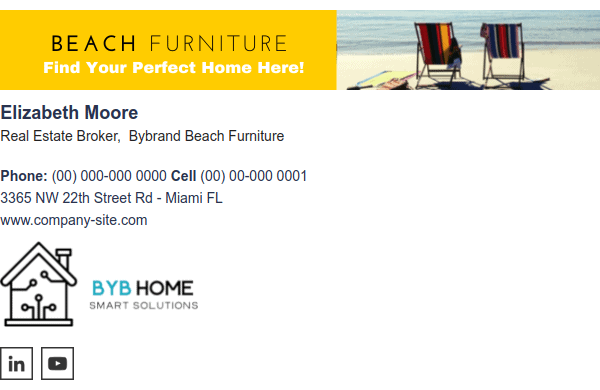 Conclusion
Your emails provide valuable marketing real estate, and you should be making the most of them for whatever promotions and campaigns you want to run. Using an email signature banner is effortless, and it can be an excellent way to support your existing campaigns and strengthen your brand.
Try out Bybrand's email banner templates to help you get started. You'll soon realize just how easy and effective this strategy is.
---
Create your first email signature with Bybrand
Bybrand offers the ability to generate, administer, and distribute essential email signatures for your employees.