This post is also available in: Português
Many people make the mistake of underestimating the importance of a good sales email signature. This is the last piece of information people see when they receive your email and, if you're not smart about it, it may be the last impression you ever make on them.
Your HTML email signature is a powerful tool to get more leads and sales. This article will share some insights to help you take full advantage of it.
Think about it… how many of the emails you received today had an email signature? How many of those signatures caught your attention? Probably none of them.
That's the problem. The sales email signature is meant to catch customers' attention, and there are many ways to accomplish that. Below, we will discuss a few effective tactics to help you get ahead of the competition.
The ideal email signature for salespeople
Email signatures are all very similar. There's a name, a job title, an email, and a phone number. However, the email signature provides a space for more than just basic details and contact information.
If you use it well, your email signature can work as a trigger to generate even more leads and sales. In short, it has great potential. All you have to do is learn to take advantage of that space.
Here are a few helpful tips you can follow:
1. Provide the right details
Your first name and last name are essential, so your email signature should always include them. Whether you decide to include a job title depends on the context.
For example, buyers don't like to mention they are buyers for a potential supplier. That's usually because people in that position receive many unsolicited emails. To avoid that, they choose not to mention their job title in the email signature, which makes sense.
However, it's important to note that people feel special when they get an email from the Founder or CEO of the company. If that's your title, it might be a good idea to include it in your email signature.
Additionally, your contact phone number is essential because it allows recipients to contact you very easily. This is particularly important for commercial purposes.
To give you a clear picture, here's an example of a basic email signature: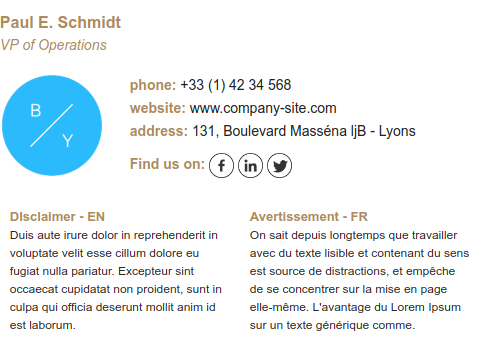 2. Add CTA links to your email signature
Though the space in your email signature is limited, you can take full advantage of it by providing direct links to your site to prompt recipients to make a purchase. The purchase links you provide should take your recipients to items related to the subject of your email.
For example, if it's Children's Day and the special promotion is the subject of your email, add a little CTA in your email signature, something like "Check out our special Children's Day promotion!" so your recipient can go to your website and browse the products and services on sale.
Here is an example of a simple CTA banner for email recipients to see new real estate options.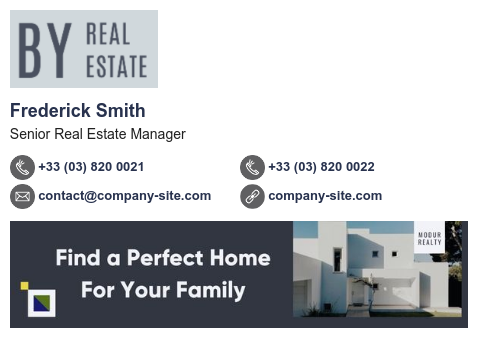 Additionally, you can use your email signature to promote your blog. If your email was successful in getting your prospect's attention, they will likely be interested in learning more about your brand or business. That's what your blog is for!
According to a survey, having a social media presence influences 71% of people's purchase decisions. If you throw reviews into the mix, the numbers increase even more.
71% are more likely to purchase products and services based on social media referrals.

GlobalWebIndex
On average, people read at least 4 reviews or recommendations before choosing to purchase from a particular company. That's because they want to make sure they'll get good value for their money.
Thus, your business must have an active social media presence, and you should encourage buyers to leave feedback and reviews. Ultimately, it will help your business grow in the future.
One of the best things you can do with your email signature is provide links to your social media channels. Not only will this help you grow those channels, but it will also allow prospects to get to know your brand better.
Here's an example for inspiration:

Email signature templates for salespeople
The numerous emails your business sends out daily represents a huge and often untapped opportunity to connect with current and potential customers alike. Also, typically all individual emails sent by employees, including salespeople, to customers are opened. This offers a benefit over a traditional email marketing campaign, which will only see a 15-20% open rate.
Here are more examples of email signatures to generate B2B leads and customers.
In the first example, an email signature template with a phone link to call. A customer can use the link to open Whatsapp web and Google Hangouts.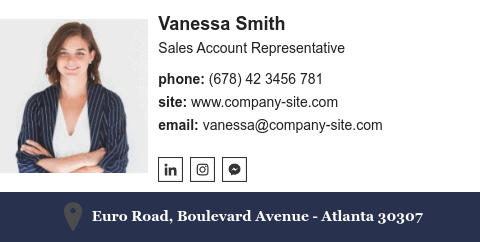 In the second case, an email signature template with social media icons.

The third and last example is an email signature template with an image banner to events or promotions.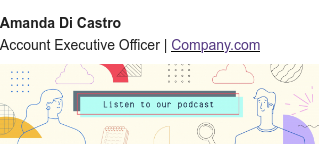 Conclusion
As you can see, it doesn't take much than following these simple tips to spruce up your email signature to boost leads and sales.
Luckily, there are many different email signature designs that will help you realize the potential of a good HTML email signature. Visit Bybrand's email signature templates gallery to find inspiration!
---

Create your first email signature with Bybrand
Create, manage, and deploy powerful email signatures for your team using Bybrand.