This post is also available in: Português
Do you have a disclaimer in Google Workspace? If not, it's one of the most valuable areas of your email signature and needs to be utilized by professionals – especially in the corporate world. You'll find corporate email signature disclaimers in all forms of email communication, including:
Emails sent to internal email addresses
Emails sent from a service provider to customers
For example, if you're applying for a mortgage and there's communication between you and a lender, scroll to the bottom of the email, and you're very likely to find what is known as a disclaimer box.
We're going to outline what these disclaimers are, their benefits, examples of them, and how to manage them in Google Workspace.
What is a disclaimer block in an email signature?
First and foremost, some readers may not know what a disclaimer block includes. IT admins, managers, and Google Workspace administrators often use disclaimer blocks that can be found at the bottom of their emails.
In fact, if you look at many professional emails that you receive, there's often a disclaimer block at the bottom of the email.
There are multiple email signature disclaimer examples that we can give, but we'll be covering them in greater detail two sections down. But what's important to note is that a disclaimer block is:
Positioned at the bottom of an email, often under the person's signature.
A large block of important text that acts as a disclaimer.
When sending out emails, these disclaimers offer legal protection and are also widely used in the corporate world. However, the block won't be useful when sending emails to your friends or family because it really doesn't have a place there.
The block will include important details. Here's an example:
This message is not encrypted, and it's our policy not to share any confidential information via email. Please view our terms of service and notify us immediately if this email was sent to you in error.

See more legal notice examples to email signatures..
Of course, this is just a small snippet of what will be part of the disclaimer in Google Workspace. In the end, see also two email signature examples with a disclaimer box.
How to manage disclaimer email signatures for Google Workspace
Managing a disclaimer in Google Workspace doesn't have to be difficult. Google Workspace is one of the most widely used platforms in the world for businesses, but third-party tools help make it even better.
Our platform, Bybrand, offers a robust tool that takes the guesswork out of creating an email signature disclaimer in Google Workspace.
When you use our platform, you gain access to our robust tool that aims to help you:
Create email signatures for Google Workspace users across your business and enterprise.
Manage all email signatures in seconds to keep them concise and updated across all business emails.
Standardize your email communication to grow your audience while utilizing your disclaimer box.
If you want to learn how simple and easy it is to use Bybrand to manage your email disclaimer, watch our video below to get started.
Email signatures are a must-have for any business and professional email. If your business isn't using a signature with a disclaimer, you're missing out on one of the most valuable sections of your email messages.
Benefits of an email disclaimer
A few of the many benefits of an email disclaimer include:
Confidentiality
Disclaimers can and should mention the confidentiality of the emails exchanged. The benefit of adding company-wide disclaimers is that you can add confidential disclaimers for the entire organization that are concise and legally binding.
Legality
For legal reasons, it's essential to include a disclaimer in an email. The disclaimer will protect you or anyone sending the mail from legal liabilities. The trick is to offer a general, catch-all disclaimer that a lawyer approves.
Consistency
Trusting individual team members to add a disclaimer to their signature is a recipe for disaster. Instead, an email disclaimer manager can add a disclaimer across an entire organization to ensure that a business has consistent legal and confidential disclaimers in place.
---
While it may be tempting to avoid adding a disclaimer to your emails, it's one of the most powerful and consistent tools you have to reduce your liability risks. If you have concerns that any of the information in an email may lead to some form of liability, it's best to have a disclaimer in place.
Additionally, if you collect any data or documents, a disclaimer will add to your overall protection because it will outline use for any data provided by the recipient.
Examples of when and why certain business types add disclaimers in email signatures
Email signatures are beneficial across industries, but there are some industries where signatures are even crucial for legal reasons, such as:
Financial industries
Where it's crucial to have a disclaimer block on all emails. In this industry, the disclaimer will protect the financial institution from any form of consulting error or failure. In many cases, if the email is sent to prospects or leads (those who haven't signed a contract with the company), the message will mention that the information is for informational purposes only and can change on a case-by-case basis.
Lawyers
Will often include extensive email signature disclaimers. For example, one disclaimer will often include wiring instructions and alert the recipient to call the office first or otherwise assume any email with wire transfer information is fraudulent. Additionally, a confidentiality notice is usually provided to outline what to expect your data to be used for in the email.
Pharmaceutical
Companies are at a very high risk of liability and lawsuits. Email disclaimers will include information that alerts the reader to call their physician and that the information provided is for a particular purpose. Legal teams will write out the disclaimer to ensure that content in the email cannot be misconstrued in such a way that it leads to a liability concern.
---
If you're a consultant, you may answer questions in an email that need to be further elaborated on when the person becomes a client. You might add a disclaimer that the information provided is not formal legal or financial advice.
Since email can be considered official documents, it's important that you add in email disclaimers to ensure that you have all of your legal bases covered when someone reads the email.
When receiving documents from clients, sending important information, or even talking to a potential customer or client about a product, a disclaimer offers a higher level of legal protection.
Sending outbound messages is part of every corporation's daily business activity. If you're sending emails, you should know how to add a standard footer to your messages.
There are two main ways you can do this:
When using the Append footer setting in Google Workspace, the text editor doesn't support HTML content as an external link to a GDPR page or terms of use, for example.
2. Using Bybrand's rich HTML email signature
The Bybrand editor can easily create and manage disclaimer email signatures for all employees. Once you add your footer, you can update it in the future as any wording or information needs to change.
Here are two examples of HTML email signatures with disclaimer blocks created with the editor.
Example for lawyers and law firm.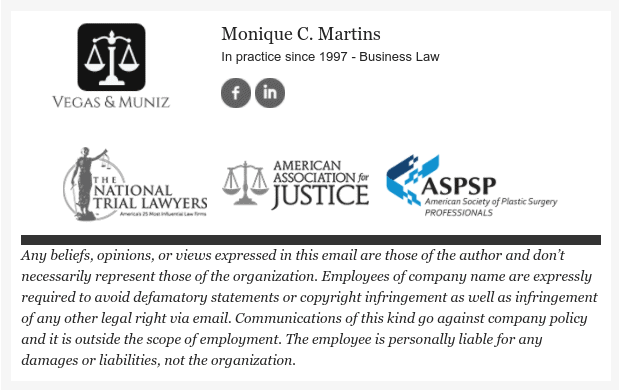 Example for pharmaceutical companies.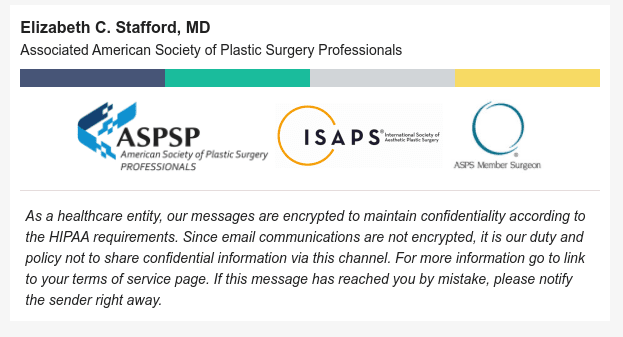 Final thoughts
Adding an email signature disclaimer in Google Workspace helps keep your business compliant (depending on the industry) and provides crucial information to recipients.
If you're trying to find a quick and easy way to manage your disclaimer in Google Workspace, Bybrand can help. With our state-of-the-art HTML signature editor, it's possible to manage an entire enterprise's email list on one dashboard.
---

Create your first email signature with Bybrand
Bybrand offers the ability to generate, administer, and distribute essential email signatures for your employees.