This post is also available in: Português
Talking about the psychology of color is nothing new. With the growing number of people who want to risk entrepreneurship, this subject always comes to the fore. After all, every business needs a brand. There is a lot of discussion about the real impact of color definition for a brand. But does the color of your logo matter?
To begin with, a survey conducted by the University of Winnipeg, In Canada, showed that more than 90% of brand judgments are based on their colors. So it's clear that color has a real impact on your business. The case involves what type of product or service you offer, what kind of customer you want to reach, and how you want to achieve it.
It's hard to talk about something going on in our subconscious. Therefore, it is natural that there are rational questions about how the definition of color interferes with the business.
Color matters
As we said earlier, the colors that people see represent more than 90% of brand judgments. However, a more in-depth study showed that at the time of purchase, the color of the brand may still have an additional factor that may interfere with the decision.
Personal experiences were seen as factors that have a significant influence on people's decision making. For example, someone who has had a favorite toy of the blue color in childhood has excellent chances to sympathize with brands that have blue colors.
Besides, testing on purchase pages showed that merely changing the color of the purchase button from green to red increased by 21% sales. In contrast, there are some considerations to be made before evaluating the impact of color in isolation.
Context also matters
If the color of something can intervene in the decision making of someone, other additional factors help in this decision making. For example, brands tend to have more than just one color. And this related color needs to be aligned with the values ​​and product you want to sell.
You probably do not want to eat in a restaurant that has "brown" colors. After all, the least favorite color between men and women was brown. Already a logo with yellow and red colors can arouse hunger (yellow) and desire (red).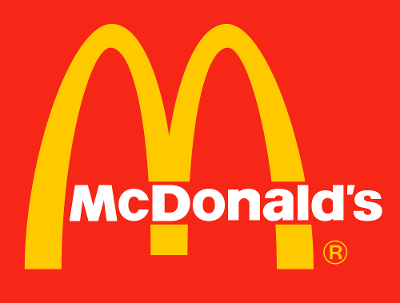 Thus, you encourage your potential client to act fast to kill hunger.

Is that why most brands of food have red color?
Another issue is the general context that expresses the brand. An internet page with the red button alone does not affect. It is necessary that this color is contrasting with the color palette used. So the red button works fine on a page with a green color palette or the other way around.
The cultural point of view must be taken into account too. Research has shown that while red encourages action in the US, here in Brazil, red causes the opposite, impediment. If you want to make a real impact with your product, it is interesting to take into account some points to define the colors of your logo:
What is the cultural context in which I am inserted?
How will my brand communicate?
To whom will you communicate?
How do I want my brand to be perceived?
Answering these questions will help you get closer to a brand that will make the impact you expect in the world.
The color in the email signature
Your signature at the end of the email should follow the same company color concept. But the standard developed for most signatures is to have the white background because a large amount of message reading screens follow this color since the color of the text is usually black.
For example, two columns. One for the logo with the company default color, and the employee content with white background.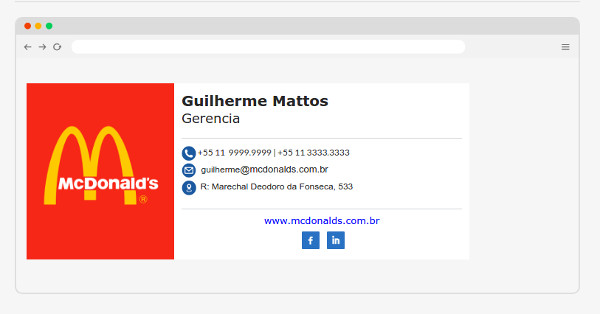 The white background creates a natural contrast, using intense background colors to follow the mark may be tempting, but it causes a shock to the customer who will read the message. It's wise to keep things simple, but not as simple as possible.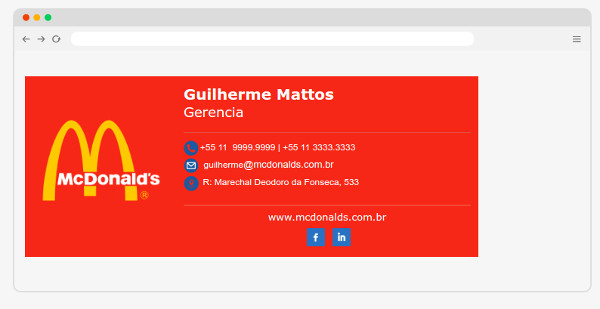 In some email signature that we receive from customers, we find that sometimes they use this secure background color option, other than white or light color to match the email reader. If this is your case, you can evaluate the possibility of changing, not definitive, but as a test, or continue, after all, the decision is yours.
A new analysis
After a few more months of study, there are right paths to follow with a signature with the intense background color. A little different from what we wrote at the beginning (in 2018). See this example, email signature of a support agent.

See an intense background color, which fit well with the bright text contrast. In our short journey, we've seen people create incredible email signatures with Bybrand, which is helping to move more of the sites, social networks, and corporate leads.
Please, if you use intense colors in your email signature, we write, I would like to see how you worked on it.
Update
You can monitor the clicks your email signature receives with integrations with Bitly or UTM Code for Google Analytics.
Can be an excellent way to track performance.