This post is also available in: Português
Bitly and Rebrandly are marketing tools based on the web, which offer the management of brand links, URL shortener, click tracking and various means of attracting more attention to your business and your content.
TL;DR
In this article, we will show you what a URL shortener is and why you should use it in your HTML email signatures. You will discover why marketing professionals have been increasingly using short URL's in their links, in order to monitor the full performance of your clicks. Finally, we will show you which is the best one.
---
Each client who visualizes the email signature of their company, through an employee working directly with email, is unique. They have different needs, positions, work habits, budgets, culture – and the list goes on. Wouldn't it be amazing to get to know a little bit more about the customized characteristics from the beginning?
Well, you can. And it is not as hard to implement as you think. There are numerous ways to improve a client's experience with email signatures, some of which are already familiar, such as: images with the employee's face, Emoji's, font colors.
But we can dig a little deeper and shorten each link in our email signatures. This way, we will gain valuable information on the clicks that occur.
What is a URL shortener?
Before we begin, what is a URL shortener? Besides meeting the need for "saving up on characters" in a link, short URL's can be useful in making links more attractive to users, especially when you have the possibility of customizing them.
It means turning long links such as this one:
https://www.bybrand.io/blog/updates-email-signatures-for-alias-in-gsuite/
To:
https://link.bybrand.io/gsuite-alias
Both addresses lead to the same destination, but the second is more attractive.
Shortening URL's in the email signature
Because they are stationary, it is hard to know the individual performance of an email signature. But that is not the case when you use a URL shortener for each link that is added to the signature.
Once a click occurs within an email signature, with a shortened link, you receive rich information on your audience. This information goes beyond the metrics of popular clicks such as main countries, languages, devices, and frequent times.
By using UTM parameters such as Google Analytics, you can obtain more complete metrics for links, such as target audience, click rate, and reference outlets, besides knowing where your user came from.
Google Analytics is the most popular tool for digital analysis about measuring data from website visitors, and it is so for a good reason. It offers an array of information on the origin of new and old visitors within a website.
Links to shorten within an email signature:
Link from the company's website;
Company blog;
Link to the knowledge base;
Social icons that receive a link;
Logo of the company that receives a link;
A banner located at the end of the email signature;
How to do it?
See how Bybrand's integration with a URL shortener will save you time in the task of shortening links in a signature. Activating the integration makes perfect sense if you can avoid the frequent change of pages.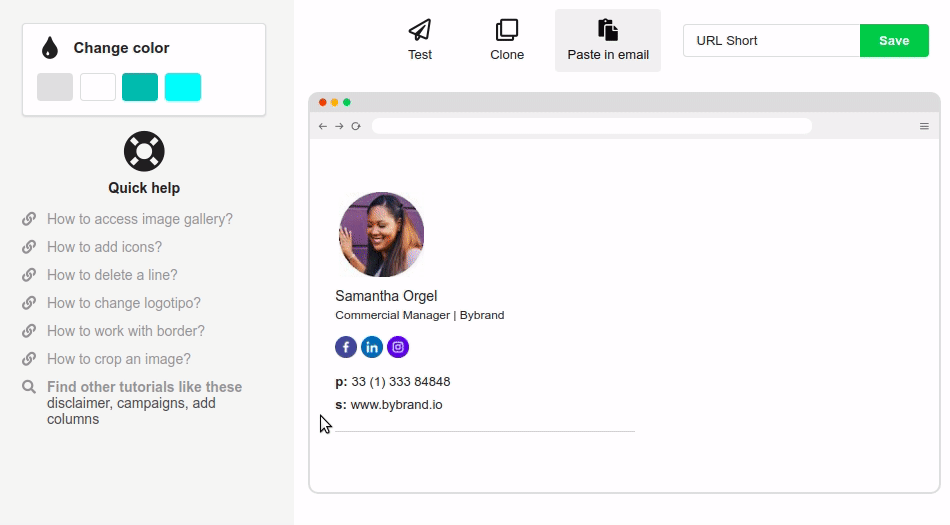 See more details about the two integrations for the Bybrand builder.
Bitly or Rebrandly
Bybrand has native integration with the two main URL shorteners in the market. You may be wondering about which one to choose to shorten the links in your email signatures. We are going to help you with the relevant information on each of them.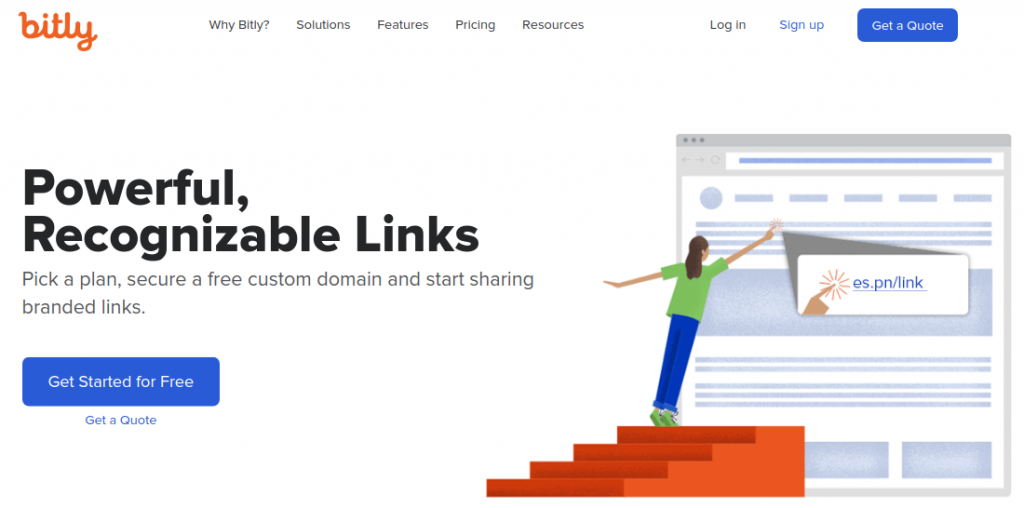 Bitly is one of the oldest and most known URL shorteners used in the web. It can also be found as an application for the Android and iOS systems.
Rebrandly stands out among the URL shorteners available online for offering a wide range of possibilities to customize URL's, besides the actual shortening and the statistical tools.
Information on price
Price and plan information was obtained in January 2020.
There is a clear difference in price between each one. Bitly went through a change in price in April 2019 – it began to offer new plans, which are: Free, Basic, and Customized. In its Free plan, Bitly includes a limit of 1,000 shortened links per month and does not offer customized domains. However, it does allow unlimited clicks on the links created.
Rebrandly offers a free plan that is more robust, with the option to customize the domain with the brand name, having a limit of 500 "Branded links". Each link may receive 5,000 clicks per month.
As for the advanced packages, the price is based on service layers for both tools.
Bitly's Basic plan costs $35/month, and includes resources such as customized branded domains, with a limit of 1,500 links. The Customized plan does not inform the price publicly, but It has the options of resources such as QR Codes and Campaigns.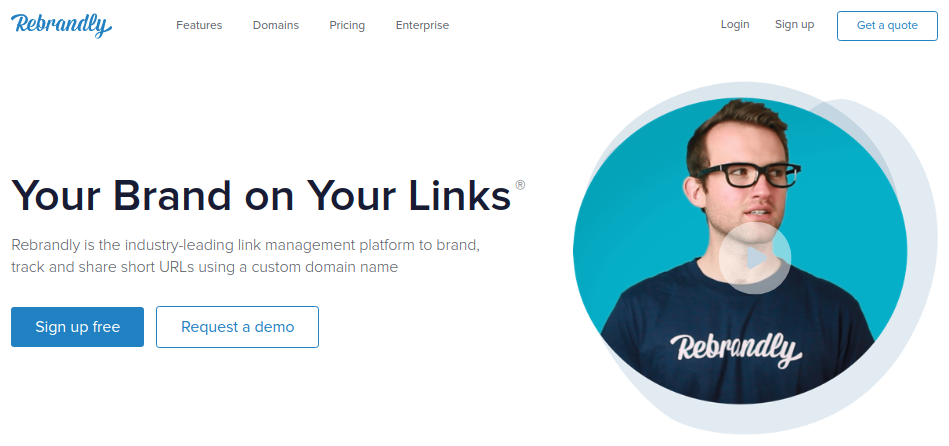 Rebrandly offers more plan options; the Starter costs $29 /month, having a limit of 5,000 "Branded Links". All plan options offer QR codes as a resource.
Key resources
Now we are going to take a look at the differences in the main resources between these two URL shortening software.
Bitly
The free version does not offer a customized domain in the shortened link. The paid plans have this resource, and they do not limit the among of clicks that each link can have. One of Bitly's differentials is the option of adding tags to the link within any plan level. This allows you to categorize groups, such as: only showing the links created in the email signature.
Another point to observe is that Bitly does not allow you to change the address of the destination URL of the shortened link. It also does not create a different shortened link for the same URL, which can be useful to maintain a low number of links created.
Rebrandly
All of Rebrandly's plans allow you to change the destination URL and connect up to 5 domains to it, subdomains. However, there are limits to the number of clicks that you can receive in each link created.
There are two important observations to make. Using tags in the links created is only allowed when using at least the Pro plan, and the negative point of Rebrandly creating different shortened links for the same destination URL is that your account will quickly reach the limit allowed.
Bitly vs Rebrandly in software reviews websites
User feedback: What do people say about Bitly vs Rebrandly?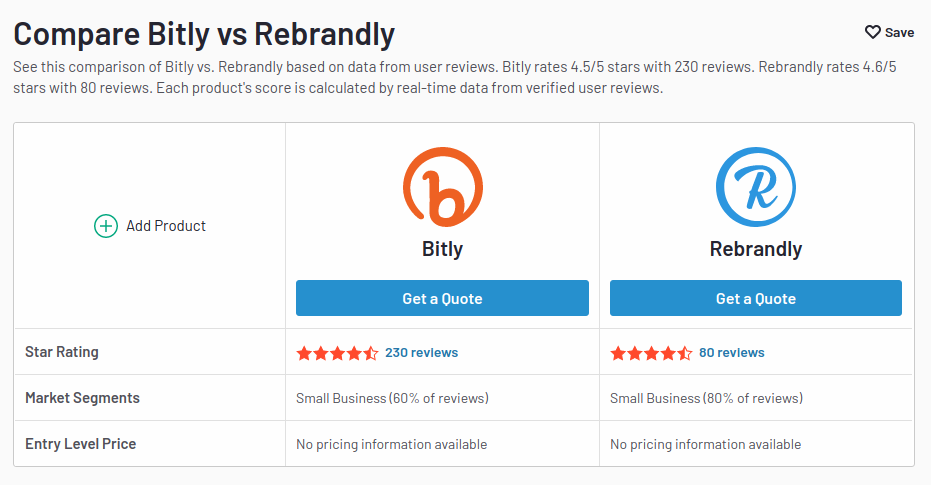 All of the information that we have touched on up to this point is useful, but sometimes it is good to hear real users and obtain information from people who were capable of using the tools.
In the G2 comparison, you can see that Bitly has more reviews received, but that doesn't mean he's the best. Bitly, for a long time, offered a free plan option, and with that, got a good market share.
It is also worth mentioning that the Rebrandly market segment is more for medium-sized companies.
Here is what some people have to say.
Bitly Review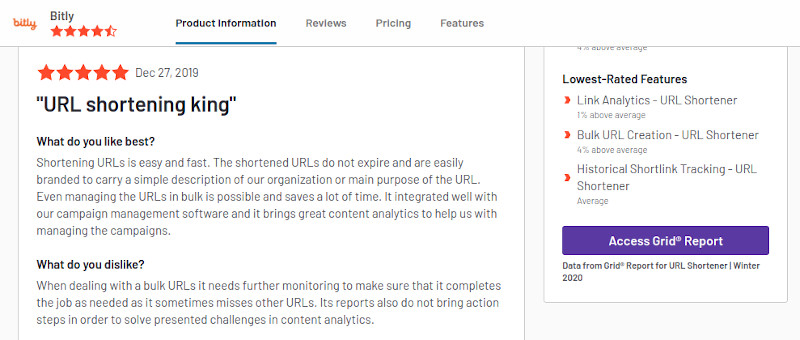 Rebrandly Review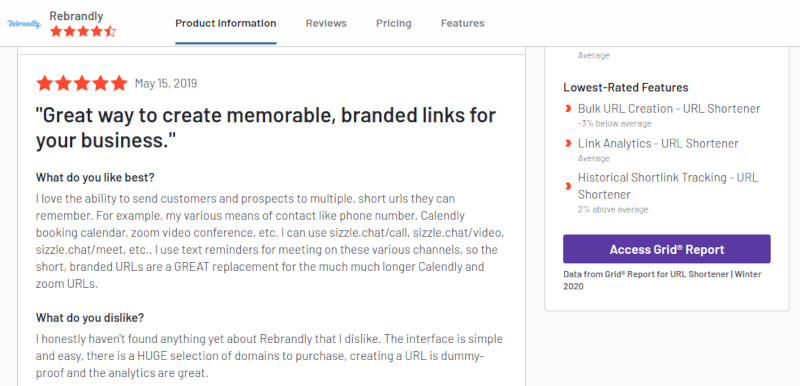 Who uses them?
Businesses of all shapes and sizes use both software.
With Bitly, Red Bull and Nike created domains with their slogans, win.gs, and swoo.sh, respectively.
Rebrandly includes brands from different sectors, such as Banks, the Automotive Sector, and the Financial Sector.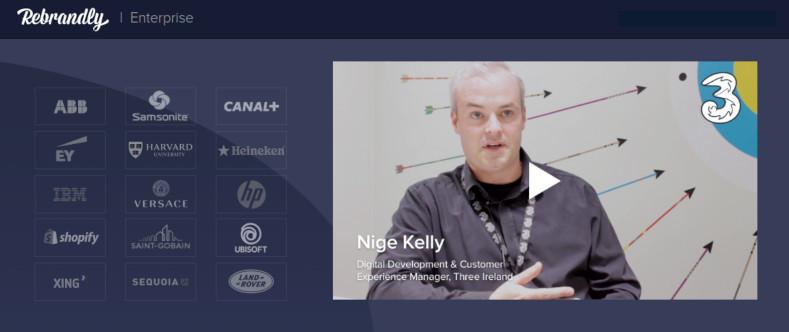 For large companies, Bitly and Rebrandly offer enterprise plan pricing on request. Features such as 2FA authentication, 24/7 support are present.
Which is the best URL shortener software within your email signature?
You have probably reached the same conclusion as us regarding the questions about which URL shortener software is the best for an HTML email signature: it depends.
As we could see, each tool has a free version that meets a considerable number of needs. The right option for you will depend on the structure, budget, and priorities of your organization regarding functionalities and tools.
To find out which one will be best for your team, brainstorm, and test both tools through their free versions.