This post is also available in: Português
WhatsApp has over 2 billion monthly active users. With so many users, finding ways to use the platform is crucial to improving your firm's service. However, WhatsApp for lawyers goes well beyond basic marketing and advertising tactics.
Instead, the platform can be used as a key way to improve client service.
From adding an email signature for lawyers to customer service, we're going to teach you how to effectively begin using WhatsApp to optimize your law firm's customer service channels.
WhatsApp for lawyers: 6 tips for improve your firm's service
Following are the six tips. In the end, you can also read how to add a WhatsApp link to your HTML email signature and a simple way to create and manage email signatures for an independent attorney or a law firm with many associates.
1. Add your WhatsApp number to your email signature
The email has become a primary method of communication between lawyers and clients. Whether a potential client is contacting a firm to learn more about their services or an existing client is inquiring about an upcoming meeting, email offers a quick and easy way to communicate with clients.
When creating an email signature for a lawyer, include the firm's WhatsApp number. Each time an email message is sent, clients will see the number and, hopefully, use it. It's not uncommon for larger firms to send and receive hundreds of email messages per day, so there is ample opportunity to promote your WhatsApp number.
Including your WhatsApp information in your email signature makes clients aware of all communication channels, giving them more options for contacting your firm.
2. Provide fast, personalized customer service
WhatsApp allows lawyers and their firms to offer quick and personalized customer service, making your firm and its services more accessible to new and existing clients. Additionally, clients have the option of using WhatsApp via their mobile devices or browser.
Your clients are already using WhatsApp. In fact, the platform is used by:
Offering WhatsApp as a communication channel allows you to reach more potential clients and serve them using their preferred platforms.
With WhatsApp, your firm can use multiple methods of communication for your audience, including:
Make audio calls to clients
Make video calls to clients
Send encrypted messages
Fast, personalized customer service empowers your customer service team to better meet the unique needs of your clients.
If you want to improve your team's service, add WhatsApp communication protocols to your onboarding process. For example, you can inquire about the form of communication your client prefers when first consulting with them and add this to their file so that your team can follow these preferences.
Use WhatsApp Business to centralize communication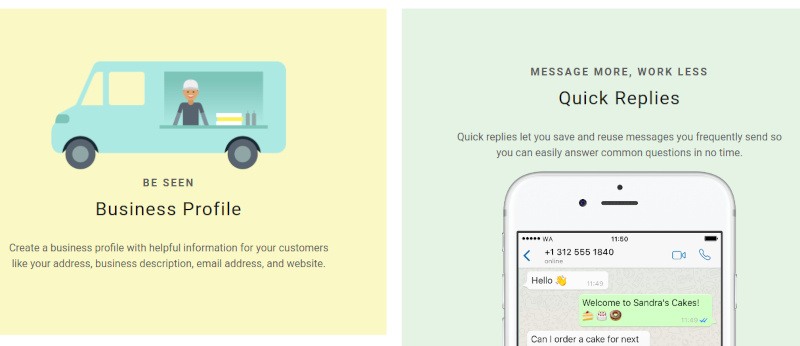 With WhatsApp Business, larger law firms can centralize and streamline communication. Because the entire firm uses one number, it's easy to manage chats. Additionally, the centralized platform helps maintain brand consistency.
Firms can use WhatsApp Business to:
Offer quick consultations
Answer basic questions regarding legal issues, lawsuits, and other common inquiries
For example, a potential client may send a message to the firm to inquire about their case and the services the firm offers. The firm can respond directly through WhatsApp, and all communication with that individual can be managed via one account.
Chats can also be labeled and organized to improve customer service and streamline communication. Firms can create a profile that displays their address, description, website address, and email.
Having a centralized platform to communicate via WhatsApp not only empowers clients by giving them more contact methods, but it also ensures that firms are actively communicating with potential and existing clients.
4. Use quick replies to streamline client communication
Current and potential clients have a lot of similar questions. In fact, firms often spend a lot of time answering the same questions. A few of the questions your firm may be asked are:
What's your pricing structure?
Do you offer a free consultation?
What types of services do you offer?
If you receive a lot of repeat questions like this, it'd be smart to streamline the response process to alleviate the strain on your customer service channels. WhatsApp Business offers its own solution to these repetitive questions called Quick Replies.
What are Quick Replies?
These pre-written replies allow you to save commonly used messages, and reuse messages as necessary.
For example, when using WhatsApp for lawyer services, you can preload your WhatsApp with answers to common questions. Customer service then simply needs to click on the proper response, and the entire message – whether it's a single sentence or numerous paragraphs – will be added to the chat.
Not only do Quick Replies speed up customer service and response channels, but they also reduce the risk of error.
If a new team member is added to support, they can use these quick replies to answer questions that they might not themselves know the answers to just yet.
5. Consistency with document sharing
Sharing documents in email, text, and multiple other channels can become confusing, disorganized, and overwhelming. One of the key methods of using WhatsApp effectively is to use it for document sharing.
When using the platform for document sharing, here are a few methods to succeed:
Create internal protocols that switch all clients to WhatsApp for file sharing if they use the platform.
Create protocols that only allow switching to other file sharing platforms when approved by all parties.
Explain the benefits of using an encrypted platform for file sharing.
Also, keep in mind that WhatsApp uses high-end encryption, which email providers often don't include. From a client and security standpoint, the use of WhatsApp for document sharing is more secure than non-encrypted solutions.
6. Assign a dedicated team to WhatsApp communication
When you have multiple support channels, it can easily become overwhelming and tedious for one support team member to handle communication. As your firm grows, it's crucial to assign WhatsApp its own communication team.
Why?
Dedicated team members can provide rapid responses.
Delegating support channels improves efficiency and response time.
Learning curves are kept to a minimum.
Learning new technologies and standards can slow customer support to a crawl. When you first begin to use WhatsApp for your firm's customer service, be sure to allow time to train team members and develop a team that will handle all of the communication on the platform.
But that's just the start of the process.
Internally, the head of the team should then create protocols and governance that outline how current and future customer support members must use WhatsApp. The reason for these protocols is to make it easier for:
New customer support members to be added to the team.
Team leaders to be swapped in and out of the team.
If you assign a team to handle WhatsApp and build a framework for them to follow, it will help make the platform a success for your firm's customer support.
How to add WhatsApp to your email signature?
Adding WhatsApp to your email signature is a quick and easy process. In the tutorial below, we walk you through each step of adding your WhatsApp number to your signature using Bybrand.
You can also read a step-by-step tutorial in text format: Adding WhatsApp call to an email signature.
Email signature manager software
Bybrand provides a simple way to create and manage email signatures for an independent attorney or law firm with numerous associates. Furthermore, an email signature requires the same level of universal standardization among employees and lawyers, both for brand compliance and ethical obligation rules.
For example, a disclaimer in the email signature would not cause any compliance issues for an individual attorney. But it is certainly something that requires review and approval for a larger company.
Conclusion
WhatsApp for lawyers' customer service and client communication can help change the way you connect with your clients. Share files, utilize the encryption of the platform for safe correspondence, and offer a communication channel that's accessible across the world.
If your firm begins using the platform following the tips above, you'll have greater success in adding WhatsApp to your daily workflow.
---

Create your first email signature with Bybrand
Create, manage, and deploy powerful email signatures for your team using Bybrand.