This post is also available in: Português
With remote work becoming more commonplace, it is important to simplify the workflow as much as possible. It is up to IT managers to approve software that will help to improve the efficiency of remote work.
Google Workspace Marketplace offers several tools and apps that make it easy for your teams to collaborate on multiple projects in real-time. Some of the tools offered in the marketplace include customer service capabilities, human resource management, professional email signatures, and much more.
Below, we explore the benefits of the Google Workspace Marketplace and the top five tools to enhance remote working.
The benefits of the Google Workspace Marketplace
Google Workspace is Google's suite of tools and applications. You might be more familiar with apps such as Gmail, Google Calendar, or Google Drive. However, there are several more tools available that your business can use to help improve efficiency and workflow.
1. Select tools according to your needs
One of the greatest benefits of utilizing the Google Workspace Marketplace is that you can pick and choose the different functionalities that suit your business's needs. It is especially useful if your team members already use Google apps like Gmail. Everything works together seamlessly, and all the tools are intuitive and easy to use.
2. Easy collaboration
Google Workspace allows you and your teams to collaborate on different projects in real-time. You can access it at any time of the day from anywhere. You can use any device, whether it be a tablet, laptop, or smartphone.
Team members can review and edit one another's work to produce the highest quality possible in the shortest amount of time.
3. Offline editing
It also has offline features which allow you to make changes to a project without being connected to the internet. You won't lose any changes made when offline as they will be updated when you connect to the internet again.
4. More control for administrators
Another great benefit of Google Workspace is its Admin Console. As a Google Workspace Administrator, you will gain more control over the activity in the company. This way, you can ensure that your teams are using the applications correctly.
You can follow up on projects and assignments while leaving your own comments and edits to ensure everything is running smoothly.
5. Makes working remotely easier
Since the start of the COVID-19 pandemic, most people have had to start working from home. Now that vaccines have become available, some people are returning to work. However, one survey found that 74% of professionals expect remote work to become the standard.
Businesses have found that their employees can be just as productive when they work from home. Some employees also prefer working from home as it allows for a more flexible schedule and eliminates the need to commute.
Related:
With integrated suites like Google Workspace, working from different locations has never been easier. As such, it is likely to remain a common practice.
The responsibility falls on IT managers to approve the apps and programs that the business will use to carry out their workflows. If a business uses Google Workspace apps, the IT manager would become the Google Workspace Administrator and authorize the use of third-party apps to improve the company's remote work overall.
Top 5 tools in the Google Workspace Marketplace

PandaDoc
Workflow efficiency is crucial for any business, which is why it can be quite frustrating to have to spend valuable time putting together lengthy documents. PandaDoc offers your Google Workspace administrator solutions by helping to improve document workflow.
The software allows you to create quotes, contracts, and proposals all in one place. Using simple templates and legally binding e-signatures, you can have documents signed by the necessary parties as quickly as possible.
It also makes it easier to track your documents when they are opened by recipients. PandaDoc eliminates the need to print, sign, and scan documents. Everything can be done online.
Harvest
Harvest is another tool that can help your company improve its efficiency by allowing your employees to sign in using their Google credentials. This integration means that everything can be done in one place, and you don't have to try and remember multiple new passwords.
This will also save your Google Workspace administrator time by adding people to Harvest if they are already added to Google Workspace.
Harvest is easy to use, so you won't have to spend time training your personnel on how to operate it. Built-in project reporting allows you to start a timer when employees sign in. It also tracks the time spent on various projects.
Its seamless integration with Google Workplace lets you export reports to Google Drive quickly and easily.
Freshdesk
Freshdesk is customer service software that allows your agents to interact with customers over the phone, via email, in chats, forums, and various social media platforms. Customers can reach out from any of these channels, and their correspondence will convert to a ticket on Freshdesk. This makes it easier for your agents to follow up on conversations with clients across these different channels.
This software also makes it easy for your agents to include other team members on a ticket or split a ticket into several sub tickets. You can have several team members working simultaneously on the same issue.
Freshdesk also allows you to automate ticket assignments to the appropriate agents based on what the client is contacting you about.
Screencastify
Screencastify is a screen recorder and video editor. The editing tools are easy to use, so somebody without any editing experience will be able to create professional-looking clips that they can send to their colleagues.
Once you have created your clip, it saves automatically to your Google Drive. You can easily share the Google Drive link to whoever you like, or you can upload it directly to YouTube. If your colleagues want to view the video offline, they can export the file as an MP3, MP4, or a GIF.
BambooHR
Google Workspace even has tools that make managing human resources easier. BambooHR is software that can be used by small or medium-sized businesses.
Collecting data on new and existing employees can be tedious. It could also be a security threat. With BambooHR, your Google Workspace Administrators will be able to store employee information on a secure database.
It also makes hiring and onboarding new employees easier and more streamlined with its applicant tracker tools and onboarding checklists. In addition, this software has payroll capabilities. It can track the hours your employees work, the time off that they're entitled to, and it makes it easier to pay your workers.
Plus – Email signature management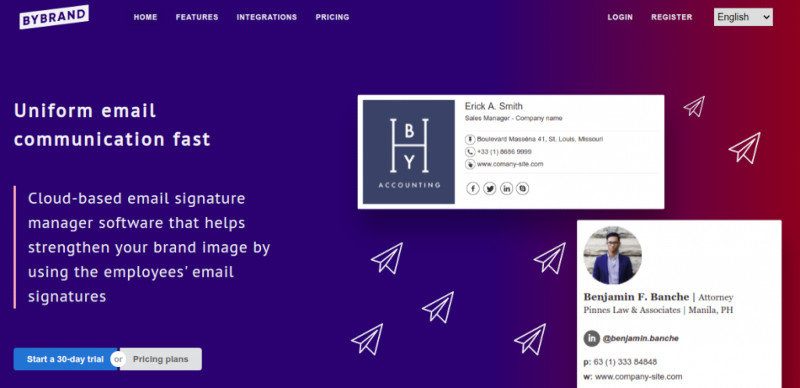 Bybrand – our solution is an email signature management software that integrates perfectly with Google Workspace. We are helping IT admins and marketers to ensure that all Gmail users have consistent communication using professional email signatures in the messages you send.
If you need dedicated email signature management software, you should look to Bybrand. It will save hours of work with automation and secondary integrations like Bitly to shorten URLs within the HTML email signature and Zoho CRM for your sales team.
Furthermore, Bybrand offers the largest number of native Google Workspace features than any of our competitors, such as WiseStamp or Newoldstamp.
Main features:
Connect as many domains as you want;
Bulk update – Select a group of users and update all the signatures at once;
Import users from Google Workspace groups.
Next steps
Remote work is likely to continue into the foreseeable future. While businesses adjust to this new normal, it is vital for IT managers (or Google Workspace Administrators) to facilitate this adjustment and maintain a high level of productivity.
With the plethora of tools and apps available, you will be able to add virtually any functionality to your business's workflow. Google Workspace facilitates the seamless transition into the new normal where teams can work from various locations at any time of the day.
---

Create your first email signature with Bybrand
Create, manage, and deploy powerful email signatures for your team using Bybrand.