Announcing G Suite integration
In June of this year, the launch of the integration with Gmail was announced, created to facilitate the process of updating email signatures with only one click. Today, we have the pleasure of announcing our most recent integration with G Suite, facilitating the creation, management and updating of the email signatures belonging to every user within the organization.
The results of our research on which email platform Bybrand clients use the most showed that G Suite is by far the most popular. Therefore, it only makes sense that we dedicate weeks of studies and development to bring this improvement to everyone.
Presenting integration with G Suite
The G Suite is a set of Google applications (Gmail, Docs, Drive, Calendar and others), used for business. It has everything you need to improve your work on your computer, phone or tablet.
Quick process to update the signature of an email account.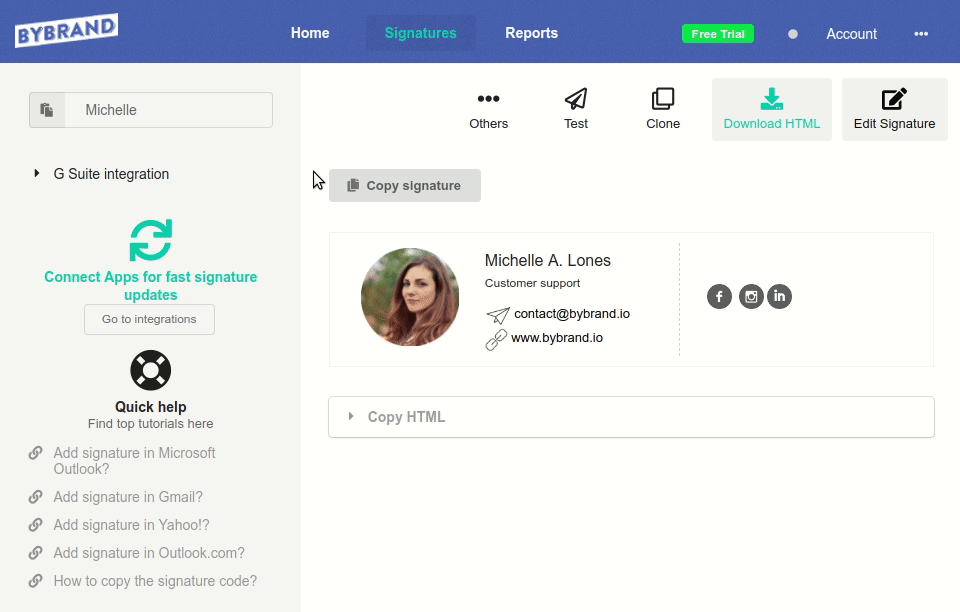 Our most recent integration places Bybrand as the main tool to help implement a standard in email communication within your organization, engaging all users in branding and marketing in email signatures.
With the integration between Bybrand and G Suite, you can add and update email signatures belonging to the employees who use Gmail, with only 1 click. (see the example above).
If your company uses G Suite, activating the integration makes sense, in order to help it work more quickly. This saves you a lot of time, avoiding the need to visit each machine personally, or the creation of complex tutorials so that users can update their signature on their own.
In the past, for your entire team to have the same signature, you or the person in charge of IT would have to go from machine to machine and add the signatures for each user. That is now over.
For more details on how to install the Bybrand integration for G Suite, check out our article in the help guide.
See more details in G Suite Email Signature Manager
Bybrand is not only about pretty signatures
The integration with G Suites facilitates its use, but Bybrand has much greater potential than simply creating pretty email signatures. Many companies have been using Bybrand as a marketing tool, which we call email signature marketing, with the campaign resource.
Depending on your effort and on the average number of messages sent daily by your company, the signatures can:
Increase website visits;
Increase engagement in social media pages;
Get more rings on the company's sales phone number;
Allow clients to get to know the business more quickly;
Visualize the brand.
The possibilities are endless; this integration will help you transform any of the company's e-mail communications into a stronger ally, so that you can make the most of Gmail.
What's next?
This is the first launch. We promise to make frequent improvements. Our next goal is listing Bybrand in G Suite Marketplace, which will make activating the integration much easier.
We will keep you updated on any news.
With Bybrand as a whole, the next integration will possibly be with Zoho Mail and Zoho Desk. We are seeking to improve the perception on service value, and today's update will help reach this goal.
See you later.
I'm a back-end Developer. I love to work with email solutions. In my free time, you can find me on some mountain.
Today, we are presenting Bybrand's new plans to you. But real change must be justified by adding more value to the product.