This post is also available in: Português
In the last few months, we've been busy developing a feature that saves you time managing email signature, ideal for medium and large companies, or only for those who need to manage more than 50 email signature for employees.
We named him Bybrand Departments.
Bybrand Departments is all about saving time.
Bybrand Departments speeds up the creation of standard email signatures by adding reserved fields, which are filled in all at once. This is all to save you time.
Departmental email signatures are slightly different from standard signatures; they should be created using "placeholders" reserved spaces replaced by correct employee information.
Here is an example of a signature created especially for a department.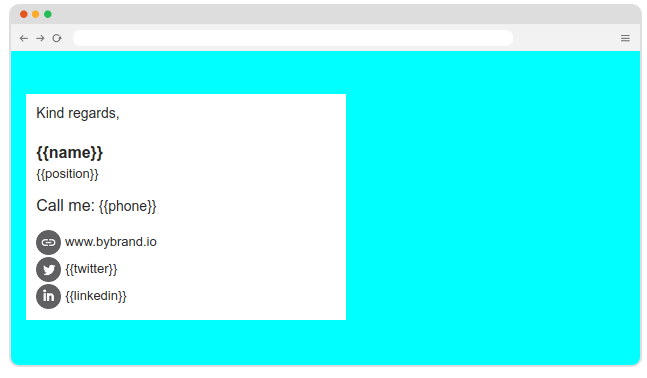 Below is a list of employees who have been imported from a CSV (comma-separated values) file, the first line being the placeholders.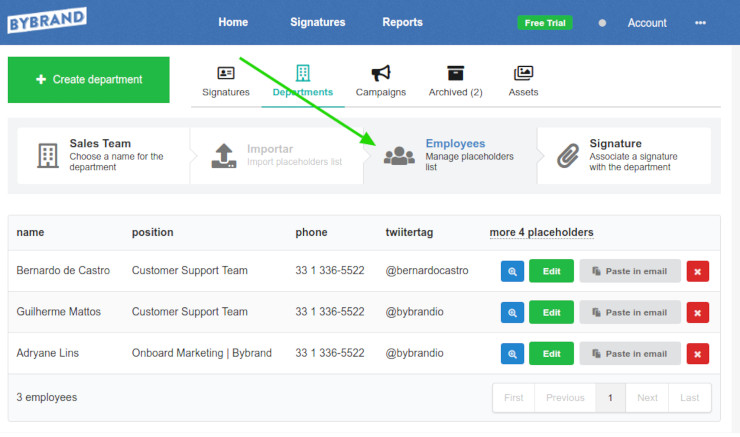 All of your employees' standard signatures are created in a straightforward process. After the step, you can paste the email signature into the user account using the normal operation, or with integrations.
Use cases
Separating signature creation by the department is ideal if you want to create an identical signature for everyone on the team. Unlike the clone signature feature, where you create a signature by copying content from the previous one, in the department, you keep the same signature and change the values of each employee's own values.
Imagine for example that you want to change the layout of a sales department signature, this process becomes easy, you only need to link another signature in the department.
Another example may be, wanting to have a private Twitter or LinkedIn address of each employee.
Or just create an email signature for your company with 50 or 300 employees.
How to get started
We encourage you to view the tutorial on how to work with Bybrand Departments, a step-by-step guide with the entire process, and a video at the end.
At this early stage, the resource is available to all Bybrand customers.
Improvements for the future
One of the most exciting aspects is that Bybrand Departments offers many possibilities.
Imagine connecting to other applications, such as your help desk software, to upload all agents to the department. Or update the signatures of all department employees with just one click. This would automate a good part of your routine tasks, and relieve manual labor so you could focus more on other areas of your business.
This is our initial presentation, and we will implement many improvements soon. Here are some ideas.
Import of integrations
Load employee list of integration as G Suite users and Freshdesk or Zoho agents;
Clone department
Clone department resource, to associate another signature;
New integration
Integrations with Zoho Recruit and Zoho People to import employees and connection to Zapier (example: when adding a new user on Pipedrive create an employee in sales Department)
---
We have significant plans for Bybrand Departments, this new feature comes from our proposal to offer more enterprise resources in 2019 and provide a complete solution to make the lives of marketing professionals and IT managers more productive, with less work.
Questions? We are always available at help@bybrand.io