This post is also available in: Português
Now you can shorten all email signature links with Bitly.
You know, everything on the internet moves according to links. They exist on all digital channels, including signature, and are essential for companies to communicate and connect with their customers.
And the Bitly is the leading link management platform available. Its capabilities are a powerful marketing tool for diverse professionals, concerned about the brand in pursuit of greater control and ownership of data in the clicks of your sites.
---
Enriching HTML email signatures
With Bybrand is Bitly, you can track and optimize all the links you add to your team's email signature.
Here are some ideas for links that you can shorten in an email signature.
Links of social pages, such as Facebook, Instagram, and LinkedIn;
Website and blog link present at signature;
A link present in the image, such as logo or icons;
Accompany clients with campaigns by Bybrand Campaigns.
Enrich any text that receives a shortened link with Bitly.
Talking about enriching links
There is an increasing opportunity to improve each link, such as using UTM code, adding extra parameters to advertising URLs, crawling a source, and tracking the results in Google Analytics.
A URL with extended UTM code:
http://go.bybrand.io/2NaR5ZI?utm_source=bybrand&utm_medium=signature&utm_campaign=sig-sales
This long text above, upon receiving a click, informs me that it had the origin in Bybrand, in an Email signature with the name Sales.
Long URLs are not always well viewed, as in the example above. Bitly makes the process of shortening the link to something smaller and better.
A URL with UTM code short:
http://go.bybrand.io/2NaR5ZI
In this simple way, with a UTM code, you can attach parameters to a custom URL to track your source, media, and campaign name upon receiving the click on the email signature
---
Keep track of how fast it is to use Bitly in the Bybrand editor, right after you turn on integration. See the full tutorial at how to enable Bitly integration in Bybrand.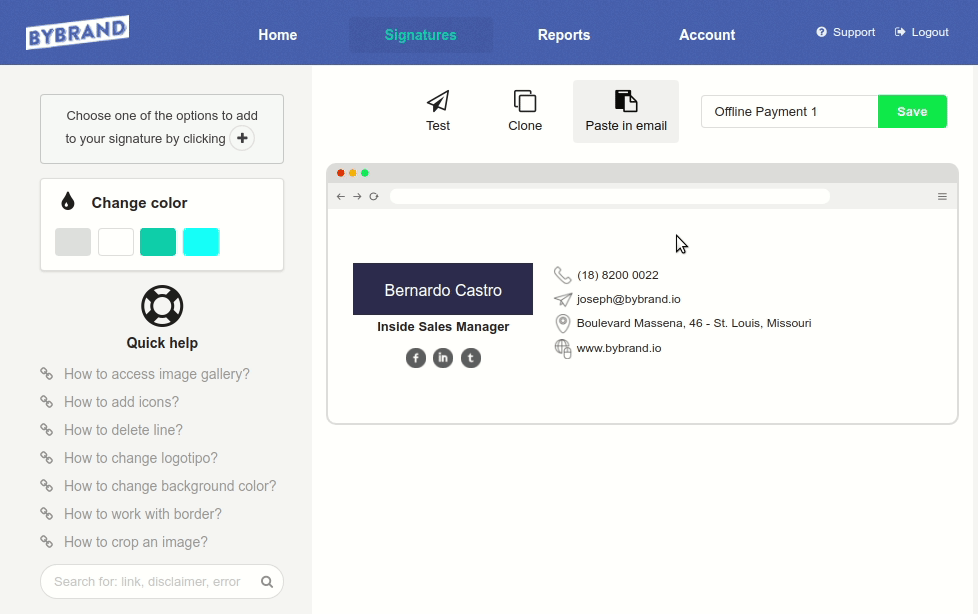 ---
Email signatures for marketers
Marketing professionals, by nature, have an intense obsession with metrics. When you need to show results to your client, this is extremely important.
Think about email signature marketing as a traditional off-line channel, similar to SMS; it's even harder to keep track of results. Using Bitly to shorten all links, the game changes. This simple technique can provide data for you to support the basis for trying and evaluating new channels, such as signing without abandoning the principals.
What is your question about the email signatures performance?
Which signature is bringing more traffic to your site?
Which links that received the most clicks?
Increasing social icons, will generate more social movement?
Which employee has the most efficient signature?
The future is near and promising; the integration with Bitly is another critical step to help answer those questions and make your brand more valuable with marketing and branding.
Bitly is free for 10.000 Links, one user, and a custom domain.
It's not over, and we have plans for the future with Bitly.
View direct clicks on Bybrand reports;
Insert custom tags when shortening URLs, to categorize links;
---
About Bitly
The Bitly is used by companies around the world to build stronger connections with their customers across all digital channels. Initially known for its world-leading link shortening, Bitly also provides an enterprise-class Link Management Platform that connects all components of an organization's internal and external communications and provides tools, data, and analysis for transparency and control over the experience of the customer.
Bitly is used by millions of customers, including about three-quarters of Fortune's companies 500, which together have created more than 32 billion links.