This post is also available in: Português
Want to create a free email signature? Then you might have used HubSpot's email signature tool.
Sure, it's easy to use and can look good, but the signatures it generates include an unprofessional "Create your own free signature" link. This is no good if you want your email signature to serve the purpose of enhancing your brand and professional identity.
See this real example of an email received from SE Ranking, an SEO analysis software. Clearly, this unprofessional signature was created with HubSpot.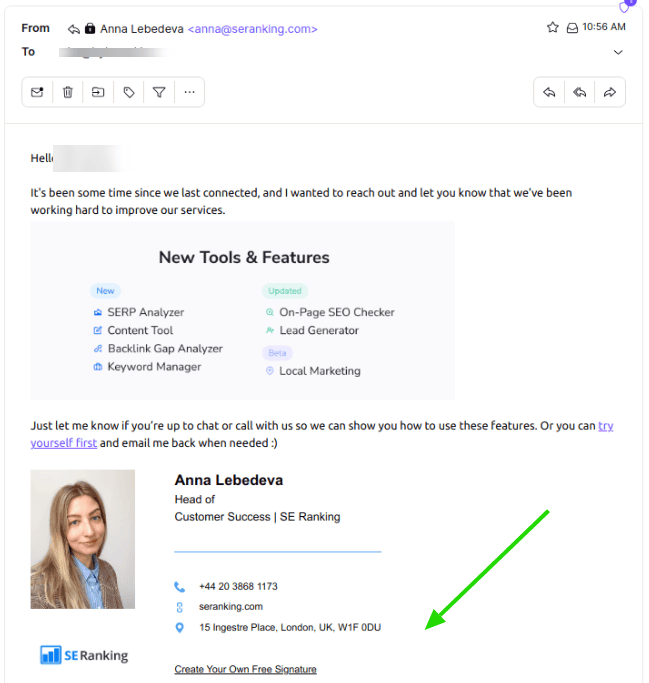 The good news is that you can remove this link and text. Even better, you can use other free email signature options to help you create more professional signatures.
We'll explore all this and more in the guide below.
Removing the "Create Your Own Free Signature" from HubSpot email signatures
Removing the "Create Your Own Free Signature" link from your HubSpot email signature is essential for maintaining a professional and consistent branding image for your emails.
Here's why it doesn't look good and how to remove it.
Why it doesn't look good
Your email signature plays a major role in communicating your brand and professional image. By using a free email signature like HubSpot's, you could actually harm each new email you send out.
Unprofessional appearance
Including a link that promotes a "Create Your Own Free Signature" in your email signature can make your emails appear less professional.
It may give the impression that you are using a free or generic service for your email signatures, which can undermine your credibility.
Not only does it look "cheap", but it also shows that you haven't invested the time or effort into creating a more professional email signature. Even though it's a small detail, it can impact your professional image.
Branding inconsistency
Email signatures are a reflection of your brand identity.
When you include a link to a free signature service, it disrupts the consistency of your branding. It's important to maintain control over your branding elements to ensure that they align with your company's image and values. So, there shouldn't be any branding and icons for another company in your email signature.
Marketing emails from HubSpot
HubSpot typically collects your email address when you use their free email signatures solutions. If you sign up for a free signature, you can expect to receive marketing emails.
By including their link in your email signature, you inadvertently promote their services and provide free advertising. It may also encourage others to click on the link, potentially exposing them to marketing emails from HubSpot, which could be considered intrusive.
How to remove the "Create Your Own Free Signature" text manually
To remove the "Create Your Own Free Signature" link from your HubSpot email signature, you'll need to edit your email signature settings within HubSpot.
Here's a step-by-step guide:
Log in to your email account.
Navigate to Email Settings. Depending on your version, the location of the email signature settings may vary. In most cases, you can find it under Settings or Preferences.
Edit the email signature. Locate the email signature you want to edit and click on it to make changes.
Remove the link. In the email signature editor, locate the section that contains the "Create your own free signature" link. Delete the link and any text associated with it.
After removing the link, save your changes to update your email signature.
Test the signature before implementing the change to people outside your organization. Send a test email to ensure that the link is no longer present in your email signature.
The best HubSpot email signature alternatives
Luckily, there are many great options for creating email signatures that don't involve using HubSpot's free generator. If you're interested in a more professional email signature, then here are some of the best options.
Bybrand – paid
Bybrand is a user-friendly email signature management platform that offers a powerful signature generator. You can use it for all email platforms, like Outlook or Gmail.
By using Bybrand, you can create customized and professional email signatures without including unwanted promotional links. This includes highly customizable HTML signatures.
All you need to do is select an email signature template that you like, update it with your business details and branding, and then implement it as an HTML signature. This lets you add clickable links to the signature, which can play a big role in promoting your business and generating engagement from your signature.
Example of a professional email signature without a referral link.
Most importantly, these signatures are completely professional and unique to your brand. Additionally, the software offers other creation methods such as Create from scratch, and Convert text to HTML signature.
Free LinkedIn-based signature generator
Bybrand also offers a LinkedIn-based email signature tool that creates professional-looking signatures based on your LinkedIn profile. Not only do these signatures look great, but they are easy to set up and ensure accuracy and up-to-date information.
Video: Creating and pasting LinkedIn-based HTML signature in Gmail
Use a freelancer
Using a tool like Bybrand is the best way to create signatures yourself. However, the platform is best suited for entire organizations that want to create multiple email signatures.
If you just need one or two signatures created, you might want to reach out to a freelancer to design one for you.
For example, you can use a platform like Fiverr to find freelance designers and professionals who can create custom email signature templates for you. You can hire a designer to create a signature that matches your branding, typically at an affordable one-time cost.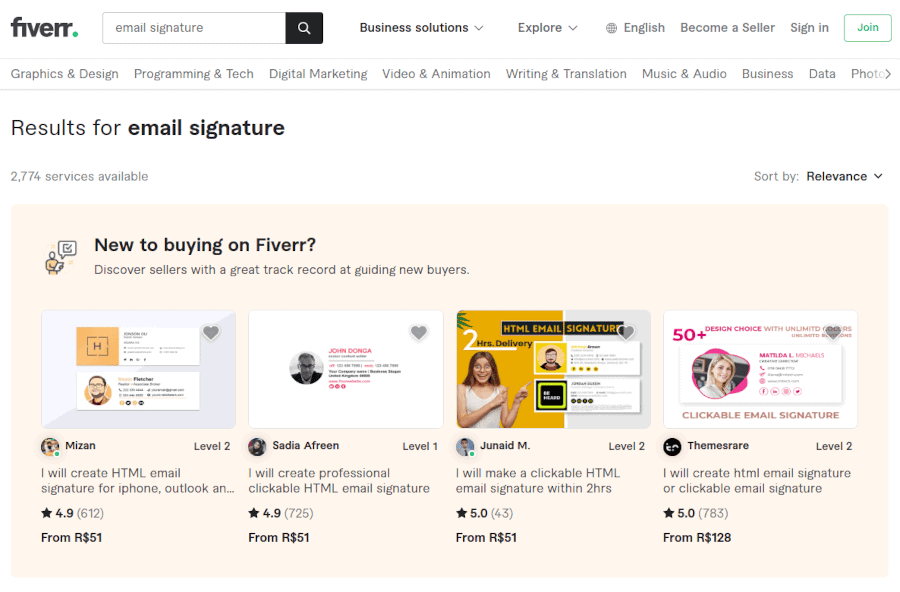 In fact, email signatures can cost around $10, which is really great value considering how much of an impact they can have on your professional identity.
LinkedIn-based vs. HubSpot email signature generator
If you are considering HubSpot's email signature generator, you may also want to search for an alternative, here's a quick comparison with the LinkedIn-based one.
LinkedIn-based email signature generator
Bybrand's LinkedIn-based email signature generator is an ad-free alternative to HubSpot. Here are some of the reasons why it's a practical option to use.
Source of data: A LinkedIn-based email signature generator extracts your personal and professional information directly from your LinkedIn profile. It populates the signature with details such as your name, job title, company, and LinkedIn profile link.
Professional appearance: As it pulls data from your LinkedIn profile, the generated signature tends to look professional and up-to-date. It aligns with the information available on your LinkedIn profile.
LinkedIn integration: This type of generator often focuses on integrating your LinkedIn profile into your email signature, making it easy for recipients to connect with you on the professional network. Plus, these email signature generators are incredibly easy to use.
Customization: LinkedIn-based generators offer a professional look, and they offer some great customization options for design elements, fonts, and additional promotional elements. With the right generator, you can do so much more than what the Hubspot option has to offer.
HubSpot email signature generator
Signature information: HubSpot's email signature generator is a simple and free tool that requires you to add your own information.
Customization: HubSpot's email signature generator typically provides less flexibility for customizing your email signature. You can add additional branding elements, images, and links to suit your company's branding guidelines, but the options are fairly limited.
Promotional links: The default HubSpot email signature includes a "Create Your Own Free Signature" link, which may not be ideal for a professional appearance. However, this link can be removed or customized within HubSpot.
Integration: HubSpot's email signature generator is often integrated with its CRM and email marketing tools, allowing for better tracking and management of email signatures in the context of broader marketing campaigns.
Final thoughts
While HubSpot's email signature tool may seem like a convenient option, it's not necessarily the best for your brand. It's far easier to use a tool like Bybrand's LinkedIn-based email signature generator to help you create a professional signature with ease.
This avoids the "Create your own free signature" link and gives you greater flexibility for customizing your signature to match your brand.
---
Create your first email signature with Bybrand
Bybrand offers the ability to generate, administer, and distribute essential email signatures for your employees.