This post is also available in: Português
CRM solutions offer a way to connect with customers through different channels – email, phone, social media, live chat, or in person. But which customer relationship management software will increase your closing rate and save your team time managing customers and prospects?
That is the question that may be on your mind right now.
If your company uses Google Workspace – a collection of cloud office productivity apps, which includes Gmail, Meet, Sheets, and Driver, among others – and does not yet have definitive CRM software to help you build a better relationship with the client, this list is for you!
We put this list together with 10 great CRM solutions for Google Workspace, all available on the Marketplace. We have also written an overview of each option, including the price and main plans.
10 CRM available on Google Workspace Marketplace
Please, note that prices may vary over time. Companies can increase or decrease the value or change the name of the packages. We obtained all pricing information was in March 2021.
Let's jump right in.
1. Zoho CRM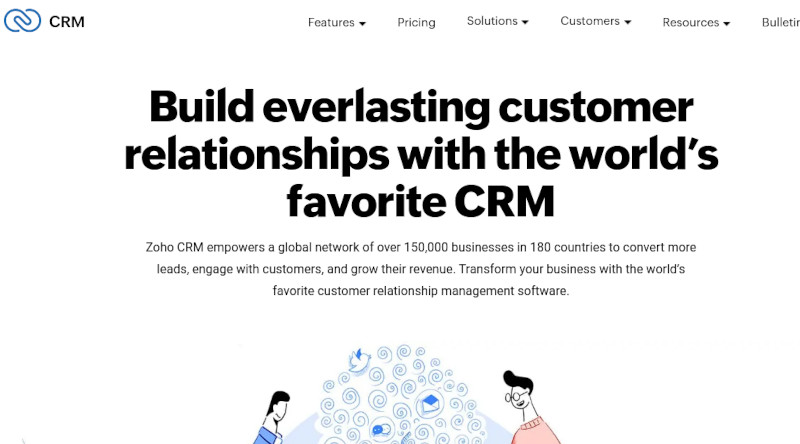 Overview:
Zoho is a versatile platform for any business' sales. Scalable from one to thousands of users, this CRM focuses on product development, spending money wisely, and how to provide the best customer experience to their customers' subscribers. They are committed to providing the best services but also pride themselves on their people and company culture, making them the organization's best asset. Excellent products and services come from good craftsmanship. Customer privacy is a priority, so they will never compromise customer information.
Zoho is confident that they can offer credible software at a reasonable price that fits your company's needs. Zoho also offers a wide range of features that can be easily integrated into the customer's Google Workspace.
Pricing:
Zoho CRM has three initial plans: Standard, Professional, and Enterprise. All plans for a yearly period. The Standard $18 per organization per month, featuring Workflows, Mass Email, and Custom Dashboards. Then, the Professional package is priced at $30, includes all Standard features and additional SalesSignals, Inventory Management, and more. The Enterprise package is priced at $45 comes with Zia AI, Advanced Customization, Multi-user Portals.
---
2. Capsule CRM
Overview:
Capsule offers simple yet stalwart CRM features that give their customers complete control. Capsule CRM values the ability to enable businesses to stay organized, get more customer information, build reliable interaction, and make the most of sales opportunities, all while making it easy and convenient for its user(s).
The Capsule is built to deliver these ideas and is used by thousands of businesses all over the world, be they individually-owned, small, medium-sized, or large-scale businesses. Capsule CRM offers a wide range of multi-app integrations, such as Gmail, Xero, Quickbooks, and MailChimp to name a few out of over 50 integrations that Capsule can support to suit each business' needs.
Pricing:
Capsule CRM has three types of subscriptions: Professional, Teams, and Enterprise, priced at $18, $36, and $54 per user per month, respectively. Professional allows you to add up to 50,000 contacts and is perfect to help a small team become organized and boost sales. Everything in the Professional package – but with an expanded 100,000 contacts, custom activity types, and advanced sales reporting (plus more) – is built into the Teams package. The Enterprise plan has everything in Teams, 200.000 Contacts, 40GB storage per user, Implementation Support, Import Assistance, Custom Training, Dedicated Customer Success Manager, Ongoing Priority Support.
---
3. Salesmate CRM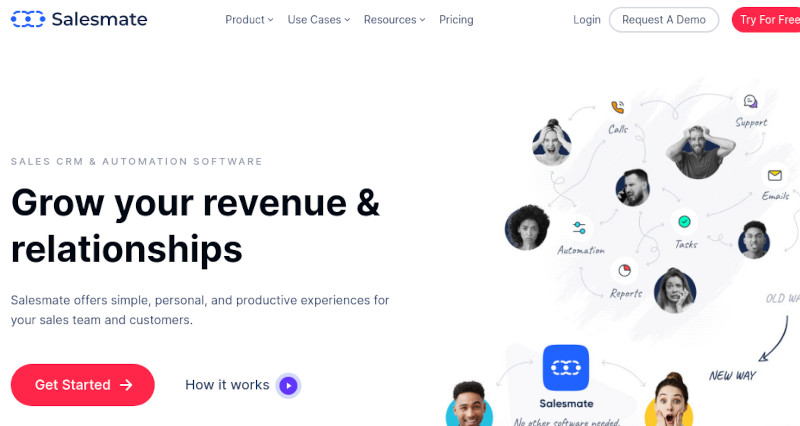 Overview:
Salesmate CRM is one of the best CRMs for small-sized businesses and startups.
The CRM works to help businesses manage the challenges faced mostly by their sales team, from managing contacts, tracking emails, project pipelines such as sales project processes, payment terms, to timely customer follow-ups.
Salesmate boasts an easily manageable interface, good subscription prices, and simplicity that still gives reasonably good end results. Get a compact and user-friendly CRM system up and take your business to new peaks by nurturing more sales and customer interactions. The intuitive software and integrations with other apps help customers to focus on the right deals at the right time.
Pricing:
Salesmate offers a free trial for 15 days. After the trial, customers can pick the best-suited plan for their growing business.
Salesmate has a Starter plan for $12 per month, which works perfectly for small teams.
The middle tier, Growth, monthly subscription is priced at $24 and has features for growing teams.
Finally, the Boost plan is the top tier plan to help with persistent sales activity for $40 per month.
Customers can also save 20% if they opt for an annual subscription.
---
4. Pipeline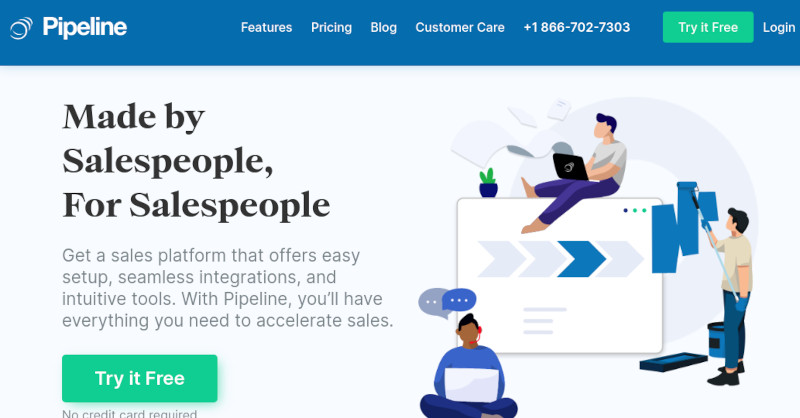 Overview:
Pipeline CRM is one of the most affordable, so its CRM solutions are highly recommended for freelancers, sole proprietors, and SMB's (small-sized and medium-sized businesses). The software prides itself on its easy onboarding, making it a swift process for both customers and its users.
Pipeline CRM helps to track the overall health of the sales team's pipeline, thus allowing the review and diagnosis of any fault in their sales process. Thanks to the robust assortment of its CRM tools, Pipeline makes for an excellent choice for growing teams. The system works well with third-party service providers and integrates into the software's platform with an easy one-click installation.
Pricing:
Pipeline's CRM minimum Start plan will cost $25 per user per month, billed annually. The next tier plan, 'Develop', is priced at $33 per user per month and is ideal for small but growing businesses. The top tier 'Grow' plan is $49 per user per month and allows users to study the overall health of the pipeline in more detail. Additionally, the larger plan also lets a user study multiple pipelines.
---
5. Insightly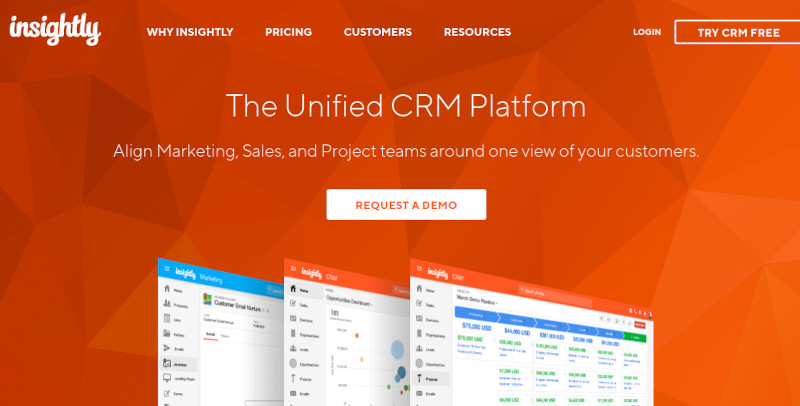 Overview:
Insightly, a cloud-based CRM solution for small businesses, also offers specific enterprise-level modules for large companies and multi-level organizations. Insightly helps sales teams find leads, grow each lead and convert them into deals, maintain good customer relationships to keep customers content, and help maintain the users' business customers.
Insightly CRM features integrated project management suited for every phase of interaction with the customer. Onboarding for managers and users can be done easily with the platform's easy-to-use tools and in-app integrations. Their website eases this process further by offering extensive training videos and responsive customer support either by phone, email, and or through scheduling a one-on-one consultation with their customer support.
Pricing:
Work from any device with the Plus Plan at $29 per user per month. This plan is best for small to medium-sized businesses. The Professional Plan at $49 per month helps salespeople to leap forward in productivity and security. And with the Enterprise Plan, at $99 per month, storage and records are unlimited to help the growth of your business reach new heights. This software offers free trials on paid plans.
---
6. Nutshell CRM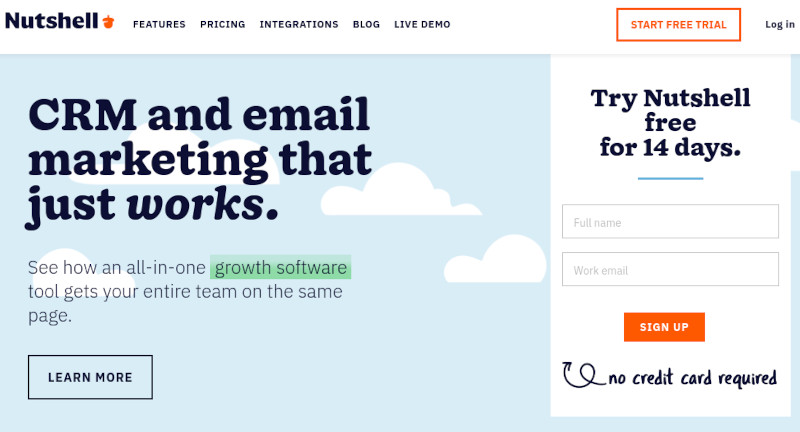 Overview:
Nutshell specializes in CRM software for small to enterprise-level businesses. Its major features are as follows: it has easy installation, works smoothly with other applications, and is inexpensive. Integrating Nutshell with third-party apps includes data import and export tools, APIs, and a breadth of partner applications.
This CRM software is ardent about their customers' success and is continuously finding new ways to take the hurdles commonly faced by managers, salespeople, and the customers themselves out of the selling and buying processes. Choosing the right CRM will help up the game for both Sales and Marketing teams in a company. That sets the goal for Nutshell: to yield better results from prospects and grow the business.
Pricing:
Nutshell's subscription plan choices are easy to choose from as it offers only two. The Starter plan is priced at $19 per user per month and the Pro at $35 per user per month. Simple, powerful, no-frills CRM. While the latter features unlimited pipelines, unlimited click-to-call, and phone recordings, thus making reporting and performance tracking an easy process.
---
7. Pipeliner CRM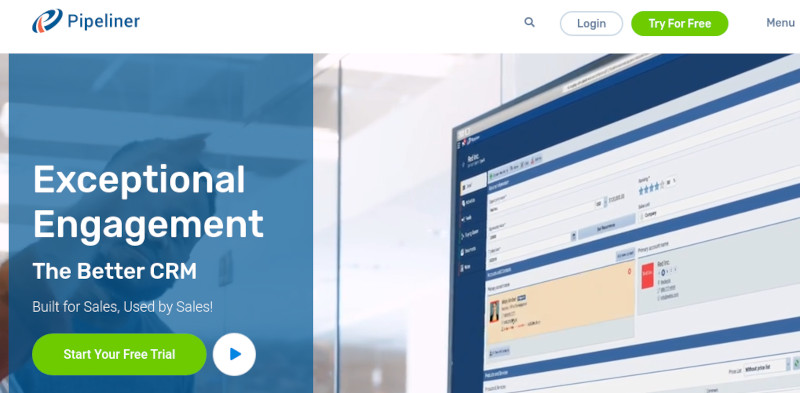 Overview:
Pipeliner CRM follows a basic blueprint for increasing sales: focusing on pipeline management, sales processes, and analytics designed to empower sales professionals. This CRM is fully functional even without a full-time certified manager. Along with Pipeliner's exceptional profiling tools, it immediately helps salespeople and management filter data and information to easily manage complexity, therefore allowing users to focus on what is most important.
The software is totally customizable so users can control what the business needs to focus on and make profile improvements through the dashboard, which can be accessed through either the user's desktop or mobile device and is also available offline.
Pricing:
Pipeliner CRM is available in three versions: Starter, Business, and Enterprise. Starting at $65 per user per month, the user can take advantage of functions to facilitate a better sales process. The Business plan delivers the instant, dynamic insights needed for $85 per month. For full CRM functionality with advanced reporting, customization, and services, the Enterprise plan is the go-to at $115 per user per month.
---
8. Freshworks CRM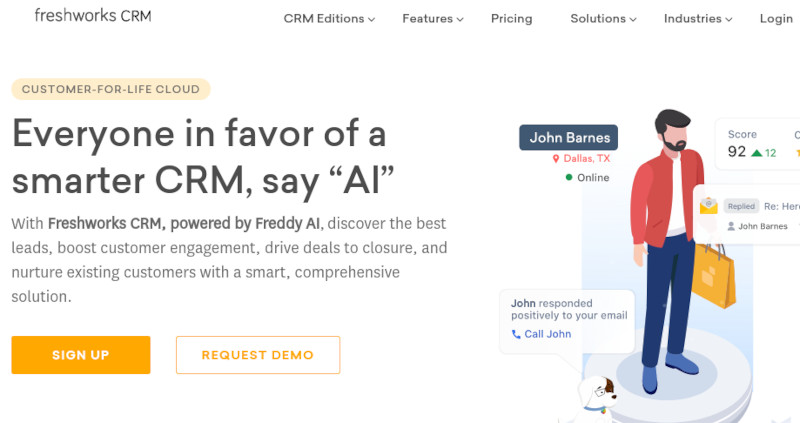 Overview:
Formerly Freshsales, now Freshworks CRM offers businesses the services and solutions they need to manage their sales through an easy-to-use dashboard with pretty straightforward packages. It is a fully functional CRM that makes it easy to navigate the pipeline, plus administrators can conveniently manage individual accounts.
The software is best for salespeople with a limited workforce but big goals. It takes advantage of the power of artificial intelligence (AI) to aid users to do more with fewer internal resources. Freshworks' system is intuitive and enables your sales team to have a better pipeline for their sales processes to turn prospects into leads and yield good results.
Pricing:
Freshworks CRM's basic plan, Growth, is best for small and fast-growing businesses that need an all-in-one CRM and can be available for $29 per user per month, billed annually. Pro, the plan for the medium to larger teams, has auto support and lead-gen bots (both powered by AI) for $69 per user per month. Last, but definitely not least, is the Enterprise plan that's built for customers to receive all of Freshworks CRM's features, including custom domains, call recording, etc.
---
9. Copper CRM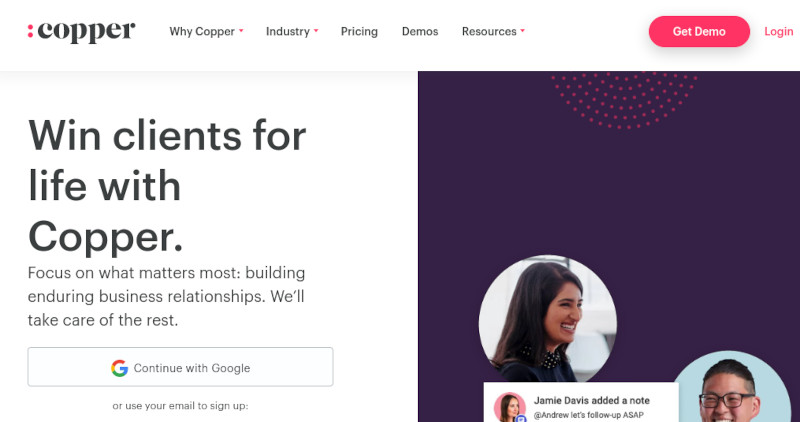 Overview:
Copper CRM has been oftentimes referred to as software, not a platform. Copper's solutions are almost identical to its competitors in the CRM realm but its most distinct functionality among other CRMs is its seamless integration with Google Workspace. The software is crafted for organizations that use Google in their daily operations.
Copper CRM has the ability to automatically capture email history and log it in to accounts straight from Gmail. It also has the capacity to send associate emails to the appropriate accounts. Save time by integrating Copper with your favorite applications and tools to best suit your business needs.
Pricing:
Copper CRM's introductory plan with full Google Workspace integration is the perfect lightweight solution at $25 per user per month, billed annually (or $29 per user when billed monthly). For growing teams looking for a CRM without the complexity, the Professional plan is the best at $59 per user per month. To take CRM up a notch with unlimited features, such as countless contacts and full customization of the platform, there is the Business plan for $119 per user per month.
---
10. noCRM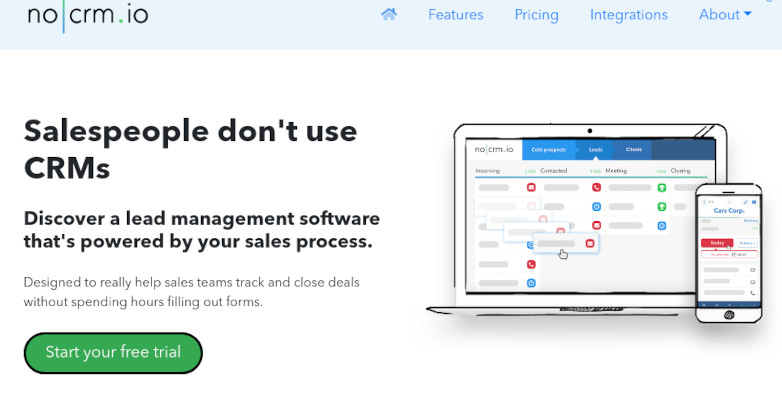 Overview:
Straight off the bat, you can tell that noCRM is not like other traditional CRM software on the market. With noCRM, you can measure and track performances, lead management software built for sales with the ability to project and record activities, and organize and customize your sales process to manage the sales' stages from start to finish.
Unlike classic CRM software, noCRM places leads at the heart of the system. The software's goal is to provide a flawless user experience, and one way to do this is through the integration of the user's favorite apps to enhance productivity and meet their business needs.
Pricing:
Subscribe to any of the three types of noCRM's plans with no contract. Get the Starter Kit for $14 per month with their basic features. The next type of plan, Sales Experts, is $24 per month, including everything in the Starter Kit plus more. The top tier plan, Dream Team, is indeed for that dream team with all the features noCRM can offer for $39 per month.
Final thoughts
All of the CRM options listed above offer a 14-day free trial or option to schedule a demo, so you will get the most out of the software before closing your purchase.
For any platform advanced enough for the business that you choose, be sure to start with a thorough analysis and use it directly with your team.
Related:
Not all CRM options are identical.
Some are designed only for small teams, or just for sales or marketing departments. Others do not offer an integrated telephone option, and others work better with email or social channels. Some are for specific industries, such as real estate.
Finally, we have the Frankenstein that we did not add to the list.
---

Create your first email signature with Bybrand
Create, manage, and deploy powerful email signatures for your team using Bybrand.