This post is also available in: Português
The email has been around for a couple of decades, but it remains a major method of communication for businesses all around the world. Every time you communicate with someone via email, you get the opportunity to put your brand out there. Wouldn't it be great if you could hand out a business card with every single email?
Well, with a corporate email signature, you can!
Why should I care about my corporate email signature?
Wondering why you even need to care about having a corporate email signature? Let's do a little math. How many emails do you send and receive each day? What about the sum of your entire office? That's a pretty big number, isn't it? Why not turn every single email into a marketing opportunity?
The average office worker sends or receives 121 emails a day, according to a recent report by the Radicati Group.
Great email signatures can offer you quite a few advantages. The most obvious is that every single time someone receives an email from you, they are being exposed to your brand. With that, you are cultivating brand awareness.
It's important that you use the company's iconic logo, colors, and fonts to stay recognizable and help people associate your email signature with your brand.
You can even use your email signature as an advertising opportunity by inserting buttons, promos, and even links to your most recent product. Finally, an email signature can help you generate leads. Simply by linking to a landing page, you can push people further down the sales funnel.
Want to bolster your marketing efforts? A corporate email signature is a great way to do so.
Create a corporate email signature
The first thing you need to remember when it comes to your email signature is consistency. You have to make people associate your email signature with your brand. There are three basic ways you can create a corporate email signature: Photoshop (image-only), HTML, and text.
Image-only email signature
Photoshop is a popular option for many people because they believe that creative software gives them more flexibility. Although you can get pretty wild with the design here, email signatures are meant to be functional.
The best email signatures are clickable, adjustable, and visible on any type of device. Chances are you'll be uploading a photo file if you use Photoshop to create your email signature, so you may end up with a signature that doesn't look so good on the recipient's device. Worst case scenario their email service will flag the message as spam and you'll end up in someone's spam inbox.
Read more: Avoid email signature with an image only.
HTML email signature
HTML is a popular choice. However, it will take a bit of time to learn, unless you've already got the skills or know someone who does. Even experts will take a bit of time to create an email footer that looks great on a variety of email clients and a variety of devices. This is probably the best choice when it comes to email signatures.
With Bybrand, you can create rich HTML email signatures, add links to websites, images, and icons.
See a preview of the editor.
The final option that some people choose is creating their email signatures in a text editor. This is probably the worst course of action.
Everyone's email services and devices are not equal, and your email signature will probably just be a bunch of messy text with terrible formatting problems.
Two tips to a great corporate email signature
There are a couple of basic things you should keep in mind while you create your corporate email signature. As mentioned earlier, the most important thing is consistency.
Your email signature is a marketing tool and an extension of your branding. It's crucial for it to accurately reflect your brand. This isn't true for only you, but for all your employees. This way, no matter which employee gets in touch with who, they'll be seeing the very same brand elements that they can associate with your overall brand.
Here are two additional tips that can upgrade your corporate email signature:
Include a visual element
A lot of companies choose to include their logos in their email signatures in an effort to increase brand awareness, for great success. This is an effective way to get your email recipients to associate your email signature with your brand, fortifying brand recognition.
It's much more effective when the same email signature is implemented throughout the entire organization – this ensures that each of the company's "brand ambassadors," or employees, give off the same image of the company.
If you work for a company where you want people to trust you or even work for yourself, you may want to add a professional headshot to your email signature.
This allows people to put a face to the name and makes you seem a lot more credible. It's a great way to add some personality and more of a human element to what would otherwise be a faceless brand.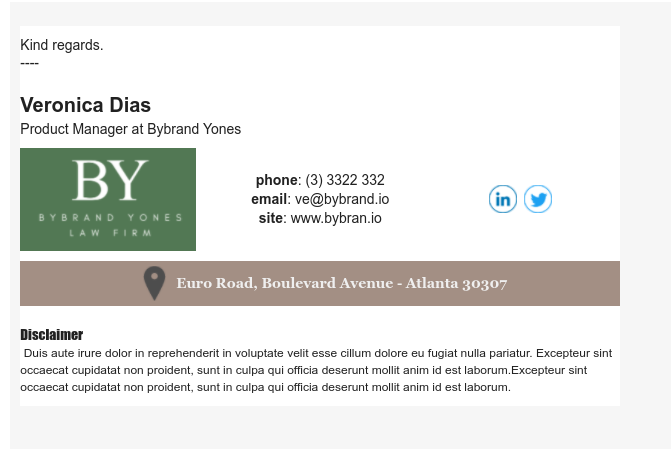 No matter what type of visual element you choose, do remember that you should always use a professional image in high quality. Unprofessional photos like selfies will do the opposite of what you are trying to achieve. Your photo should also be a small size so that it doesn't bog down the entire email.
Choose a simple font
When it comes to font, remember that legibility is key. If your recipients can't read your email signature, it's useless. It's always a better idea to choose something simple and legible. This isn't the best place to use your favorite script font, so opt for something classic and timeless so that your signature looks professional and put-together on every single email.
Email signatures are usually open on email clients, such as Gmail, which has a soft background. And knowing this, it is ideal that you use dark letters to have a contrast.
---

Create your first email signature with Bybrand
Bybrand offers the ability to generate, administer, and distribute essential email signatures for your employees.