This post is also available in: Português
In today's business culture, working smart is a necessary skill. Having Google Workspace for your small business makes online work much easier. What if there was a method to make your company's operations even more efficient? Enter Google Workspace Marketplace apps.
Basically, this place where you can buy apps from other companies can help you with things you don't need or use, and even replace some of Google's main apps with something better.
This post will show you the five best Google Workspace apps available on the Marketplace.
How to Install an app on Google Workspace
Installing apps on Google Workspace couldn't be easier. All you have to do is sign into the Google Admin console of your company account. This requires an account with admin privileges.
Then, just go to the Apps page, select the app you want to install, and click Admin Install. Here are the main elements you should consider:
In the Overview, you can read the main features of the integration and what you can do with it when activated in your account. In the end, you can get additional information like pricing model, support, and development contact, in addition to the terms of use and privacy policy pages.
The next menu is the Permissions, where you can see the scope of the integration's access to company data on Google and users. For example, in the image above, you can see the Bybrand integration for Workspace can edit Gmail settings, view and manage domain groups, and more – these settings are necessary to allow email signature management remotely.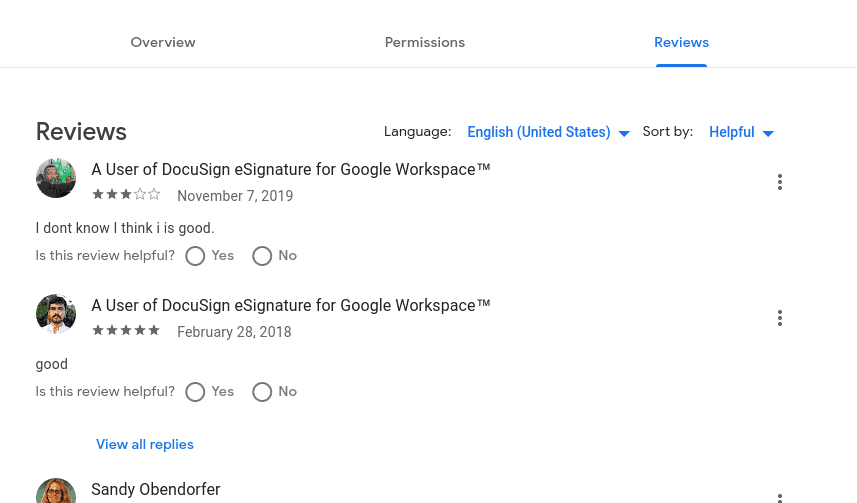 The third menu is for Reviews, with reports from customers of the integration.
Now, let's get to know the best apps with a fine integration with the Marketplace.
Best email signature management for Google Workspace
With Bybrand for Google Workspace, you can turn a list of Google Directory users into HTML email signatures and improve and impact external email communication with your organization's customers and prospects.
Bybrand Key features:
Synchronize user data with the Workspace User Directory;
Import users through Google Workspace groups;
Update Gmail email signature to users with Bulk action;
Upload alias addresses from Gmail to the department;
These features are just the tip of the iceberg for integrating with Google Workspace to help improve professional email signature management for employees.
Watch a full presentation of the integration in action – 6 minutes.
Best Workspace app for project management and internal team tasks
Asana offers a high-caliber project management tool that excels at managing internal team tasks. Its intuitive interface and ease of use make it simple for anyone in an organization to use. This also reduces any training time necessary when onboarding new team members or introducing Asana to existing team members.
Create professional email signatures with a face photo for Asana users

Meet Bybrand for Asana
You can get started with the PM for free to try it out and see if it works for your organizational needs. While the free plan does not include every feature Asana offers, it gives enough for anyone to get used to the platform and experience the value it can provide.
Beyond the basic plan, the software also offers a Premium plan at $10.99 per month per user and a Business plan at $24.99 per month per user. Each of the paid plans offers more features with the Business plan also offering advanced integrations with Salesforce, Adobe Creative Cloud, Tableau, and Power BI.
Best Workspace app for e-signatures in documents
Finding an eSignature tool that seamlessly works for your specific needs can be challenging. But, DocuSign offers an incredibly easy-to-use eSignature app. It includes pre-built integrations for Google Apps to make it easier than ever to collect eSignatures from necessary parties. On top of making it easier to collect eSignatures, DocuSign also includes a real-time audit trail along with plenty of other useful features.
DocuSign pricing starts at $10 per month for a single user. However, this basic plan is only tailored at small-scale use-cases, as it only allows for the collection of 5 eSignatures per month. The Standard plan includes an unlimited collection of eSignatures at $25 per month for 5 users.
It also allows for customized branding, team reports, and comments on documents. For DocuSign's full set of features, the Business Pro plan costs $40 per month for 5 users and allows for single-click consent, SMS authentication, and much more.
Best CRM app to Workspace for sales teams
While Google Workspace already offers exceptional methods of marketing and connecting with customers, Zoho CRM enhances the power of Google Workspace. It offers single sign-on as well as automation for Google Calendar, Google Contacts, Google Drive, and Google Sites aimed at helping you and your team close more sales.
Meet the email signature manager for Zoho CRM

Bybrand for Zoho CRM
Zoho CRM helps you keep track of every opportunity to ensure your team follows up with each prospect at the ideal time.
You can get started with Zoho CRM's free plan that offers up to three users to see if it fits your business. From there, the plans are priced per user, with each tier adding additional features. The prices range from $14 per user per month to $52 per user per month, depending on what features you and your team need.
Best Workspace app for organizing and saving time in your inbox
Essentially, Zapier connects your Gmail inbox to thousands of other apps, allowing you to automate your work and save extensive time on repetitive tasks. It works by sending information from your Gmail inbox to the app that requires the data, removing the tedious data entry aspects of your day. You can automate tasks, such as sending emails to new leads, saving Gmail attachments to Google Drive, and so much more.
You can start off with Zapier's free plan to see how the app works and see if it benefits your daily operations. From there, Zapier's plans are based on the number of tasks you want to automate each month, with plans ranging in price from $19.99 per month for 750 tasks all the way to $599 per month for 100,000 tasks.
Best Workspace app for HR software
As an all-in-one HR software, BambooHR gives you all the HR functionality you need to run your business. It manages all aspects of an employee's life cycle, from onboarding and preparing compensation to building your company culture. The analytics offered by BambooHR allows you to gain valuable insights into the employee experience you offer at your business.
Aimed at small and medium-sized businesses, BambooHR offers affordable plans for an all-in-one HR software. Each plan is custom-made for your business's individual needs based on the functionality you want and the goals you wish to achieve.
This amount of customization ensures you only pay for the features you want, keeping the overall price of the software to a minimum. Once you reach out, BambooHR provides a free price quote after you fill out a simple questionnaire detailing your requirements.
Conclusion
The tools in Google Workspace are excellent in and of themselves. However, with the increased capability of these Marketplace apps, you may boost everything from personal productivity and marketing data analysis to sales, reduce admin burden, and finally discover a solution to manage complex projects that everyone utilizes.
Please keep in mind that these are only a handful of the many useful apps available to assist you in growing your business. Check out the Marketplace apps based on your needs and specifications to find what best suits you.
---
Create your first email signature with Bybrand
Bybrand offers the ability to generate, administer, and distribute essential email signatures for your employees.