This post is also available in: Português
Normally, in a big company, the IT manager or a marketing professional is responsible for creating email signatures for all the employees. The problem starts when they need to share the signatures with the people who need them.
The feature of sharing a signature publicly is here to solve that. You can now send a link to the signature to any employee or friend.
Sharing the email signature with an employee
The first step is to access the code of the signature with the Paste in email button, and then you need to click on the sharing button, as illustrated by the image below: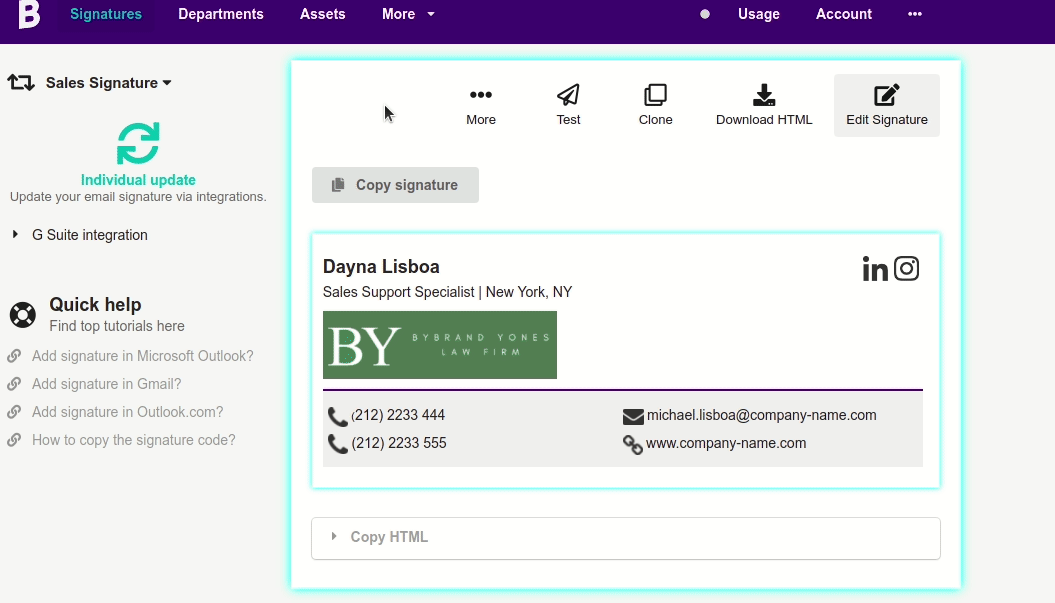 Subsequently, a new page will open, and you can send the link to any person without the need of logging in or having restricted access from Bybrand.
Here are some ideas about how to share the signature link with an employee:
Sending the link through email;
Sending the link through an internal communication channel, such as Slack;
Sending the link through SMS;
Using the shared email signature
Once a collaborator has the link in their hands, they can access and copy the code created specifically for them. At the end of the shared page, there are good tutorials, and others can be found in the Knowledge Base.
An example:
Only the person who has the link can access this page. The manager of your Bybrand account is the one controlling who receives it.
Simple editions
It's possible to make simple editions in text fields like email, phone, and address. With this, any person with the link can revise tiny mistakes.
The simple addition is not available for HTML changes.
Video tutorial
As promised, here's a video showing how to share an email signature.
---
Bulk-send HTML email signatures
You might also want to see how bulk-send HTML email signatures to employees.
Branding
You can add a custom logo and specify a color theme to add your company branding. Thus, removing the Bybrand brand from your shared signature pages and employee emails.
---
Finally, any questions or difficulties in the process of sharing the email signature, please write to our support.