This post is also available in: Português
The Branding section gives you control over the style of email notifications sent to employees and viewing email signatures publicly.
You can add a custom logo and specify a color theme to add your company branding to these interactions. Thus, removing the Bybrand brand from your shared signature pages and employee emails.
Access the feature on the menu Account and then Branding.
Example of the main settings page: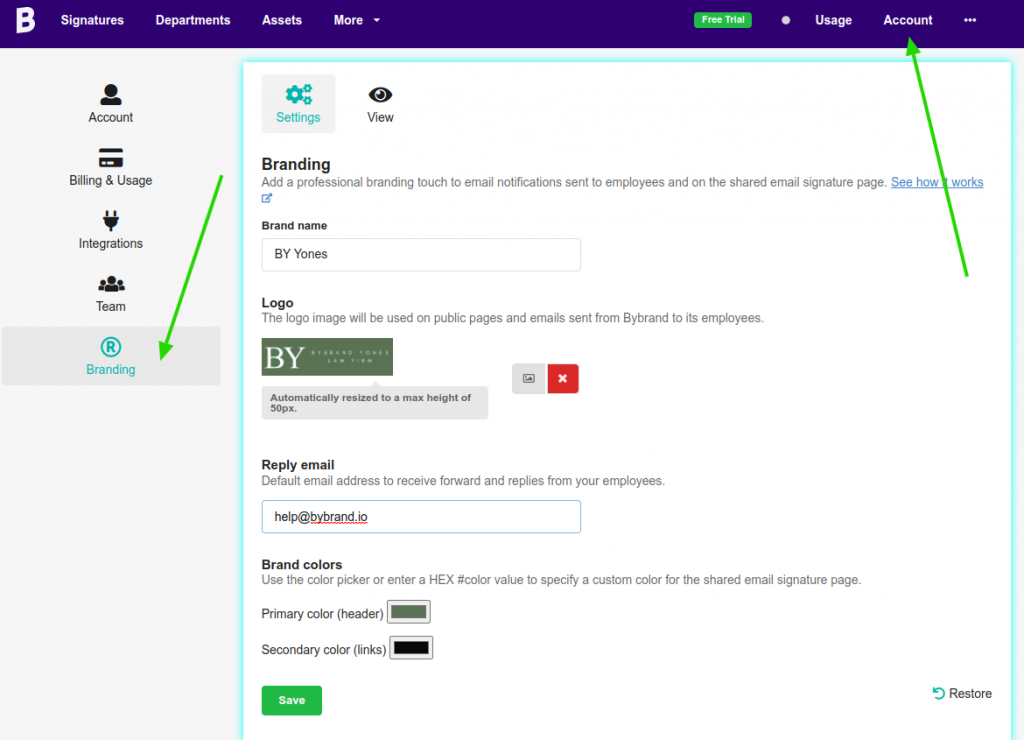 Settings
Next, we will describe each option:
Logo
By selecting the "Logo" option, you can select your own logo (for jpg, jpeg, or png format). Note that the necessarily accurate image is already available in Assets.
If the added image is larger than 50px in height, the item will be resized to a height of 50px, maintaining the aspect ratio. When uploading the logo image, you can set the background color (as a HEX code) of the header in the shared signature to match the image.
It is also possible to remove the logo image and leave only the brand name. To do this, click on the remove icon and then Save.
This option allows you to set a custom email address or use the admin email address to get a reply from your employees. Fundamentally used in the Email orientation feature – read more about this in Bulk-send HTML email signature to employees.
For example, when an employee receives a message from Bybrand about a shared signature and clicks Reply, their email will appear in the To field.
Brand colors
In this option, you can set the color of the shared email signature page. Note that you should set a color that contrasts with your logo image and links.
As you can see in the screenshot below, a shared email signature with the brand logo.
Also, read the following menu – View.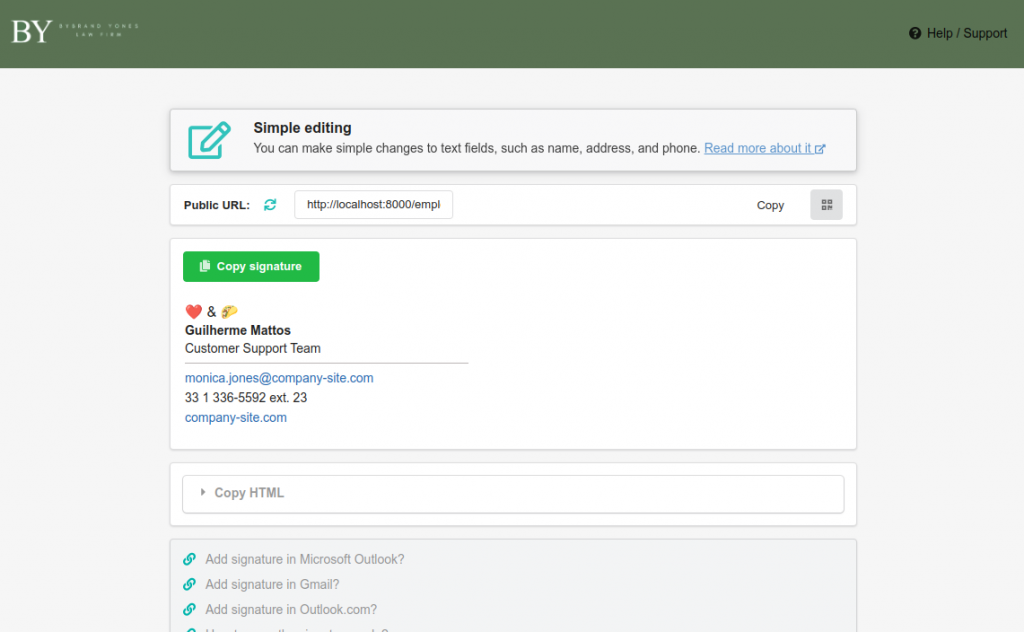 View
After saving your branding changes, you can click the View menu to see a sample email and shared signature page.

Custom links
Soon…
You can include help text for your employees on the shared signature screen. By default, Bybrand will add the most used tutorials, but with this new option, you can remove and add your own.
Conclusion
The change allows you to communicate with your employees, reflecting your corporate branding. Thus, providing a seamless experience when employees read your email from Bybrand or shared email signatures.
Any suggestion? Write to us at help@bybrand.io