This post is also available in: Português
This month, we released several product updates, including bug fixes and small improvements, intending to make email signature management easier and more powerful for businesses. In addition, we have published a series of video tutorials for Microsoft 365 and Mac Mail.
Read on to learn more about what's new at Bybrand!
Dismiss the tutorial list
You can now hide the suggested tutorial list in the signature editor as well as in the preview. Also, the search field can be used to search for a relevant difficulty while using the signature editor.
Type a term such as "Links", and relevant tutorials will appear.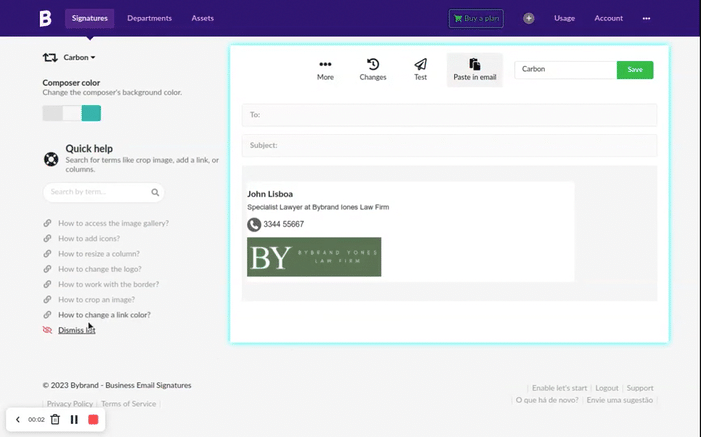 Why did we add this option?
After you are familiar with using the editor, these tutorials on the side need to be clarified. So we added this button to hide them.
New email signature templates
In December 2022, we added new email signature templates to help you create and maintain a unique brand identity quickly and easily.
Find more email signature templates like these here.
Improved mobile access
Bybrand's web-based app now offers users an improved experience, especially if you log in using your mobile device.
What does this mean for you?
Better navigation will reduce your frustrations and allow you to complete tasks using your mobile device. For example, you can list or edit signatures and departments. Also, you can access invoices or manage integrations.
New integrations UI
This update is designed to make Bybrand an even more powerful and easy-to-use platform. In fact, integrations are an important part of getting the most out of email signature management in our tool.
New video tutorials
We recently released a set of tutorial videos explaining how to add and configure email signatures in Microsoft 365 and Mac Mail.