This post is also available in: Português
Welcome to Bybrand's December 2021 enhancement notes.
In summary, we're excited to share several Assets enhancements designed to help better manage email signature images. The feature has a new look—the option to move an image to trash, as well as integration with QR Code and Google Maps.
In addition, we updated our service policy and ceased remarketing and retargeting with customer emails. Keep reading for more details!
Assets with a new look
We improved the user interface for Assets. With the new look, you can preview each image's properties before a full preview. Also, moving to the trash just got easier.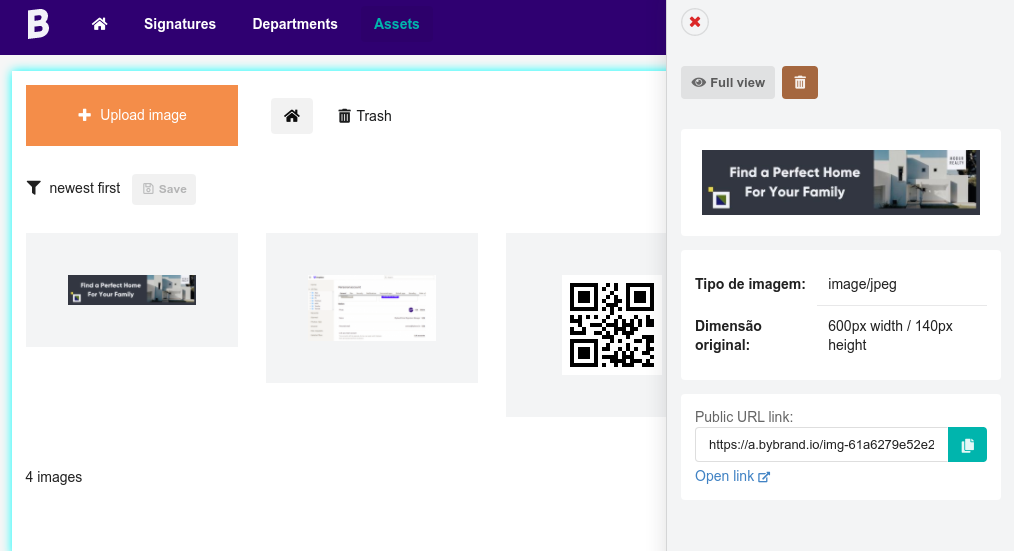 You can also sort images by newest first or oldest first; this affects the order of display in the image gallery when editing an email signature.
Move to trash
The move to trash feature is a new method in Assets. Now, as an alternative to deleting an image, you can send it to junk and reduce the number of items in the image gallery when editing an email signature.
Integration with QR Code and Google Maps
More and more people are thinking about enriching their email signatures with useful data. Thus, we present the first integrations for Assets: QR Code and Google Maps.
We focus on giving customers everything they need to thrive in an integrated, platform-perfect environment. These are two methods of creating useful images for your email signatures.
This integration is implemented across all Bybrand plans, which means it is also available if you are on a legacy plan.
End of Remarketing and Retargeting
Last but not least, we are no longer remarketing and retargeting with customers' private and public data or website visitors.
Summary of main changes:
Remarketing: we no longer do remarketing, which means we won't share your email with third parties like Twitter and Facebook.
Privacy Policy: updated for LGPD Compliance.
Data and Cookies: new separate terms for data processing and cookies.
What's next
We're looking forward to 2022 to continue helping marketers, IT, and HR professionals save time managing email signatures for their teams and employees, which is why we plan to add more value with new features.
In the next cycle, Q1-2022, we will continue to improve the integrations but with a special focus on account security, which was a frequent request from customers.
Have a request? We'd love to read about your wishes and share!