This post is also available in: Português
With Bybrand, you can create, implement and manage email signatures for Google Workspace. That way, you will have professional and consistent email communication for all Gmail users. If you are an IT administrator or a marketing professional, our tips will help you get the best out of the Bybrand integration with Google Workspace.
In this article, we will delve deep into each stage so that you can complete the integration successfully and avoid making mistakes.
Starting with the integration
Getting started with the integration is easy with these five stages. We created an infographic to better illustrate the process. A Google Workspace (previously G Suite) administrator can quickly activate Bybrand's APP at Google Workspace Marketplace, and then import users to the Bybrand platform.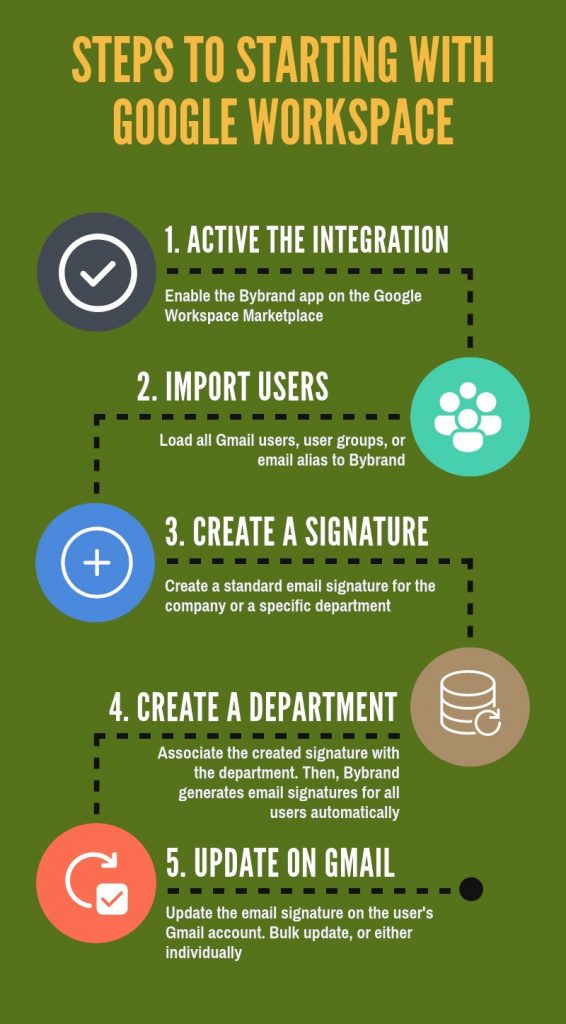 After importing (step two), you will need to create a standard email signature for the company or for a specific department, such as Sales or Marketing.
In the next stage, you will need to associate the email signature that you created with the department. By doing so, Bybrand can automatically generate email signatures for all users.
Then comes the best part: the implementation of signatures in the user's account. There are two ways that you can do this: the first is individually and the second is with a mass update for the entire department.
This second option is perfect for work in a remote environment that is very distant (physically) from the team, where you won't be able to personally go to an employee's machine. Through this, you will save time and avoid repetitive work in the implementation stage.
Video of the full tutorial
Learning to use a new tool can be a bit of an inconvenience but learning how to use Bybrand for Google Workspace is easy. In this quick video, we will give you tips and show the step-by-step process you will need to follow to successfully complete the integration in less than 10 minutes:
Sign up for a new account;
Create the company's first email signature;
Activate the Bybrand + Google Workspace integration;
Import users who use Gmail;
Create a department for the company;
Associate the signature with the department;
Update the reserved spaces of the department in the email signature.
For more examples of how the integration works, check out the webpage of the email signature manager for Google Workspace.
Besides this, when it comes to email communication, you can also use Bybrand to deliver more clarity and consistency to messages exchanged with clients.
Why Bybrand is the perfect email signature manager for companies that use Google Workspace
Bybrand is the email signature manager with the highest number of native resources for Google Workspace, compared to alternative solutions.
For example, capabilities such as updating the email signatures in alias addresses and mass updating make the signature management carried out by Bybrand more complete. Another important note is that the team in charge of implementing employee signatures will be happy when they see communication being completed more quickly and with no mistakes.
This is important for providing the best experience possible to employees who send emails.
Client reviews
We listened to clients who tried to use the wrong tools in the beginning, and none of those solutions worked properly. Things started to get out of control, there were issues, and there was no standard.

"Time is money" is an old saying related to opportunity cost.
Many factors can increase costs and cause more inconvenience than they are worth and this becomes apparent when you choose the wrong tool. Compare how Bybrand can be a safer choice for Google Workspace clients;
If you are still not a client, but you think that what we offer would help you in managing email signatures, we would be happy to contact you to discuss your individual case and how we can offer the best tool for your project.
Email Platform
Finally, here is the conclusion.
Business emails have never been as important for professional use and for communication between companies than they are today. It is known and widely said that in 2020, companies will use more omnichannel platforms, including instant messaging software such as Slack and WhatsApp.
According to Statista, email usage should have a growth of 2 to 3% per year from 2018 to 2023 (number shared before the pandemic).
A refined, well-written email with a modern email signature says a lot about your style of work, while a poorly written and unclear email, without an email signature, can cause confusion. And worst of all, this can harm the company's reputation.
When dealing with business, email is the king of communication. It is a solid means of corporate communication – there is no space for Slack, WhatsApp, or Google Meets.
Related
---

Create your first email signature with Bybrand
Create, manage, and deploy powerful email signatures for your team using Bybrand.