This post is also available in: Português
Today young students prefer the most popular media such as social networks, WhatsApp and Snapchat, but email communication still dominates, especially in the corporate and academic world.
Email communication is not a fad, as we all use email for most of our communications. According to Statista (March 2018), there are currently 3.8 billion active email users in the world. In essence, half the world uses email for communication, and over 290 billion emails are sent per day, far more than WhatsApp and Snapchat together.
For students, email communication should receive due attention, especially with a professional text pattern, short paragraphs, no slang. It is essential that you know the different parts of the message, and what should be added in each of them, depending on who you are writing to.
The different parts of the body of an email message should be the ones as indicated by The Balance Careers, Professional Letter, and Email Writing Guidelines.
Contact Information
Salutation (Greeting)
Body of Letter
Closing
Email Signature
Note that signature the email at the end is also a point that needs to be worked on. Here we will see three simple and effective email signature templates for use by students in their email communication.
What information to add in a student email signature?
In addition to the general information that includes your full name, university name and graduation date, your email address and professional social media links (e.g., LinkedIn, Twitter, etc.), a headshot can also be attractive, for more personal communication.
Remember that your email signature is not an extension of your resume. Keeping simple is the best way, try not to add too much information; up to 6 rows is more than enough. While experts agree that it can be right to include a line of your current engagement in school – for example, whether you are the head of a student organization, a campus ambassador or major jobs accomplished.
You must keep the correct and current information in the signature. There is no faster way to lose a recruiter's trust than to give him the wrong information, for example, a phone number that does not work, or a social page off the air, this shows that he does not care.
The three sample models:
First template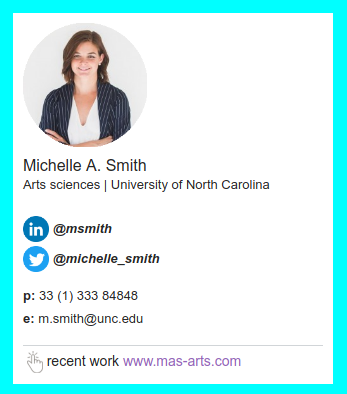 In this example, we added a professional face photo, name, and graduation with the name of the university. The social links received a prominence; this implies that this student maintains an updated social profile. In the end, a link is added to your recent work. This may be related to volunteering or extra campus work.
Second template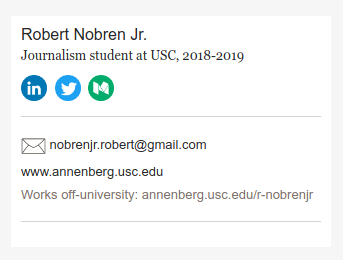 Unlike the first example, notice that in this model a face photo was not added. An image of the face is essential, but running out is not a problem, someone curious who opens your email signature, can view your images in your professional profile on social networks precisely.
Third template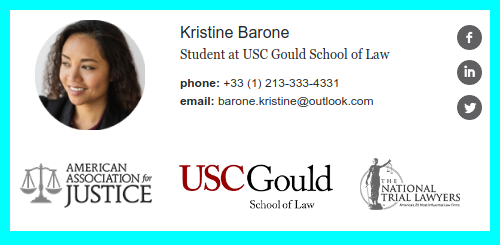 Here's a more professional example. Your email signature says a lot about your personality. If you intend to be an expert in the field, for example, Law, Medicine or Business, your signature needs to be as professional as possible, with neutral colors. The best way is to give preference to a white background and dark color letters, to have good contrast.
---
The above examples represent fictitious data and information. The headshot images were captured from the public image stock Unsplash.
Conclusion
Using one of these models is a great way to get started. For more examples, see the list of beautiful Bybrand email signature templates.
Facts compiled by the Radicati Group in 2018 revealed that 86% of professionals refer to email as their preferred mode of communication. So, as a student, your email signature should represent you well. It should make a great impression. First impressions last longer.
To make it easier for you to update your email signature in your account, Bybrand integrates with Gmail to update your signature with just one click and Google Analytics, where you can track clicks on the links. This is a great way to evaluate performance and deploy modifications quickly.
Good luck.