This post is also available in: Português
By February 2019, more than 5 million businesses are using the tools defined by Google Cloud to increase productivity. However, G Suite Marketplace has hundreds of other third-party applications to help fill the gaps.
Bybrand is one of those third-party tools that we are now proud to announce on the G Suite Marketplace to manage users' email signatures efficiently.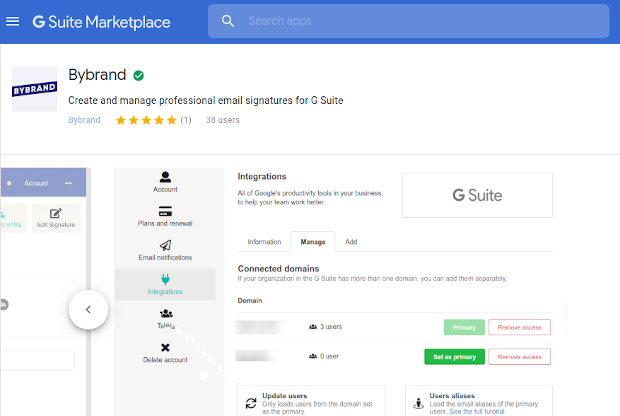 Why we're excited about G Suite Marketplace
Bybrand for G Suite Marketplace allows administrators to install integration faster than the previous method. If you currently already use the integration, you know what I've been talking it. The task of adding a domain delegation was tedious.
The work doesn't have to be that complicated! It's over now!
For more information on how to install and use our email signature manager for G Suite, see the article:
---
We were inspired by this situation to create a seamless email signature management experience to simplify our customers who use cloud technology to collaborate and stay productive.
Previous G Suite news
Since our first contact with G Suite in November 2018 (1 year ago), which was the release date of the integration, we have been continuously improving.
November 2018: Introducing the email signature manager for G Suite;
May 2019: Supports to multiple domains of the organization;
August 2019: Option to update email signature in alias address;
November 2019: Option to import users from G Suite to Departments;
What comes next?
The plans for the G Suite don't stop. Ten days ago, we added the possibility of importing users to Departments — the functionality to bulk update email signatures for the entire set of users on our radar. And the integration with Google Drive for Bybrand Assets.
---

Create your first email signature with Bybrand
Bybrand offers the ability to generate, administer, and distribute essential email signatures for your employees.