This post is also available in: Português
The last time we made changes to our prices was… wait, a year ago. This is our fifth update of plans or pricing. We started with entirely Free, Freemium, Free-Trial simple, and now we will present the new plans Bybrand Premium.
We've done a lot of analysis on our plans in the last few months, especially since we launched the Bybrand Departments feature, to save time on managing email signature.
The Bybrand Departments made it possible to create signatures using reserved fields, and thus, one email signature can be used by an entire team, transforming into 5, 20, or 50 models. Making the limit only by the number of signatures created in the account was no longer making sense.
We took some time to evaluate how the plans align with our customers' different use cases.
The need to serve a diversity of customers led us to the point where we saw the opportunity to create different levels of plans within Bybrand for the first time.
It's not just a change of plans and prices
From a product point of view, this means that we will now focus on professional resources, especially those aimed at teams, IT managers, and marketers. We've reached a turning point where an update of plans is needed to keep our long-term investment in making Bybrand the most robust solution.
For those of you who have been with us for the past 24 months, you have seen the growth of our product, time-saving integrations, Bybrand Assets for better image management, including the ability to change image content without having to change the link URL. Bybrand Departments, as already mentioned above, and many others that are being worked on for 2019.
We are working to be the leader of the email signature manager
We want to be a leader in useful features, not pouring a flood of money into marketing.
The change only affects new customers
Follow the new plans.
Bybrand Lite
We decided to keep the Lite plan (now Bybrand Pro) because of the excellent acceptance by independent professionals, small business freelancers.
The values were not changed, but the new customers of this plan will not have access to Bybrand Departments, and the Campaigns feature is limited.
10 Email signatures;
Price $36 / per year;
Bybrand Premium
The plan that had much of the change the main difference being access to Bybrand Departments and plans based on the number of account signatures. The term unlimited number of signatures no longer exists.
Now Bybrand Business.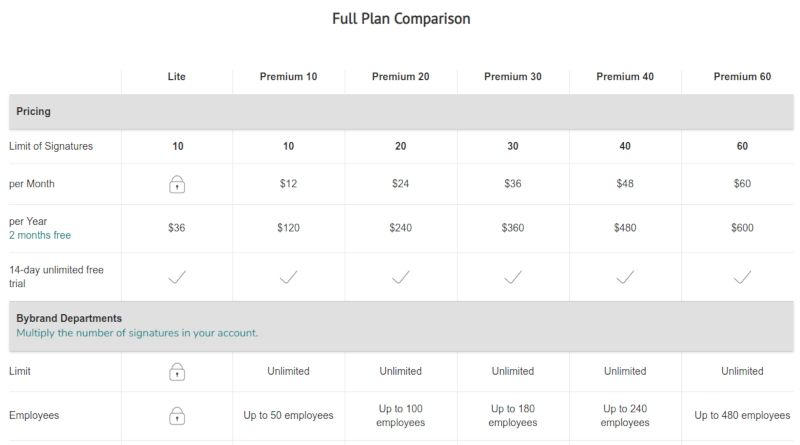 ---
Bybrand Premium 10

10 Email signatures;
50 employees in Departments;
$12 monthly payment

Bybrand Premium 20

20 Email signatures
100 employees in Departments;
$24 monthly payment

Bybrand Premium 30

30 Email signatures
180 employees in Departments;
$36 monthly payment

Bybrand Premium 40

40 Email signatures
240 employees in Departments;
$48 monthly payment

Bybrand Premium 60

60 Email signatures
480 employees in Departments;
$60 monthly payment
The Departments feature enables you to multiply the account capacity by up to 5 times or more.
A new pricing page
We've also created a new price page with a comparative table between the plans, so you can see which one best fits your needs. (Available from May 1st)
Go to Bybrand pricing and plans.
Nothing changes for current customers
So now you're wondering what that means if I'm already a customer? Current plans will NOT affect current paying customers.
If you are already a customer and hired Bybrand before May 1, 2019, nothing changes in your account. We will guarantee all features and values, as long as you do not cancel your current plan.
Finally, if you have any comments about these changes, please contact us at help@bybrand.io or directly via chat.
Update
Introducing new terminologies for plans – May 2019 product updates