This post is also available in: Português
While most businesses are closing the annual balance sheet, and other organizations are planning the end-of-year party. At Bybrand, we still have the energy to launch the last improvement of the year.
The right images can make a huge difference in engaging and converting email signatures. In this post, we will share with you our idea of Bybrand Assets, which is available from today.
Introducing Bybrand Assets
With Bybrand Assets you now have more control of all the images that went up to the email signature. This enables new features and avoids accidentally deleting images in use in email signatures, but not only that.
Bybrand Assets allows you to change the content of the image without changing the URL of the link in the email signature. See a preview of the feature in action.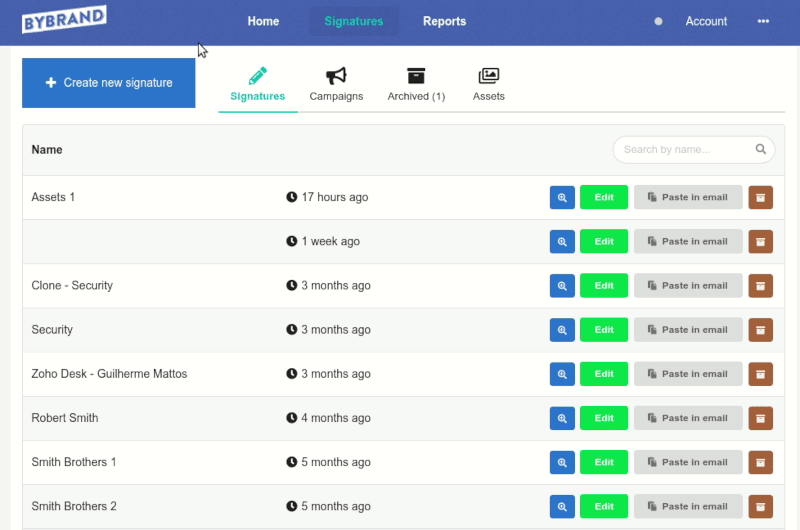 The idea of Bybrand Assets came to us by a suggestion from a customer, I believe it's been 4 months, and when we mention it to others the acceptance was always positive. And now, it's time to present the appeal to the public, after a few weeks of final testing.
What you're gonna get:
Preventing the deletion of images in use
A constant problem with the customers we received was when they deleted an image of the signature, which was in use in other signatures. This became a nuisance, and it often did. And after the erased image, it was hard to recover.
That's been solved. Now, you can't delete an image in use in the email signature.
List signatures currently using the image
You can see all the email signatures on your account that are using a certain image.
Change the contents of an image
That's definitely the main improvement. Now you can change the content of an image without changing the URL of the link.
An idea for this could be, for example: you have an image of a collaborator's face on the signature, and he has completed 5 years of the company. It might be a good idea to add a watermark with the celebration.
Other cool ideas:
Change the company logo on all email signatures, without having to physically change the signature;
Add a merry Christmas watermark to the logo;
Rebranding;
A/B test with icons or images
Integrations
Bybrand Assets still has no integrations, but in the next updates, we will add the integration with Google Drive and Dropbox.
With Dropbox, for example, you can share a folder and ask your company's employees to send their personal or face images to add to the email signature. These images will be available on Bybrand Assets with active integration.
---
We are constantly trying to improve the user experience by listening to customer feedback and their difficulties. We have a record of all feedback and encourage you to submit yours, whatever it is.
Merry Christmas and Happy New Year to all of us.