This post is also available in: Português
Many people doubt if they should add their email address to the signature. After all, the recipient will see their address when opening the message. There is no rule; it is more of a personal choice.
If you'd like to add an email address to your email signature, it would be great to add a clickable link to automatically compose a new message in the default email client on your computer or phone.
This avoids the need to copy and paste the email address when composing a new message.
Add clickable email link in the email signature
Unlike when you link to a site with http: or https: the link to open a new email message composer should start with mailto:
Please take a look at this example:
mailto:email@your-business.com
See the example pop-up in the URL field, created with the editor.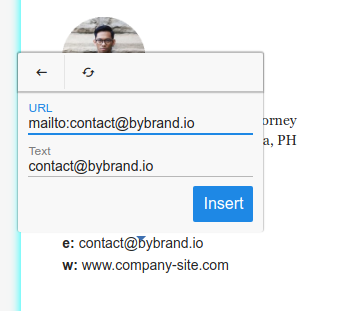 Once you create a link with this text, the standard email client of your recipient will automatically open their message composer.
Video tutorial
Watch a quick video showing how to add a link to an email signature. After adding it, you can also change the color of the link. Save the signature to keep the changes.
Related
---
All done! If you have any questions or difficulties, please contact our support team.