This post is also available in: Português
As of 2021, a whopping 4.03 billion people use email across the globe. Email is also one of the top 3 channels used by professionals to share business- or industry-related content. More than 70% of professionals prefer to use email to start their business conversations.
In a world like this, most people's mailboxes are still cluttered. Important emails often get buried by irrelevant notifications or advertisements. This is why people tend to shift their conversations to other mediums after starting them through email.
Despite being a technology for more than 20 years, many innovative companies have only recently invested in improving their email services. We can list some, such as Superhuman, HEY, Nylas (email API), and Readdle with Spark Mail, which is the software we will delve into today.
Readdle envisioned a professional email client that would declutter and organize the inbox to make mailing easier. They have built Spark with loads of smart features that will allow you to have the best personal and collaborative email experience.
Let's find out more.
Inception of Spark Mail
A common incident while emailing is to move the conversation to different platforms. Why does this happen? Email is often overlooked as a medium where you can get an immediate response. This is why people often use instant messaging to follow up an email when they want faster responses.
When working in teams, creating an email collaboratively isn't that easy if you are contributing from different locations. Spark addresses all these issues and works to create a new perspective on email for professional use.
With Spark Mail, you can now have all your communications organized in one place even if you have made them across different locations. You can also easily follow up or track a conversation, privately comment in a conversation, collaboratively create an email from different places, and share links to specific conversations.
Features that make Spark Mail stand out
Spark Mail incorporates a handful of smart features that makes it a unique email client for Mac, iPhone, iPad, and Android. Though it isn't available for Windows yet, it will be available soon.
Let's see why Spark should be your next mailing app.
Smart Inbox

Does your professional email client recognize senders and categorize emails according to priority? Spark does the same and introduces a smart unified inbox where all your emails are automatically categorized depending on their types.
This makes sure that you have emails from real people with whom you connect the most at the top. This way, you will never lose an important email from your close contacts. It also categorizes notifications and newsletters to easily find them when you need to.
Pin or Snooze emails
If you need quick access to any email, you can just swipe them to pin them to the top of your inbox. This way, you save time searching for those emails and can increase the productivity of your team. You can swipe a pinned email again to snooze it for another day.
You can customize the snooze timing according to your preference as Spark provides a lot of options. Also, if you think that you have pinned an email that you weren't supposed to, just tap 'Undo' or shake the phone to get it back to its original position.
Smart Search

Often, important emails get lost in the crowd and we have to try to search for them. But in a busy life where we handle hundreds of emails every day, it is common to forget the exact subject of a certain email. In most cases, we can't find them when needed.
Spark Mail uses a smart search system where you can use whatever phrase comes to your mind and Spark will do the search for you. You can perform complex search queries to get precise results and even search for links and files.
Spark remembers your search preferences and you can store certain search terms to use again in the future.
Private Comment
This is the best way to get your teammates involved in a discussion about specific emails. It would take much more time if you used the conventional method. But, in Spark, you can start a discussion about specific emails and invite your teammates to make comments there privately.
This is a faster and more efficient way to discuss any issues among teams. You can also attach different files to your comments in the same thread so that everyone remains up to date.
Follow-Up Reminder
We have to send numerous emails regularly and can forget to follow up a certain email due to our work pressure. Spark takes care of that. You can set a follow-up reminder on Spark to remind you when to follow up – you don't need to remember them one by one anymore.
Send Later
You can now more easily schedule your emails with Spark. If you are composing an email but it isn't the right time to send or reply to an email, you can use the Send Later option to schedule your email and Spark will send the email on behalf of you at the right time.
You can utilize your free time to compose emails that you can set to send during times when you will probably be busy.
Manage your email signatures better
Spark Mail allows you to have an HTML email signature. This gives you and your team members more control to send an email more professionally.
Managing email signatures is a great hassle in conventional email clients, especially if you don't use a professional email signature manager.
Read also
If you are using a professional email on behalf of a team or brand, you will need multiple email signatures for different recipients. Therefore, a free email signature editor would not be ideal – more on that here.
Email signatures can also change depending on various events and occasions. But creating a new signature every time you need one and replacing the old signature takes a lot of time and effort. Plus, you need to repeat the process over and over again.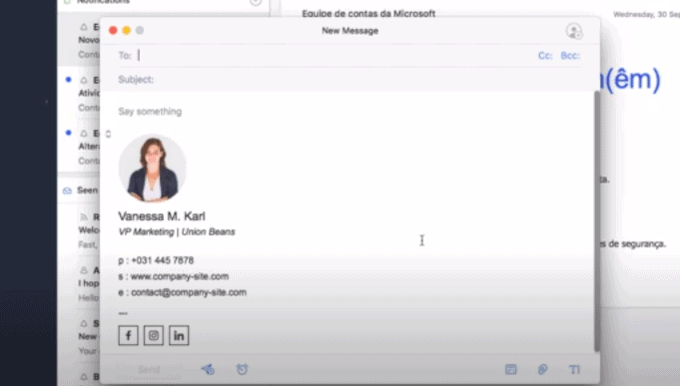 With Spark Mail, you can create multiple email signatures and store them according to their intended use. You can also assign a default signature to specific emails to save time. Even if you haven't assigned an email signature, you can just swipe to select the right signature for different emails.
Fast video: how to add a professional email signature in Spark Mail for Mac.
How much do you need to spend?
You can get started with Spark for free! Yes, you have read it right. You can have Spark for your team completely free – but the free account comes with a lot of limitations.
Let us show you how premium accounts differ from free accounts.
With a free Spark account, you will only have 5 GB of storage for your whole team, which is too little if you are in a large team. No more than 2 people can collaborate at the same time with this account. The number of email templates is also limited. There are no administrative roles for teams so managing your team will be a mess with the free account.
If you need to get official support, you might have to wait.
But if you switch to the premium account, you will get a lot more features. For example, every team member gets 10 GB of dedicated storage and an unlimited number of people can actively collaborate at the same time.
You get unlimited email templates and delegation with the premium account. There are administrative roles with which you can control your teams, and you also get priority support in case of any issues.
To upgrade your account to premium, you need to spend only $6.39 per active team member per month if you pay the annual subscription fee upfront. If you opt to pay the fee monthly, you will need to spend $7.99 per user per month.
If you have a large team, choosing the premium plan will save you a lot of bucks.
Conclusion
A professional email client like Spark finds out the root causes of the issues we face every day with conventional email. At the same time, it solves old issues with new inventions to make our professional communication easier, faster, and more effective.
Whether you want an email client for Mac, iPhone, iPad, or Android, Spark can be the right choice if you don't want to get bombarded with unnecessary emails. Take control of your email inbox and handle emails more professionally.
---

Create your first email signature with Bybrand
Create, manage, and deploy powerful email signatures for your team using Bybrand.