This post is also available in: Português
Having trouble making your HTML email signature purchased on Fiverr look perfect? Don't worry, we've got you covered!
In this video, we take you through the step-by-step process of editing an HTML email signature purchased on Fiverr (or similar platforms) so that you can create a professional and attractive email signature that reflects your brand.
Whether you need to customize the design, update the information or optimize it for better visibility, this quick video will equip you with the tools and knowledge you need to make the most of your email signature.
The benefits of having a clickable email signature
An HTML email signature is more than just a name and title; it's a direct channel of communication. A clickable email signature can:
Lead recipients directly to your website, portfolio, or social media profiles.
Enhance your professional image, showcasing your attention to detail.
Provide additional avenues for communication, such as a direct phone call link.
Foster brand consistency with logo displays and company color schemes.
The different methods of acquiring an HTML signature
There are various ways to obtain an HTML email signature, each with its benefits:
Buying a ready-made signature: Platforms like Fiverr, Etsy, and Template.net offer a plethora of designs tailored to individual needs.
Receiving it from the company's designer: Many organizations have in-house designers who create a uniform signature for all employees, ensuring brand consistency.
Creating one from Scratch: With a bit of HTML knowledge, one can create a unique, custom signature that aligns perfectly with personal or company branding.
Buying an HTML email signature on Fiverr marketplace
The Fiverr marketplace, renowned for its affordable freelance services, is an excellent place to procure a custom HTML email signature. Some advantages include:
Wide Variety: With numerous designers specializing in email signature design, you're sure to find a style that resonates with your brand.
Affordability: Compared to hiring a full-time graphic designer or a design agency, Fiverr offers competitive prices without compromising on quality.
How to edit your HTML email signature in Bybrand
Once you've procured your email signature, you might need to make occasional edits. Bybrand's editor in HTML mode is a handy tool for this task. Here's how:
Accessing the downloaded HTML file: Navigate to where you've saved the file, usually in your downloads or a specific folder.
Opening the file with Bybrand editor: Launch Bybrand's editor and select HTML mode. Import your signature file into the platform.
Making Edits: With an intuitive interface, Bybrand allows you to alter text, adjust colors, and replace images. Ensure that you save any changes made.
A well-crafted HTML email signature is more than just a sign-off; it's an encapsulation of your professional identity. Whether you opt to have a bespoke design crafted from Fiverr or venture to create a personalized one, it's essential to have the right tools at your disposal.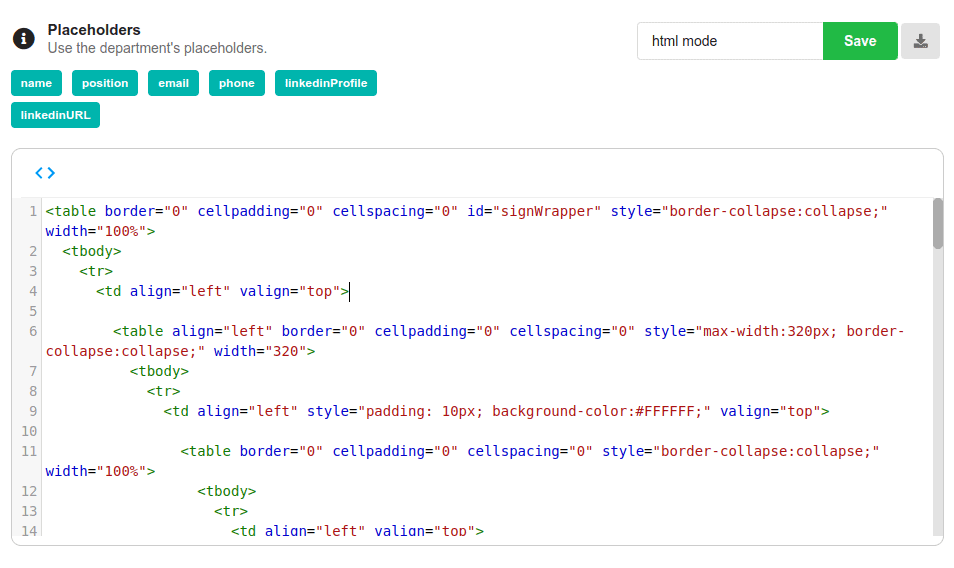 Platforms like Bybrand don't just offer editing solutions; they ensure your email signature evolves with you, always staying relevant, always mirroring the essence of your brand.
---
Create your first email signature with Bybrand
Bybrand offers the ability to generate, administer, and distribute essential email signatures for your employees.