This post is also available in: Português
Rebrandly is a complete and reliable management platform for links, an easy way to create, measure, and share short URLs with a custom domain.
In Bybrand, the integration with Rebrandly can shorten all the URLs you add to your email signature. As an example, the company's website, social pages, blog, and images with links. Any text that receives a link can be shortened to be tracked.
Be sure to read the session: URL with own custom domain.
Activating integration Bybrand + Rebrandly
Once you are logged in to the Bybrand client area, visit the Account menu, and then the Integrations submenu. View the Rebrandly integration, as can be seen in the illustrated image, and click Connect.
On the presentation page, you'll see information with details of the integration, and what you may be able to do within your email signature when it's active.
---
Visit the Manage tab to enable integration into your account.
Getting the Rebrandly API key
The Rebrandly uses the API key authentication method, which is secure – preventing you from adding private information to third-party software.
You need to have your custom domain and the API key. To get this information, go to the Rebrandly panel, as in the example image below.
Panel: https://app.rebrandly.com
Here is a quick example of how to get the API key from your account.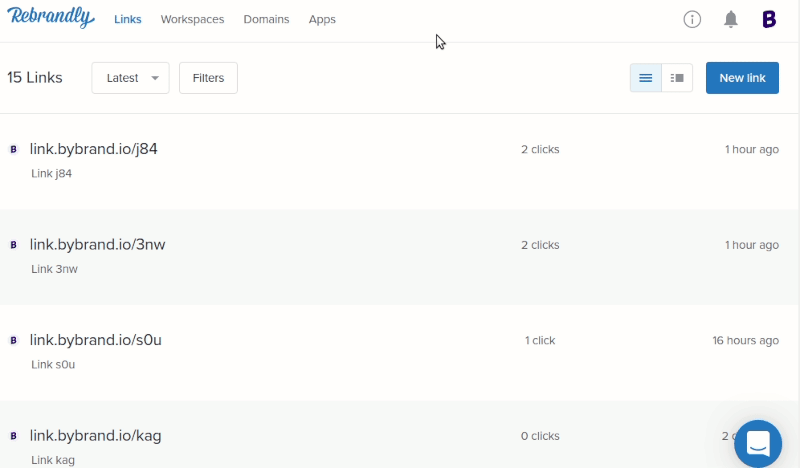 Okay, if everything is correct, the integration will be available for use, but before the start use, read about custom domains a bit below.
Here an example of the integration enabled.
Custom own domain
If you want to prevent your email message from entering the anti-spam filters, register your own domain, which can also be a subdomain.
Attention:
Do not use the domain provided Rebrandly, which is the case: rebrand.ly
See our sample custom domain for email signatures:
https://link.bybrand.io
You must have your custom domain, different from shortened URLs that you send to your social network or site page. The shortened link in the signature is sent by email, and the main domains that shorten URLs do not have a good reputation with anti-spam filters.
In many cases, spammers and hackers use URL shorteners to try to trick victims.
Knowing this, you should always avoid in your messages links to:
 bit.ly
 bit.do
 ow.ly
 goo.gl
 x.co
 rebrand.ly
 tinyurl.com
 t.co
Follow the updated list of abused URLs at http://www.surbl.org/tld
Shortening links in an email signature
Enabling Rebrandly integration was easy, the easier it is to shorten your URLs directly in Bybrand's email signature editor.
Clicking to edit an email signature, and next, adding a link will display the icon to shorten the link you add.
This way, all the shortened links can be seen in the Rebrandly panel.
Video tutorial
See a quick presentation of how to shorten a URL within an email signature with Rebrandly.
The tutorial is finished!