This post is also available in: Português
If you are a Skype user, it's a good idea to add a chat link to your HTML email signature. It's easy to add and, even if your contact doesn't have Skype installed, they'll have the option to open the chat directly with their browser.
In this quick tutorial, we'll go through a step-by-step process of how to add a Skype Chat link into your email signature.
Adding a Skype link to your email signature
First, log in to your Skype Online account at https://web.skype.com
Then click on your profile picture, then on the Skype profile link. Navigate to the share profile section, as seen in the image. In the end you will find the public link to share a conversation.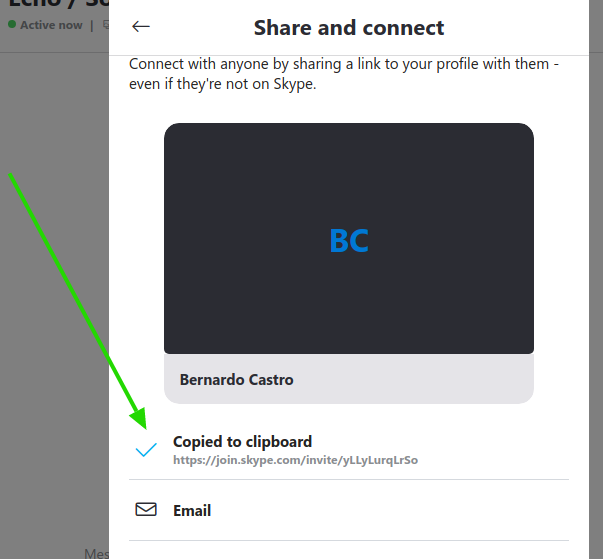 After that, click on the "Copy to clipboard" button, as you can see in the image above with the dark arrow.
You'll receive a link similar to:
https://join.skype.com/invite/yLLyLurqLrSo
Copy this link address and paste it where you'd like, maybe in an image with a Skype icon or a text with your Skype ID.
Full video tutorial
Here's a video showing the quick process of adding a Skype Chat link into your email signature using Bybrand's editor – remember it's also possible to add a link to an icon.
All done! If you still have any questions about how to add a Skype chat link to your email signature, leave us a comment or get in touch with our support team.