This post is also available in: Português
Bybrand's email signature creator has a feature to edit and manage borders of cells, which can be very useful for logical elements such as pictures and texts, or for a better, prettier design.
Let's go step-by-step and then watch a complete video tutorial at the end.
Adding borders into your email signature
For the option to appear you need to select a cell, this usually appears in all signature fields. You can see an example below.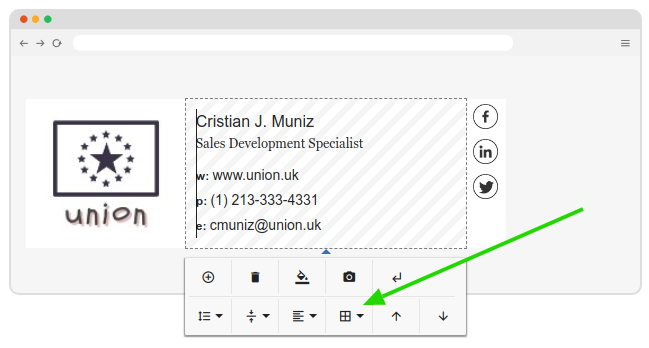 After clicking the borders option, choose the direction you'd like: all sides, only on the left, right or inferior.
In this example, I'll choose only the left side to be added to my cell. After I click, a window will appear, with many options for style, size, and colors. Let's talk about them below.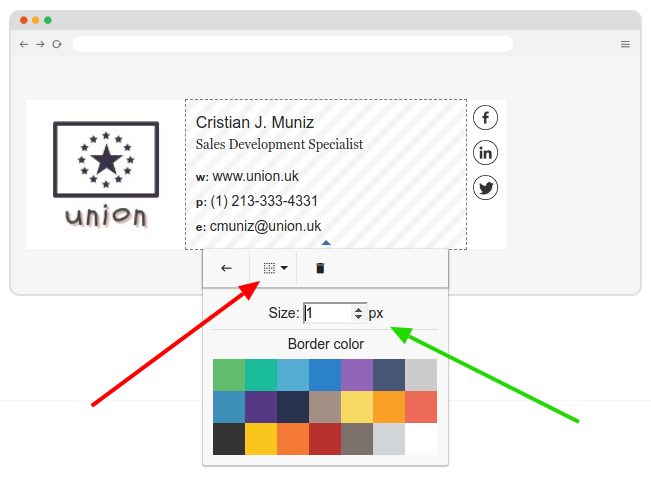 Understand the options:
1) First, you need to choose the style: solid, dotted, dashed or double. Solid is the standard.
2) The second point is setting the thickness of the line, which can be from 1 to 5 pixels.
3) The last step is choosing the color of the border, which can be done from a selected pool of colors.
After the third point, the border will appear in the signature as designed. Reading a step by step makes it seem like a complicated feature, but you'll see it's very simple and useful.
Note: The border feature currently doesn't allow customized colors.
Removing a border
Sometimes a border may not be needed. It's possible to erase it and configure a new one, as well as remove it completely. Choose the direction of the border you'd like to erase (everything, left, right, superior or inferior) and then click the trash icon.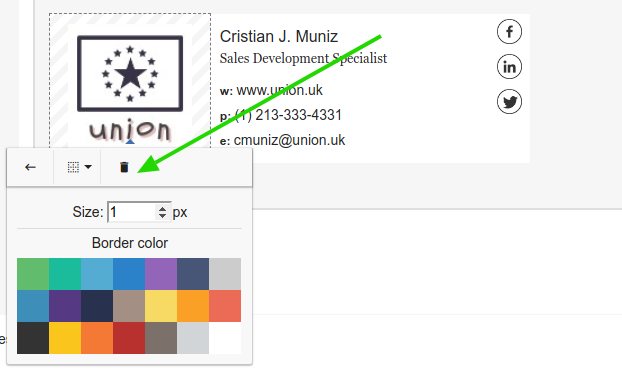 Done, the border will be removed. If this doesn't work, maybe you chose something wrong. Try to remove it with the option to erase all sides.
Video tutorial
As promised, here's a video showing the process of adding and removing borders in the signature.
Done. If you have any questions or difficulties, please get in touch with our support team.